Netflix Star Knows Fans Want Him Cast As Marvel's Moon Knight, But There's A Small Problem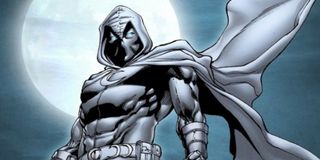 Ever since Moon Knight was announced last year, Marvel fans have been clamoring for certain actors to be cast in the titular role in the Disney+ series. A piece of fanart even envisioned Daniel Radcliffe in the role. However, while many fans have wanted Netflix's The Haunting of Hill House actor Oliver Jackson-Cohen to play Marvel's Moon Knight for a long time, there's a small problem. He has no idea who that is.
Born Marc Spector, Moon Knight is a Marine-turned-mercenary who has multiple personalities due to his Dissociative Identity Disorder. Left to die in Egypt, Moon Knight was bestowed the power of the moon god Khonshu. The thing is, Oliver Jackson-Cohen seems to know he's a top candidate for the role, though he is rather confused about who Moon Knight is. Here's what he told ET when asked if he'd heard about fans pushing for him to be cast in the role:
While Oliver Jackson-Cohen will have to do some research on Moon Knight should he ever be cast in the role, it's endearing how excited he is to simply be considered to play a Marvel superhero. His call to fans to stand outside of Marvel HQ and lobby for him to be cast sure sounds like his very own "Avengers, assemble!" moment.
It's understandable why The Invisible Man and Haunting of Hill House actor doesn't know exactly who or "what" Moon Knight is, though. While he's often compared to Batman, the caped crusader is more well-known to general audiences, whereas the Disney+ series will be the first time Moon Knight will appear in live-action. However, he has appeared throughout a few of Marvel's animated series like Avengers Assemble and Ultimate Spider-Man vs. The Sinister Six.
Moon Knight was announced alongside two other Disney+ series, She-Hulk and Ms. Marvel last August. While details about all three of these shows are still scarce, Oliver Jackson-Cohen isn't the only actor fans are hoping will join the Marvel live-action universe. Fans have already considered quite a few actresses to play She-Hulk, including The Mandalorian's Gina Carano and Luke Cage's Rosario Dawson.
Moon Knight does not yet have a release date and no official casting announcements have been made. Stay tuned to CinemaBlend for updates. In the meantime, be sure to check out our 2020 midseason schedule for updated premiere dates and times. And catch Oliver Jackson-Cohen in Netflix's follow-up series, The Haunting of Bly Manor, later in 2020. He's also starring in The Invisible Man movie, which opens in theaters on February 28.
Your Daily Blend of Entertainment News