See How The Mandalorian's Gina Carano Could Look As Marvel's She-Hulk On Disney+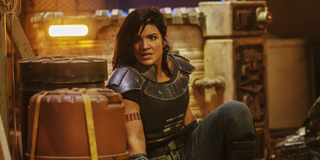 Although She-Hulk has been gracing the pages of comic books for a long time, the Marvel character has yet to get the live-action treatment. That will change thanks to last year's announcement that Marvel is developing a She-Hulk series for Disney+. Though details about the project are scarce, one fan envisioned how The Mandalorian's Gina Carano could look as Marvel's She-Hulk and it's fantastic.
Gina Carano, who "passed out twice" during The Mandalorian's Baby Yoda choking scene, has been given the fan art treatment. In a post to Instagram, a fan artist drew the actress in the role of She-Hulk. In the image, Carano is wearing She-Hulk's famous purple and white costume with an arm raised and ready for action. The art depicting Carano as She-Hulk is designed to look like a poster for the TV series, making it all the more creative. You can check out the fan art below!
As Cara Dune in The Mandalorian, a former shock trooper who fought with the Rebel Alliance, Carano has already proven that she can play a headstrong character. In addition, Carano is an experienced MMA fighter and appeared in the reality series American Gladiators before transitioning to acting. She's no stranger to action and would be the perfect fit as She-Hulk.
A few months ago, Mark Ruffalo, who spoke about his potential involvement in She-Hulk, revealed his choice to play the character was none other than his Thor: Ragnarok co-star Tessa Thompson. She's already playing Valkyrie, but the MCU has been known to cast the same actor in two different roles before. Look no further than Gemma Chan, who was in Captain Marvel and is playing an entirely different character in the MCU movie The Eternals.
Still, there are plenty of other actresses who could be cast in the role. Luke Cage alum Rosario Dawson responded enthusiastically to the idea of playing She-Hulk after another fan artist imagined her in the role. With so many talented actresses out there, the possibilities are truly endless. In fact, Gina Carano is one of our top picks to play She-Hulk alongside Gabrielle Union, Aubrey Plaza, and others.
The Disney+ She-Hulk series will follow Jennifer Walters, Bruce Banner's cousin. In the comics, She-Hulk gains her superhuman abilities and green appearance after receiving an emergency blood transfusion from The Hulk. She-Hulk is arguably less angry than her cousin and, as a lawyer, is incredibly witty and smart. It's no wonder the fan artist envisioned Gina Carano in the role.
She-Hulk doesn't have a scheduled release date, but stay tuned to CinemaBlend for more information on the Disney+ series. In the meantime, be sure to check out all the Marvel TV shows coming to the streaming service, as well as our 2020 midseason schedule to find out the premiere dates and times for cable network and streaming shows.
Your Daily Blend of Entertainment News
Thank you for signing up to CinemaBlend. You will receive a verification email shortly.
There was a problem. Please refresh the page and try again.