Justin Bieber Was Apparently Uncomfortable Watching Parts Of His TV Docu-series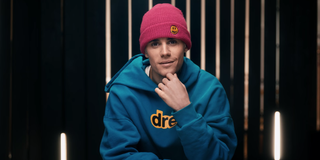 Justin Bieber's docu-series, Justin Bieber: Seasons, which broke a YouTube record for viewership, launched back in January and offered a rare and deeply intimate look into the pop superstar's private life. But it wasn't all sunshine and daisies, and docu-series director Michael D. Ratner revealed that Bieber was apparently uncomfortable watching certain parts of his docu-series.
While Justin Bieber: Seasons took fans behind the scenes and into the making of Bieber's long-awaited album, Changes, the docu-series also touched upon the singer's addiction and health. Michael D. Ratner explained that he and Bieber watched the series together, and that the singer found it particularly difficult to watch the episode that focused on his drug use and health issues. Here's what Ratner had to say about Bieber's reaction:
I think it took a lot of courage for Justin Bieber to allow such an intimate look at all the parts of his life, especially the darkest ones. To watch those moments afterward must have been hard, but it seems Bieber has a good support system. In fact, the director and singer not only watched the docu-series together, but they would also have "deep conversations" about the episodes.
Michael D. Ratner spoke with ET and explained that, while watching some parts of the docu-series were hard, it was also a relief for Justin Bieber to put it all out there. In his words:
Last year, Justin Bieber, who once challenged Tom Cruise to a fight, opened up about his drug use, stating how "so ashamed" he was of doing certain things and how drugs "put a screen" up between him and what he was doing.
It's understandable that a weight of sorts has been lifted off of his chest with Justin Bieber: Seasons, no matter how hard it was for him to watch. Perhaps the docu-series might help others feel less alone knowing that the singer has struggled with drugs and health issues in the past.
New episodes of Justin Bieber: Seasons premiere on YouTube every Monday and Wednesday at 12 p.m. ET. For more on what to watch, be sure to check out our 2020 midseason schedule for updated premiere dates and times.
Your Daily Blend of Entertainment News
Thank you for signing up to CinemaBlend. You will receive a verification email shortly.
There was a problem. Please refresh the page and try again.