The Lesson Netflix Needs To Learn After Cancelling Spinning Out And The OA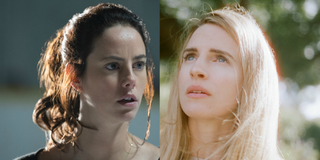 Netflix has been cancelling shows all over the place lately. Or at least it feels that way. Among the casualties have been the freshman figure skating drama Spinning Out and the sci-fi series The OA. There is one lesson that Netflix needs to learn after letting both of these series go.
Beware: Spoilers for the ending of Spinning Out and The OA Season 2
I will get right to the point. A Netflix original should not end a season on a cliffhanger unless it has already gotten renewed. Cliffhangers are meant to build excitement while fans are awaiting a show's return. If you do not have the assurance that more is on the way, then it is just an open ending left for viewers to contemplate for eternity. The OA's second season and Spinning Out's only season both end on cliffhangers, for example.
I do not know about but you, but that can be a discouraging thing to contemplate while deciding what to binge. It gets back to the very formula that has made Netflix a success in my book: the chance to binge-watch a series with the comfort of knowing you will not be left hanging.
Major Netflix hits, like Ozark and You, have both found ways to keep viewers wanting more without utilizing an end-all-be-all cliffhanger to make it happen. Upon learning how Spinning Out's first season and The OA's second one ended, I was dissuaded from immediately watching.
What Happened With Spinning Out And The OA
Spinning Out was cancelled after one season and the decision quickly drew the ire of frustrated fans. The series starred Kaya Scodelario as Kat Baker, a figure skater who returns to the sport in the pairs discipline after suffering a terrible fall during competition. Spinning Out subsequently chronicles her journey as she works towards her ultimate goal of the Olympics amid her mental health struggles.
Netflix did not give a reason for the decision to cancel the series in February, per Deadline. I would suspect that ratings played some role in Spinning Out's fate. Word of the cancellation came a month after the series' release in January, which was a rather swift decision to me considering The OA's protracted wait time.
The OA's fate took much longer to sort out. After a considerable wait between Season 1 and Season 2, the latter premiered in March 2019. It was not until months later in August that Netflix announced it was cancelling the ambitious sci-fi series. The news was met with skepticism by one fan theory that postulated it could have been a fake.
Fast forward to February 2020, and Netflix's cancellation seems to be sticking. Fans literally protested the news, and more salt in an already gaping wound soon followed. Hopes for a finale movie were reportedly dashed. Despite the fan outcry, Netflix has remained stalwart in its decision. As it stands, Season 2 is The OA's last.
Why I Didn't Watch
Before getting a chance to watch Spinning Out, I happened upon a story that mentioned the series ending with a cliffhanger. The series' creator, Samantha Stratton, discussed Season 1's ending with THR, saying that everyone would learn the resolution if the show got renewed. Well, it did not, so fans are left wondering. What was the cliffhanger?
Spinning Out's first (and only) season ends with Kat and her pairs partner, Justin, reconciling both romantically and professionally. They then get out on the ice for the Regional Championships. Kat makes eye contact with her family, and then it cuts to the credits. The end. Winning is not everything, but as a potential viewer, knowing if Kat and Justin did matters.
While looking forward to watching Spinning Out, learning about the cliffhanger made me pause before pressing play. In a similar move, I also learned that The OA ended its second season with a cliffhanger before I could binge it. After spotting IndieWire's story on the crazy ending, I had to read it.
I needed to know if I was willing to spend another eight hours of my life on a mystery that may end without closure. It turned out that The OA took a massive swing with its second season finale. Reality was bent yet again! Learning this, I waited for a renewal before deciding to watch. Said renewal never came, and the decision to wait before watching has lingered.
What/How Netflix Needs To Change
As any entertainment fan will tell you, it is hard to miss headlines teasing spoiler-specific details. Sometimes, the idea of finding out what you need to know is too tempting to avoid. As someone who takes the time that I invest in shows very seriously, I need to know that I am investing in something that has a payoff.
Spinning Out and The OA's second season remain of interest. However, I think there is a lesson that can be gleaned by both of their outings and cancellations. Once word of a cliffhanger ending gets out, it has the potential to put off potential viewers from watching. Thus, diminishing the chance for a series' audience to grow after the fact.
There is less of an opportunity for Spinning Out and The OA to develop enough of a future audience to warrant a redux. I think there is something to be said for Netflix shows adopting a limited series approach to its originals.
A season of a television show should have a beginning, middle, and end. That is the reason that l will take a gamble on a Netflix original. A cliffhanger is a great way to entice a network or cabler not to leave viewers hanging, adding fuel to a renewal. If the strategy fails, it leaves fans empty.
That plan also backfires when Netflix prides itself on its extensive library. If someone has been deterred from binge-watching a show after finding out it does not have a satisfying ending, its value should go down. Some may be content with not having closure, but I am not.
I may get around to watching Spinning Out and The OA's second season eventually. For now, the thought of investing in either of them is challenging. There are shows on Netflix that offer closure, which gives them an alluring edge that is tough to ignore. Of course, the journey is where most of the joy lies.
Spinning Out's first (and only season) is currently streaming on Netflix along with The OA's two seasons. Both series will be joined by lots of new 2020 content. If you want some other options to start watching, consider this winter and spring's premieres.
Like a contented Hallmark movie character, Britt happily lives in the same city she grew up in. Along with movies and television, she is passionate about competitive figure skating. She has been writing about entertainment for 5 years, and as you may suspect, still finds it as entertaining to do as when she began.
Your Daily Blend of Entertainment News
Thank you for signing up to CinemaBlend. You will receive a verification email shortly.
There was a problem. Please refresh the page and try again.