Todrick Hall's Fiery Taylor Swift Defense Gets Pushback From Kim Kardashian Fans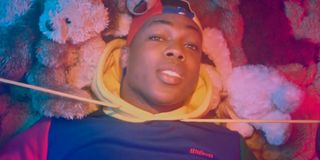 America's time in quarantine has brought about some bizarre headlines, especially in the world of celebrities. Just after Gal Gadot's disastrous attempt to inspire those at home with a cover of a John Lennon song, 2016 called and arrived with an unedited video of the infamous phone call that took place between Kanye West and Taylor Swift ahead of his release of his album The Life Of Pablo.
As some may remember, the footage of the phone call first surfaced after the album dropped, when Kim Kardashian defended her husband Kanye West from claims out of Taylor Swift's camp that he did not have permission to use a line regarding sex with Swift. Kardashian then released footage that allegedly showed Swift signing off on the line, and now years later, the full unedited video seems to show the exact opposite of that. Swift released a statement saying she felt exonerated with the footage out there, while Kim K simply wanted to know why old drama was circulating the news again.
Kim Kardashian's response didn't sit well with Taylor Swift's friend and noted artist Todrick Hall, who believed Kardashian should've apologized for the alleged exposure of her lie years ago. He unleashed a rather fiery response to Kardashian's message on his Instagram stories, which was then screencapped and saved on the web. Take a look below, and be warned, this NSFW language would make even a crude person blush.
Todrick Hall's response reached around the web and back again, and angered several Kim Kardashian fans who felt Hall went above and beyond in defending his friend Taylor Swift. The anger in regards to Hall's comments towards Kardashian has inspired some equally fiery responses, many of which are critical of Hall.
The biggest complaint from many is that Todrick Hall was over the line for mentioning Kim Kardashian's sex tape. The tape, which was released without Kardashian's consent, felt like a low blow by many who criticized Hall for speaking out about misogyny while "slut shaming" Kardashian at the same time.
Some believe Todrick Hall's point, which drew on the problematic misogyny of Kanye West's lyric "I feel like me and Taylor might still have sex," is invalid because he went ahead an referenced another equally problematic event Kim Kardashian had no control over. Likes are being handed out left and right for takes on Twitter pointing this out, so it feels there are many in agreement that bit of his response was over the line.
Then there's the camp that questioned why Todrick Hall was even saying anything in the first place. As the popular saying goes, those in glass houses shouldn't throw stones, and people are digging up Hall's past to point out he's had his own share of controversies over the years.
All this is unrelated to the drama involving Taylor Swift and Kim Kardashian, though some may point out Todrick Hall has nothing to do with the situation either. He's just a friend of Swift, and one that felt compelled to speak out on her behalf when he felt Kardashian's response to the alleged truth wasn't satisfactory.
Finally there are the people wondering why Todrick Hall had to put himself in the situation to begin with. He could've supported Taylor Swift without going all-out on Kim Kardashian, and the fact that he went after Kardashian so hard makes some question exactly how close he is with Swift to begin with.
For now the flames are burning strong on this drama, but eventually, even the fire spewed at Todrick Hall will smolder. That is, unless another celebrity inserts themselves into this re-ignited battle between Taylor Swift and Kim Kardashian, which may very well happen with Kanye West involved. We can only continue to wait and see, and keep that microwavable popcorn within reach in the meantime.
CinemaBlend is the source for all things happening in the world of entertainment, television, and movies. Continue to follow us now and in the future for the latest on what's happening with your favorite celebrities and franchises.
Mick likes good television, but also reality television. He grew up on Star Wars, DC, Marvel, and pro wrestling and loves to discuss and dissect most of it. He's been writing online for over a decade and never dreamed he'd be in the position he is today.
Your Daily Blend of Entertainment News
Thank you for signing up to CinemaBlend. You will receive a verification email shortly.
There was a problem. Please refresh the page and try again.