Chicago Fire's Latest Tragedy Proves One Chicago Needs To Make A Change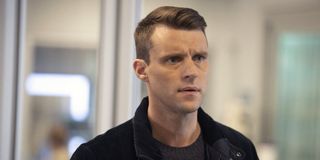 (Image credit: NBC)
Spoilers ahead for the March 25 episode of Chicago Fire on NBC, called "I'll Cover You."
Chicago Fire delivered a tragedy for none other than Sylvie Brett in "I'll Cover You," just as Season 8 was shaping up to be one of the best and happiest for her. The growing relationship with her birth mom ended very suddenly and very sadly, when Julie went into premature labor and died due to the complications. The baby girl survived and is healthy, but Julie is gone, and poor Brett lost her birth mother just after she formed an intense bond with her. After this tragedy, One Chicago needs to make a change.
The change I'm referring to is to the tendency for pregnancies to end in tragedy. All three One Chicago series had already featured a tragic end to a pregnancy, and Julie's death while giving birth is only the latest.
Now, if this had happened pretty much any time in One Chicago other than in the same half of the 2019-2020 TV season that saw a brutal miscarriage on Chicago P.D., I might not feel like the Chicago shared universe needs to make an overall change. Since watching P.D.'s Burgess taking that awful beating that resulted her heartbreaking loss is pretty much burned into my mind from back in February, Julie's death feels too soon.
Burgess losing her pregnancy after being attacked was the most violent pregnancy tragedy of One Chicago to date, but hardly the first. April on Med suffered a miscarriage after she'd begun showing, and has had to put herself through IVF at the cost of her own health to try and conceive a baby due to early menopause.
On Fire, Dawson was pregnant and happily looking forward to parenthood with Casey before it was revealed the pregnancy was never viable, and Dawson almost died in the process of the miscarriage. Dawson losing her pregnancy was arguably one of the most tragic arcs of One Chicago, to the point that I was paranoid about Burgess having a miscarriage because she was a character existing in the same universe.
Natalie on Med is the only major One Chicago character to have a healthy pregnancy and more or less smooth delivery, but there was tragedy involved even there. Her husband had died while she was pregnant, and she gave birth as a relatively fresh widow.
I guess Julie dying on Fire was a twist on One Chicago's pregnancy tragedies, insofar as it was the woman rather than the pregnancy that was lost. Still, if One Chicago doesn't want to get a reputation for doomed pregnancies for mother and/or child, somebody needs to go through a healthy pregnancy.
Besides, the three shows were just renewed for three more seasons. At least one of the major characters on at least one of these shows is going to want to start a family and/or accidentally conceive in the next three seasons, right? For one, Casey has been wanting kids since the Fire pilot! I know Julie wasn't a major character, but Brett is, and this tragedy will have a profound impact on her. At least her friendship with Casey is going strong.
Chicago Fire will come to an early end in Season 8 due to the coronavirus halting production, but there are still some episodes left that were finished before the shutdown. Tune in to NBC on Wednesdays at 9 p.m. ET for new episodes of Fire, in between episodes of Chicago Med at 8 p.m. ET and Chicago P.D. at 10 p.m. ET.
Resident of One Chicago, Bachelor Nation, and Cleveland. Has opinions about crossovers, Star Wars, and superheroes. Will not time travel.
Your Daily Blend of Entertainment News
Thank you for signing up to CinemaBlend. You will receive a verification email shortly.
There was a problem. Please refresh the page and try again.