Hoda Kotb Shares Feelings About Crying On Air After Drew Brees' Today Show Interview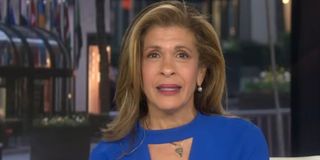 It has been a challenging few weeks as many hunker down at home to slow the spread of the novel coronavirus. Shutdowns, social distancing, and the constant news of coronavirus-related deaths and cases have driven many to their emotional limits. That has extended to journalists covering the pandemic as well. Late last month, Today's Hoda Kotb broke down after a segment covering NFL pro Drew Brees' $5 million donation to Louisiana coronavirus relief. Recently, Kotb shared her feelings about crying on air after Brees' Today show interview.
Broadcast journalists have been diligently covering COVID-19 and even they have their limits. On March 27, Hoda Kotb spoke with New Orleans Saints quarterback Drew Brees about giving back to the local community in this time of need. Brees' large donation was intended to help feed those most in need in Louisiana. Kotb was touched by his generosity and, after concluding the interview, immediately broke down in tears. Kotb recently revealed what it was that made her so emotional after that particular interview with Brees. Here's what she told ET:
Everyone being "on the edge" seems like a rather accurate description given the circumstances of the last several weeks. Hoda Kotb has always been a professional and to see her crying on air was a heartbreaking moment. Personally, even though Kotb wishes she hadn't gotten choked up on camera, the moment worked as a reminder of what everyone is going through right now on an emotional level.
Today co-anchor Savannah Guthrie wasn't in the studio when Hoda Kotb began crying, but she was able to comfort her from home. Guthrie knows how much New Orleans means to Kotb — the Today host lived there in the '90s — and Guthrie was "really proud of her in that moment, especially."
Hoda Kotb continues hosting Today from the show's New York City studio, while Savannah Guthrie continues working remotely from home. Today airs weekday mornings at 7 a.m. ET on NBC. For information regarding which series have been impacted by coronavirus shutdowns, be sure to check out our updated TV list.
Your Daily Blend of Entertainment News