Trolls And 9 Other Great Shows On Netflix Kids Right Now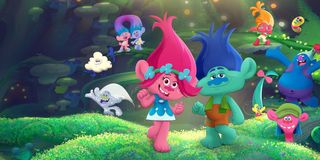 My kids love TV. I know, I know. Limit screen-time. And I do! My kids, ages three and four, only get to watch their kid shows after they've done all their school work and have gone outside and played. But when they do watch TV, they love to watch Netflix. While I do also have Disney+, Amazon Prime, and Hulu, Netflix is their jam, and one of the main reasons might be because one of their favorite shows is Trolls: The Beat Goes On!, which is exclusively on that platform.
But Netflix has a whole lot more than Trolls. In fact, when my kids finish a season of that show, they usually move onto some other show, since there's so much new content for kids on there. Now, my kids are very young, but if you have older kids, there's stuff on there for them, too. So please don't be put off by this list if the shows here sound a little juvenile. It's because they are!
Trolls: The Beat Goes On!
Poppy, Branch, Guy Diamond, hell, even Cloud Guy makes an appearance on this traditionally animated series based on the popular Trolls movies. The show is mostly about a day in the life of a Troll. And it picks up after the events in the first movie, so expect a lot episodes featuring the trolls interacting with the Bergens, often to hilarious effect.
Trolls: The Beat Goes On! is a great show for kids since it expands upon the movie, which your children likely already love. It also takes bit characters like Smidge (the short troll in the dress with a scratchy voice), and builds whole episodes around them. Like, OMG! You totally need to watch this show with your kids. It's fantastic.
Stream Trolls: The Beat Goes On! (opens in new tab)
True: Wonderful Wishes
Wishing treeeee, share with meeee, tiny wishes, 1, 2, 3. True is about a girl named True and her best friend, Bartleby, who is a talking cat. They go on little adventures together and request the occasional wish from a smiling wishing tree. There's also a stuck-up but adorable queen named Grizelda, her pet dog, Frookie, and my God, listen to me! I used to watch Aeon Flux and read Spawn comics. And now, I'm gushing over a cartoon about a little girl who makes wishes from a magical tree. What the hell happened to me?!
…Anyway, sorry about that. True is a great show (FOR CHILDREN) because it's fun, inoffensive, and oftentimes very funny. And even though I would probably label it as a "girl's show", my son, who loves Spider-Man and ninjas, also loves True and even requests it. It's also very bright and cheerful, so your kids will most likely be mesmerized like mine are when they watch it.
Stream True Wonderful Wishes (opens in new tab)
My Little Pony: Friendship is Magic
Growing up, I never imagined that I'd be labeled as a "bronie," but I kind of sort of am. My Little Pony concerns a pony named Twilight Sparkle who learns the value of friendship in a town called Ponyville. There are five other main ponies (Rainbow Dash is my son's, daughter's, and my own personal favorite), and they all have little adventures where they learn how good it is to have another pony by their side.
My Little Pony is great for kids since there is no real conflict on the show. I mean, yes, there is conflict since all stories need conflict, but it's usually so minor that it's actually sort of relaxing to watch. Plus, the ponies exhibit kindness and there are even valuable lessons to learn from the show. Netflix actually has a lot of different spin-offs of My Little Pony, with one of them even have the ponies as teenage girls going to school. Because as a parent of two, I've seen some things, man. Some strange (and wonderful) things, but things all the same.
Stream My Little Pony: Friendship is Magic (opens in new tab)
Oddbods
Oddbods is an, er, odd show. It's about these colorful creatures, which I assume are the Oddbods, who play pranks on each other and tell whole stories by their actions rather than words since there is no dialogue. It's mostly slapstick stuff, and each Oddbod has a distinct personality. Trust me. If your kids like Oddbods, then they can likely name all of them by color, and also probably have a favorite (my son likes Pogo, and my daughter likes Newt).
Oddbods is a great show for younger kids. I kind of think of it as Teletubbies 2.0, but a little more imaginative. And since there's no dialogue, the stories are easy to follow.
Stream Oddbods (opens in new tab)
Masha and the Bear
Masha and the Bear is another series that doesn't require much dialogue to follow its stories since most of the show is visual. It's a Russian show about a girl name Masha and a bear that is always steering her out of danger. Masha is kind of a pest, but that's part of the comedy as Bear is always raising his blood pressure just trying to keep this dang girl safe.
Masha and the Bear is great for kids because it's actually funny. My mother-in-law watches it and actually laughs even more than my kids. Masha is a little naughty, but she's so young that you know that she's just being inquisitive.
Stream Masha and the Bear (opens in new tab)
PJ Masks
PJ Masks, Pa-Pa, PJ Masks. If you're a parent, then you know what PJ Masks is. But just in case you don't, it's a show about three kids (Amaya, Connor, and Greg) who are kids by day, and superheroes by night (Owlette, Catboy, and Gecko, respectively). They fight criminals and make it back to their houses by dawn.
The show is great for kids since it's superheroes, but it's safe. You don't have to worry about any real violence or questionable content, the villains are almost '60s Batman-esque (I especially like Night Ninja), and the characters help each other out nicely.
Stream PJ Masks (opens in new tab)
Pokemon the Series: Sun & Moon
Pokemon has been going on for so long that it's okay if you have no idea what Sun & Moon is. But in short, It's yet another show in the long-running anime series that also has a popular video game series to go along with it. Pokemon trainer, Ash Ketchum, is still out to be the greatest Pokemon trainer in the world, but he has some new friends now in Delia, Lana, Lillie, and a few others.
Sun & Moon is a great show for kids because, hello, it's Pokemon, and kids love Pokemon (And I'll admit it, I love them, too.) And with 81 new Pokemon introduced in the Sun and Moon era, that puts the Pokemon that can appear in this show up to around 800. That's a whole lotta Pokemon! So if your son or daughter has a favorite, it will likely show up in this series.
Stream Pokemon the Series: Sun & Moon (opens in new tab)
The Boss Baby: Back in Business
The Boss Baby: Back in Business takes place following the events of the popular film. In the show, the Boss Baby and his big brother, Tim, are in business together, and they have fun little adventures making sure that business is booming at Baby Corp. All of the characters from the movie are back (though, none of their voices are back, except for Eric Bell Jr. as the Triplets), so if your kid liked the movie, then this show expands upon the lore, just like Trolls: The Beat Goes On!
The Boss Baby is great for kids since it explores the duality of man and gets into the existentialist posture of… just kidding. There are poop jokes and the Boss Baby is walking around wearing a suit and talking on a toy phone, which is funny. Again, if your kid liked the movie, then this is more of that.
Stream The Boss Baby: Back in Business (opens in new tab)
Fast & Furious Spy Racers
Start your engines! Fast & Furious Spy Racers is about Dominic Toretto's cousin, Tony, and his friends as they try to break into a secret organization called SH1FT3R by, get this, street racing. There's a whole bunch of spy stuff, fast cars, and explosions, and the relationships between Tony's friends grows on you after some time.
Kids will love Spy Racers since it has fast cars and stuff that goes boom boom. Plus, the actual spy stuff is enjoyable. The animation itself can be kind of low-quality, but the stories are fast-paced enough to keep even the shortest attention spans engaged.
Stream Fast & Furious Spy Racers (opens in new tab)
Sonic X
Sonic has had quite a few different shows over the course of his history. And while my kids much prefer Sonic Boom, Sonic X will do in a pinch. It's about Sonic and some of his friends who come to our planet after being chased by Dr. Eggman. Sonic meets up with a kid named Chris and is then on the hunt for his other friends. The Chaos Emeralds play a prominent role in the story, so it's closer to the games than any of his other shows.
Kids will love it because most people consider this to be Sonic's best series. The action is fast and furious (Hey), and the characters are enjoyable. Plus, the plot is all over the place, and kids will likely enjoy the show's pacing. Gotta go fast.
Stream Sonic X (opens in new tab)
Those are all the shows my kids watch, but there's so much more that Netflix Kids has to offer, including a lot of stellar movies. Just make sure that you check them out yourself before you let your little ones watch them. Enjoy!
Your Daily Blend of Entertainment News
Rich is a Jersey boy, through and through. He graduated from Rutgers University (Go, R.U.!), and thinks the Garden State is the best state in the country. That said, he'll take Chicago Deep Dish pizza over a New York slice any day of the week. Don't hate. When he's not watching his two kids, he's usually working on a novel, watching vintage movies, or reading some obscure book.
Your Daily Blend of Entertainment News
Thank you for signing up to CinemaBlend. You will receive a verification email shortly.
There was a problem. Please refresh the page and try again.