John Legend, Matthew McConaughey and Other Celebrity Homes That Made Me Jealous During One World Together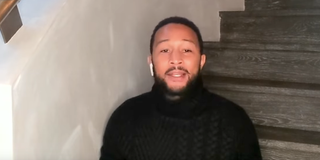 Let's be honest, one of the most unexpectedly fascinating aspects of literally no one being able to go out in public on a regular basis has been the glimpses of celebrity homes we've been getting. Sure, before The Inside Times began, we'd get the occasional famous person doing an Instagram live or something from their plush bedroom, but now we're getting to see way more of these people's homes than before. The Global Citizen One World: Together At Home event took place recently, and we normals were treated to an inside view of dozens of celebrity houses, and some of them made me super jealous.
Of course, this all started a little over a month ago, as talk show hosts like Jimmy Fallon (Who has a two story slide in his house!), Conan O'Brien and Stephen Colbert began to do monologue-only segments from home to keep us entertained. Then, they went to doing full shows from home, which led to them interviewing folks like Lady Gaga and a very buzzed Martha Stweart via video chat. Thus, this new, sort of unfiltered look at how celebrities live every day was born.
As you might expect, most of the famous faces who appeared on One World: Together At Home have very nice houses with some features that most of us either would love to have or wouldn't have even thought to want in our own homes. So, for your enjoyment now, we've got the best features of the celebrity houses as seen on One World: Together At Home. There's a surprising lack of gold bars and dragon-like stores of jewels spilling out everywhere, but I like to think this is because everyone here was just sympathetic enough to hide as much of their financial prosperity from us as possible. Let's get to it!
John Legend Has A Lot Of Room And Awards
Alright, Mr. EGOT, sir. We get it! You are very talented and have won lots of awards. Actually, I don't really blame John Legend for showing off many of the awards he's won during his time as a music superstar who is also a judge on The Voice. Just look at that stack of trophies; it doesn't even include everything, since I can't see his Emmy or Oscar among what's pictured, but it's still very impressive. Also worth getting a shout out in this shot of Legend's home? Look at that expansive room behind him, guys. It's multi-level! There are stairs from the piano / award section to the living area! I want to go to there...
Matthew McConaughey Wants Us To Just Keep Livin
Alright, I know you must be thinking that this plain ol' office is too basic for any real jealousy, and, unless there's a holding area filled with giraffes right behind the camera in Matthew McConaughey's room, you'd be right. I mean we have all the boring necessities of a home office here: a printer / copier thing, a photo printer, a large desk, knick knacks and what appears to be some booze for those tough days at work. But, look to the right of McConaughey's head, and you'll see a neon sign that says "j.k.livin." This is a personal mantra of his, and also the name of his foundation, so I think it classifies as something we can all envy.
Kerry Washington Is Super Organized
I fully expected to see Kerry Washington wearing some gorgeously luxe cream outfit while eating popcorn and sipping red wine like Scandal's Olivia Pope for this segment, but it turns out her personal style is a bit more like that of her Little Fires Everywhere character. Still, while nothing here looks totally unattainable, how many of you would enjoy having someone come in just to organize your bookcases by color? Not that Washington didn't handle this task herself, but, what if you run out of room on the red shelf? What does she do? Is there a room where she just throws all the books that don't fit, or that aren't the right color? I need to know Kerry!
Keith Urban Has Cloning Technology
This shocking segment began as a simple, but lovely, performance in, what I assume, is Keith Urban's very well-outfitted home music studio. And it was nice, but then Mr. Urban decided to let us all in on a little secret: sure, he's spent a lot of money so that he can record music from the comfort of his home with the best equipment, but he's spent even more cash so that he could have his own personal band of Keiths to back him up whenever the need arises! I have so many questions. Did Urban develop this technology? Has he cloned anyone else? Which of the assembled Keiths is Keith Prime? I supposed we'll find out soon enough.
Adam Lambert Has A Rain Forest In His Home
Now we're getting somewhere! American Idol alum Adam Lambert is performing in an area of his home that looks a bit like a (clone-less) home studio, but the more intriguing feature of this section of his domicile would seem to be that it's actually a tropical rain forest. Lambert looks totally comfortable performing around all this vegetation, but I kinda of wish there were even more plants. Why are there no vines climbing up the wall, Adam? Or, maybe one of those carnivorous plants nearby to nip at you every time you stick your tongue out? I appreciate you letting your rain forest grow as it likes, but maybe do a little landscaping for us next time, mmmmkay?
Jennifer Lopez's Yard Is A Magical Fairy Land
Well, instead of being an indoor feature (I mean, I'm pretty sure this is outside, but I wouldn't put it past J. Lo to have trees and such inside her house.), Jennifer Lopez showed off her yard, which is, apparently, really a magical land of fantasy, fairies and dreams come true. I have a flood light in my backyard with a motion sensor on it, but that's just so I can see if any creepers or weird animals get in. Who has one light per tree in their yard? And, this is just a section of the thing, there could be 20 more trees that we can't even see. We also have the main tree, which is covered in white lights and...you know what? Just adopt me, Ms. Lopez!
Beyonce Lives Among The Tree Tops, As She Should
Last, but certainly not least, we come to the wonder that is Beyoncé Knowles-Carter. While I'm sure many of us suspect Queen Bey of being one of a select few celestial beings to grace us mere mortals with their presence and talent, it turns out that she does not quite live in the heavens...not yet, anyway. One World: Together At Home did not showcase Beyoncé's singing voice or the inside of her home, but it did show us that the Carters have a lovely view of a lush wooded area and whatever city is near them, as well as every sunset they choose to spend at home. Well done madam. Well. Done.
If you missed any of One World: Together At Home, you can watch clips from the special on the Global Citizen YouTube page. For more on what to watch in the coming weeks, check out our Netflix premiere guide, see what's new on Hulu right now and prepare for summer TV!
Your Daily Blend of Entertainment News
Yennefer's apprentice, Gilmore Girl; will Vulcan nerve pinch pretty much anyone if prompted with cheese...Yes, even Jamie Fraser.