Rick And Morty's Best Side Characters, From Krombopulos Michael To Mr. Poopybutthole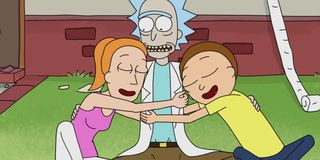 In four seasons stretched across seven years, audiences have watched Rick and Morty go on some wild adventures on their titular show, often bringing in the rest of the Smith family (Beth, Jerry, and Summer) along for the ride. They've been on all varieties of weird and ridiculous journeys across multiple dimensions, regularly taking conventions in science-fiction writing and turning them on their ear, and certainly one of the most wonderful aspects of the show has been the long list of strange aliens and weirdos they've met along the way.
With the second half of Rick and Morty Season 4 now in full swing, we figured now would be a great time to look back on one of the keys to the show's brilliance: the side characters. We've looked back through the series' history and plucked out the best of the best below, detailing why it is that we love them so much:
10. Glootie
Taika Waititi has a magic touch these days, and he applied it to Rick And Morty in Season 4 bringing the app-obsessed Glootie to life. He's definitely not the brightest of the great side characters, and his app-development strategies are literally apocalyptic, but he's also delightful, helpful, and knows how to make an exit. Glootie-ootie-ooh!
9. Dr. Wong
One of the great narrative complexities of Rick and Morty is the fact that Rick is the smartest being in the multiverse, meaning that he is always the smartest character in the room – but that makes it all the more fascinating when he comes across another legitimately intelligent person. Enter Dr. Wong from Season 3's "Pickle Rick," who is given the fascinating assignment of psychoanalyzing the Smith family. By the time the episode is wrapping up it's agreed by Rick and Beth that they're never going to go see her again, but it's too bad, because the doctor's insights delivered at the end of the therapy session are excellent (plus she's a good contact to have just in case any of them start a bad poop eating habit).
8. The Talking Cat
Some of the most fun questions in pop culture are those that don't have any specific answers, and The Talking Cat from "Claw and Hoarder: Special Ricktim's Morty" in Season 4 is a perfect example. What's its real name? Where did it come from? Why can it talk? Why is it so obsessed with the state of Florida? We have no idea, but we do know that the truth is so horrible that it would make us cry and vomit, so rather than pursue the matters any further we shall just continue to appreciate The Talking Cat as one of the best Rick and Morty side characters.
7. Birdperson
We could all use a friend like Birdperson. While he's definitely a criminal given his long association with Rick, he is also a level-headed individual who helps out when he can – such as when he rescued Morty following an exhausting dimension-hopping escape in "Get Schwifty." It's a shame he created a soul-bond with a woman who turned out to be an undercover agent for the Galactic Federation, and it's too bad that he died, but hopefully he's still the swell guy that he was now that he's been resurrected as Phoenixperson.
6. Krombopulos Michael
Krombopulos Michael probably has less total screentime than any of the other characters on this list, popping up for two scenes in Season 2's "Mortynight Run," but we'll be honest: he made it on because of the line, "Oh boy, here I go killing again!" Pop culture is overloaded with assassin characters who are either cold psychopaths or constantly wrestling with moral issues, and this is a guy who really just loves what he does for a living. It's a shame Morty had to run him over with Rick's car, because few would have complained had he become recurring.
5. Tammy Gueterman
When you get right down to it, Tammy Gueterman is a weirdly complex antagonist in Rick and Morty, having spent years undercover as a high school student just so that she could befriend Summer Smith and get in close with an associate of her grandfather's – all leading to a massive bust on what was set up as her wedding day. She's now the leader of the Galactic Federation, the previous administration falling to pieces in Season 3's "The Rickshank Rickdemption," so we definitely haven't seen the last of her, and we're excited to see more.
4. Unity
From the Borg in Star Trek, to the worms in Slither, the idea of a parasitic hive mind alien species has been used as a creepy concept by science-fiction writers for decades, but Rick And Morty found a refreshing and brilliant approach with Unity. Rather than being a growing horror that breeds terror and paranoia, the animated series' take makes the being a romantic lead… and turns Rick into the real villain by being exposed as toxic. Unity has only appeared once, in Season 2's "Auto Erotic Assimilation," but that episode happens to be one of the show's most hilarious and emotional.
3. Mr. Poopybutthole
Introduced in Season 2's "Total Rickall," Mr. Poopybutthole has been a mysterious figure ever since we learned that he was real and not the disguise of an alien parasite, and he has been fascinating fans ever since. He seems to have some kind of god-like abilities, able to break the fourth wall and communicate directly with the audience, but his origins are unknown. Regardless, it's always a delight when he shows up to deliver one of his classic, "Ooh-wees."
2. Mr. Meeseeks
This entry is a bit different than the rest in that it's not actually about a single character, but instead a whole race, but given their apparent lack of individual personalities, we're counting them as one. Also, Mr. Meeseeks is awesome, and this list wouldn't have been complete without him. He got a great introduction in Season 1's "Meeseeks and Destroy," with Jerry perfectly demonstrating how to fuck up using a box that summons a being meant to accomplish a single task, and since then there have been a number of great random bits that have provided great laughs.
1. Evil Morty
As chaotic as the multiverse can be, there is a mostly stable constant that exists, which is the pairing of Ricks and Mortys – with the latter always being subservient to the former. Evil Morty, however, is the exception, and his role in the show since Season 1's "Close Rick-Counters of the Rick Kind" has been a source of authentic and affecting drama. After the crazy meta "Never Ricking Morty," which featured a bit with Evil Morty leading an army, it's not entirely clear where the story is going (or even if it is actually leading anywhere), but that doesn't diminish our appreciation of him as a character.
Is your favorite Rick and Morty side character featured here? If not, who do you think we missed? Hit the comments section with your thoughts on the wide world of weirdos in the multiverse of the Adult Swim series, and stay tuned here on CinemaBlend for plenty for features and updates looking into both the past and the future.
Assistant Managing Editor
NJ native who calls LA home and lives in a Dreamatorium. A decade-plus CinemaBlend veteran who is endlessly enthusiastic about the career he's dreamt of since seventh grade.
Your Daily Blend of Entertainment News
Thank you for signing up to CinemaBlend. You will receive a verification email shortly.
There was a problem. Please refresh the page and try again.