Loki And 7 Other TV Shows Taika Waititi Needs To Direct After The Mandalorian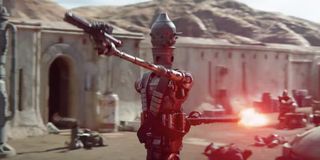 At the end of its premiere season, The Mandalorian was blessed with a finale to be proud of that was action-packed, taut with suspense, and felt contained while still leaving us in staunch anticipation for Season 2 on Disney+. For this, in addition to the cast and showrunner Jon Favreau, we have plenty of thanks to give to the episode's director, and voice of IG-11, Taika Waititi.
In just the last few years, the New Zealand-born co-creator of What We Do in the Shadows has proven himself as one of the most inventive and versatile filmmakers of his generation, from reinventing Chris Hemsworth's Thor, winning an Oscar for adapting a World War II satire, and recently becoming a new hope for Star Wars franchise. While Taikia Waititi claims he will not direct future episodes of The Mandalorian, he will helm the pilot for a series reboot of 1981 sci-fi cult classic Time Bandits and is developing a couple animated series for Netflix inspired by the work of Roald Dahl. With so much keeping him busy, one can only hope that these are not the last TV projects he will be able to lend his talents to.
Television needs a guy like Taika Waititi and there are plenty of TV shows already (or soon to be) in the running today that could greatly benefit from his vision. In fact, there are eight that come to mind now the director would be perfect to direct an episode for, such as another highly anticipated Disney+series.
Loki
For all the credit Taika Waititi receives for giving the God of Thunder a much-needed boost of energy, Loki's improvements seem to have gone overlooked. To keep up with the lighter, breezier tone of Thor: Ragnarok, Tom Hiddleston was given the freedom to show off his comedic chops as his most sinister character more than ever before, making the already much beloved villain that much more more likable. While Netflix's Daybreak and Sex Education director Kate Herron (who helms all six episodes of the first season of the God of Mischief's self-titled series) seems more than qualified to honor the new characteristics Waititi helped liberate, sharing the wealth with him for an least an episode in a future season would be much appreciated by everybody.
Doctor Who
Another ageless (yet, more innocently mischievous) being with a large cult following is the title character of Doctor Who, the long, long-running inter-dimensional odyssey in which the Doctor (currently played by Jodie Whitaker) travels to various planets and time periods. It is actually a bit surprising how few comparisons have been made between British import to Thor: Ragnarok, given its stunning, otherworldly production design and balance of light wit with darker drama is a relatively close match. The world(s) of Doctor Who seem tailor-made for someone like Taika Waititi to play around in for at least one adventure.
Rick And Morty
When Taika Waititi's voice appeared on a recent episode of Rick and Morty, did anyone else think, Hey, why is he not directing this episode too? His cameo as Glootie, plus a "Special Thanks" credit for Moana, may be the extent of his animation background at the moment, but being part of the development of two animated series based on Charlie and the Chocolate Factory and an animated reboot of Flash Gordon, Adult Swim's smash hit could be the perfect thing in that realm for the director to cut his teeth on. Its blend of high concept science fiction with absurdist satire falls perfectly in line with his signature tone and Dan Harmon and Justin Roiland clearly have his number already.
The Orville
Speaking of high concept science fiction blended with absurdist satire, Seth MacFarlane has been surprisingly successful in pulling that off with The Orville, his workplace comedy in the vein of Star Trek, for two, going on three, seasons. The series has had an impressive rotation of directors at the helm, including Star Trek veteran Jonathan Frakes and Jon Favreau prior to the debut of The Mandalorian, who is just the guy MacFarlane should go through to get ahold of Taika Waititi. With him onboard, The Orville could have its most memorably thrilling, dazzlingly witty, high-energy episode yet, transcending it from a send-up of classic TV space odysseys to placing it within the ranks of the series that inspired it.
Upload
On the other hand, maybe Taika Waititi might have enough going on in outer space right now and would like to broaden his horizons to another realm, such as the afterlife. Upload, from Parks and Recreation creator Greg Daniels, stars Robbie Amell (Stephen's cousin) as man on the brink of death who chooses to have his consciousness placed into a computer simulation. The Amazon Prime original series' clever commentary on our rapidly increasing reliance on technology (even after death) would be an intriguing vehicle for Waititi to bring his knack for satire to a more relevant and pressing modern-day topic and perhaps even bring the show to an ever darker place in its second season.
Of course, he could always just do that with the series that predates Upload in examining the post-mortem digital conversion of the mind concept.
Black Mirror
It might be hard to believe that there have been a number of people with a comedic background involved with Black Mirror, including Parks and Recreation co-creator Michael Schur and star Rashida Jones, who co-penned Season 3's chilling "Nosedive." Therefore, it does not seem too odd for a creator like Taika Waititi, who has dabbled in more challenging topics in films like Hunt for the Wilderpeople and Jojo Rabbit, to be a great candidate for Charlie Brooker's technophobic, and horrifyingly prophetic, anthology. It would give the filmmaking a chance to present his Oscar-winning satirical skills under a darker shadow and pave the way for him to transition to further dramatic work of an even more grounded tone.
Atlanta
Of course, probably not everybody is ready to see Taika Waititi get too grounded just yet, so a good buffer would be Donald Glover's Emmy-winning comedy about a Harvard dropout's (Glover) struggles to navigate the music business as his rapper cousin's (Bryan Tyree Henry) manager… among other things. For its two available seasons, much of Atlanta has been directed by Hiro Murai who has brought much of the same dreamy, surrealist energy of his music video collaborations with Glover as Childish Gambino to the series amid its bleak depictions of real-world social issues. Ultimately, and effectively so, the FX hit is a bit of mixed bag, much like Waititi can be, and making the concept of his collaboration with Glover on a third season of Atlanta (whenever that might be) very exciting.
Fargo
He has tackled vampirism, norse mythology, and will soon journey to a galaxy far, far away, but, outside a few shorts from earlier in his career, never has Taika Waititi helmed a gritty crime drama a la the Coen Brothers. If that sounds to you like the coolest idea in the history, how about seeing the filmmaker bring his vision to a season of this fellow FX hit loosely inspired by the 1996 Oscar-winning film Fargo? Waititi has an exceptional talent for crafting complex, absorbing characters within a brilliantly realized environment and that is just what the shocking, time-hopping anthology demands.
What do you think? Are these TV series in desperate need for some of Taika Waititi's brilliant vision, or should we allow the guy a little sleep first? Let us know in the comments and be sure to check back for more updates on the Thor: Love and Thunder director as well as other scenarios imagining great directors taking on the best on TV here on CinemaBlend.
Your Daily Blend of Entertainment News
Jason has been writing since he was able to pick up a washable marker, with which he wrote his debut illustrated children's story, later transitioning to a short-lived comic book series and (very) amateur filmmaking before finally settling on pursuing a career in writing about movies in lieu of making them. Look for his name in just about any article related to Batman.
Your Daily Blend of Entertainment News
Thank you for signing up to CinemaBlend. You will receive a verification email shortly.
There was a problem. Please refresh the page and try again.