The Flash: Young Barry Allen Actor's Cause Of Death Revealed By Mother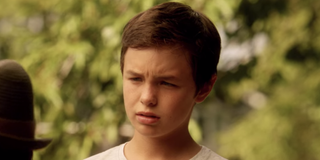 Logan Williams, the actor known best for playing the young Barry Allen on The CW's The Flash, died on April 2nd at just 16 years old. However, the cause of death at the time was still unknown, with mother Marlyse Williams citing how difficult it was to grieve at the time because of social distancing. Over a month later, Williams' mother came forth and revealed that the cause of death was due to a drug overdose.
Early toxicology reports indicated that Logan Williams died of a fentanyl overdose. The actor, who passed away just a few days shy of his 17th birthday, apparently struggled with addiction for three years prior to his death, according to Marlyse Williams. Speaking to the New York Post, Williams revealed that her son began using drugs at the age of 13, starting with marijuana before leveling up to other more dangerous drugs. However, Williams admitted that she didn't know when he'd actually started using fentanyl, the same pain med that Prince OD'd on.
Over the years, Marlyse Williams said that she attempted to help her son get clean and even sent him to an expensive treatment facility in the U.S. Just last summer, Williams is said to have attended a Canadian treatment center for a month before he began living in a group home. As his addiction became worse, Williams' mother said that he "was in complete denial because he was so ashamed."
It seems the drug use stemmed from the stress of balancing school work, acting gigs and attending hundreds of auditions. Despite her grief, Marlyse Williams knows that her son's death won't "be in vain," and that it will bring awareness to the opioid epidemic. The last time the mother and son saw each other was on March 30. It was at that point that Logan promised her that he was going to get clean. However, the young actor's overdose happened just a few days later.
Throughout his short acting career, Logan Williams landed guest-starring roles on ABC's sci-fi drama The Whispers, as well as on The CW's Supernatural, where he appeared as a character named Max Johnson in the Season 11 episode called "Plush." Williams was also a recurring guest star on Hallmark's When Calls the Heart, and played Miles Montgomery in several episodes.
However, his most notable role was playing the young Barry Allen on The Flash for the first two seasons of the show. Logan Williams first appeared in the popular superhero show's pilot episode, and returned several more times throughout Season 1 in flashbacks. Williams' final time playing young Barry was in the Season 2 premiere, "The Man Who Saved Central City." In an Instagram post, The Flash's Grant Gustin was devastated to hear about Logan Williams' death and recalled how "impressed" he was by the young actor's talent and professionalism.
Our thoughts here at CinemaBlend remain with Marlyse Williams through this difficult time.
Your Daily Blend of Entertainment News