Sophie Turner: 8 Behind-The-Scenes Facts About Her Work On Game Of Thrones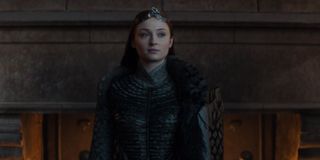 CinemaBlend is partnering with PIA VPN to bring you fresh content to stay in and stream with each day. We're also offering a special 76% discounted rate for a limited time only. You can sign up for the package with PIA here. (opens in new tab)
Over the course of the nine seasons of Game Of Thrones, millions of people around the world watched Sansa Stark turn from a petulant child eager to impress the wrong people to the rightful Queen of the North. The transformation of the character from childhood to the adulthood was one of the most fulfilling aspects of the HBO series. The same can be said about the path taken by Sophie Turner in her portrayal of the character as we all watched her grow up as the series progressed. This becomes more apparent when you read the stories and other behind the scenes facts about Turner's transformation over the years.
And although Sophie Turner's path to stardom didn't have as much drama and death as the character she played on television for nine years, the actress has a pretty exciting story to tell. So, without wasting any more time, let's take a look at eight behind the scenes facts about Turner's work on Game Of Thrones. And maybe, just maybe, we'll get to the bottom of the mystery of the "cup."
Sophie Turner Didn't Tell Her Parents She Auditioned For The Show; She Was 13 Years Old
One thing we have to remember is that Sophie Turner was only 13 years old when she beat out a group of friends and impressed a casting director during an audition at her school back in 2009. Turner, who hadn't appeared on any screen at this point, thought it was a fun joke to try out for the show, but she never expected to get the role. Perhaps that's why she didn't tell her parents, as she explained in a Vogue Paris (via NME) interview with Dark Phoenix co-star Jessica Chastain:
When Sophie Turner's parents finally relented, and she was given the part, the 13-year-old did what any teenager would do — she jumped in her family's pool and then ate a bunch of pizza on what she consider the best day ever.
The Young Actress Was "Overwhelmed" And "Terrified" On Her First Day
By the time production got started on Game Of Thrones in the summer of 2010, Sophie Turner was only 14 years old and had never been on the set of such magnitude as that of the HBO series. And as intimidating as that may have been for the young actress, it only got more intense during her first shot of the day — the arrival of King Robert Baratheon and his family. In her episode of "The Cast Remembers," Turner explained just how she felt that day, stating:
Just like Sansa Stark being thrown into the middle of the large-scale conflict a few episodes later in Season 1, Sophie Turner, with little to no experience, was put side by side with some of the most prolific actors of our time… on her first day, nonetheless.
Sophie Turner And Maisie Williams Became Instant Friends On The Set
Although it took seven seasons and the deaths of nearly their entire family for Sansa and Arya Stark to learn to trust one another, that was far from the case for the actresses who portrayed the two Stark sisters. Sitting down with EW in 2013, Sophie Turner and Maisie Williams revealed that they became quick friends almost immediately after meeting one another while they were auditioning for their respective characters.
But the friendship goes deeper than just two co-stars who hang out on set, as Sophie Turner revealed on the Phil In The Blanks podcast (via Glamour) that Maisie Williams helped her out a great deal in her battle with depression, stating:
Turner Pretended Joffrey Was Justin Bieber In The Show's First Season
In the beginning of Game Of Thrones, Sansa Stark seemed to be the only person (at least the only person without the last name Lannister) who didn't seem too phased by the ruthlessness and petulance of Joffrey Baratheon (Jack Gleeson). And while that changed when the child king had Ned Stark decapitated in front of his oldest daughter, leading up to that, Sansa was Joffrey's biggest fan.
To get past Joffrey's ways, Sophie Turner just pretended that the king was Justin Bieber and that her character was one of his many "Beliebers," telling Rolling Stone:
That's all it took for Sophie Turner, a one-time big Justin Bieber fan with a bedroom wall dedicated to the pop star, to get into the character and let go of Joffrey's worst qualities.
Working With Lena Headey Was The Best Drama Lesson Turner Ever Received
In the first few seasons of Game Of Thrones Sansa Stark and Cersai Lannister shared more than a few scenes with one another. And while the relationship was antagonistic at best on screen, behind the scenes, Sophie Turner and Lena Headey were quite close, with the latter providing Turner with some of the best lessons she could have learned in terms of acting.
Sophie Turner touched on this aspect on the show in her episode of "The Cast Remembers," where she had this to say about working with Lena Headey for all of those scenes at a formative time in her career:
Killing Ramsay Bolton Was Something Turner Had Looked Forward To For A Long Time
Before she became the Queen of the North, Sansa Stark was paired up with the worst possible characters on Game Of Thrones. Those who thought it couldn't get as worse than Joffrey Baratheon were in for a quite a surprise when Sansa was paired up with Ramsay Bolton (Iwan Rheon), by far the most villainous person on the show (at least up to that point). That's what made it so satisfying when Sansa left Ramsay to be eaten alive by his dogs.
The moment was just as satisfying for Sophie Turner, as her character had yet to kill anyone up to that point in the show's sixth season. During an interview with Time in 2017, had this to say about finally being able to get even with Ramsay:
Despite Being Photographed With A Paper Cup, Turner Has A Good Reason To Believe She Wasn't Responsible For "The Cup"
Disgruntled Game Of Thrones fans had their teeth out and were ready to bite down on any mistake they could find in the show's eighth and final season, and besides the final few episodes, nothing got as much attention as the "Cup." Since its appearance in fourth episode of the final season, eagle-eyed fans around the world have tried to figure out who exactly is responsible for the catering coffee cup making the final cut.
Sophie Turner's husband, Joe Jonas, even got in on the fun when the Game Of Thrones star appeared on The Tonight Show Starring Jimmy Fallon in May 2019, asking her if she was responsible for the coffee cup. When host Jimmy Fallon pulled out a picture of Turner holding a similar looking cup in a picture with Lyanna Mormont (Bella Ramsey), the actress quickly pointed out that the head of House Mormont died before the infamous episode with the "Cup" even aired, adding:
And while we may never get to the bottom of exactly how the cup got there in the first place, Sophie Turner is pretty adamant that she's not the guilty party.
By The End Of The Series, Turner Was Ready To Say Goodbye To Sansa Stark
All good things have to come to an end, and that was very much the case for Game Of Thrones when the series came to a divisive end in 2019. But while many were sad to see the long-running series finally come to a close after eight seasons, Sophie Turner was ready to say goodbye to the character she had grown up with starting with her audition in 2009. During an interview with The Daily Telegraph (via MSN), had this to say about the character:
Well, it wasn't always fun for the Sansa's character, but audiences did get to see her grow from that annoying and spoiled child to the Queen of the North, carrying on the legacy of her family and the rest of House Stark. And you should probably leave her story there because like Sophie Turna said, she's been though enough.
Those are just eight fascinating behind the scenes facts about Sophie Turner's involvement with Game Of Thrones. If you still want more on the English actress, here's where you can find out which fantasy series she convinced her husband to watch and many other articles on CinemaBlend.
Your Daily Blend of Entertainment News
Philip grew up in Louisiana (not New Orleans) before moving to St. Louis after graduating from Louisiana State University-Shreveport. When he's not writing about movies or television, Philip can be found being chased by his three kids, telling his dogs to stop yelling at the mailman, or yelling about professional wrestling to his wife. If the stars properly align, he will talk about For Love Of The Game being the best baseball movie of all time.
Your Daily Blend of Entertainment News
Thank you for signing up to CinemaBlend. You will receive a verification email shortly.
There was a problem. Please refresh the page and try again.