12 Royal TV Shows Like Netflix's The Crown: Our Jolly Good Streaming Recommendations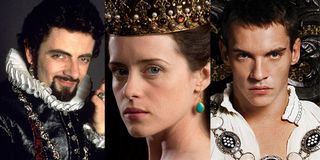 I say, The Crown Season 3 is finally hitting Netflix on November 17, 2019, after a two-year absence! So it seems like a spiffing time to talk about the many other royal TV shows worth streaming. There are some jolly good movies about royals, of course -- from The Queen to The King's Speech -- but today I'm focusing my streaming recommendations on TV shows, and most but not all will be about the British monarchy. Not that these shows will be quite as high-quality as The Crown, because nothing else really is.
The White Queen
I'm pretty sure it's illegal not to worship Rebecca Ferguson. Or it should be. She's now famous from Mission: Impossible movies, Doctor Sleep, The Greatest Showman, and the upcoming Dune movie -- among other films -- but I first saw her in Starz's The White Queen back in 2013. I immediately had a "Who is THAT?" moment watching the Swedish actress as Britain's Elizabeth Woodville, the "White Queen" and consort to Edward IV. The 10-episode miniseries first aired on BBC One, following the women at the center of the War of the Roses. The White Queen was based on the novels by Philippa Gregory, and there are more like it in series ahead on this list.
Stream The White Queen on Starz or YouTube TV with subscriptions. You can also watch each episode for $3 on Amazon Prime or places like Google Play, iTunes, and YouTube.
Victoria
So far, PBS has aired three seasons of this drama following Doctor Who star Jenna Coleman as Queen Victoria. Season 1 picks up at the start of her reign as the British monarch, with each season moving the story forward a bit more. The engaging ITV series has found a loyal audience through PBS Masterpiece, and those fans are eager to hear more about Season 4.
Stream Victoria on PBS or Amazon Prime.
The Spanish Princess
I suppose I put this one in the wrong spot, since it's actually a sequel to The White Queen -- listed above -- and The White Princess -- listed below. Oh well! It's also based on the novels by Philippa Gregory, focusing on the teenage Catherine of Aragon, the strong-willed Princess of Spain, who ends up embroiled in all kinds of Tudor intrigue. The eight episodes that premiered in 2019 will be followed by eight more episodes in 2020 to end the story. I've always had a fascination with the Tudors, and Henry VII's court, so give this one a watch. But, yeah, you should probably watch it after The White Princess.
Stream The Spanish Princess on Starz or YouTube TV with subscriptions. Amazon Prime also has it starting at $2 a pop.
Wolf Hall
Claire Foy isn't in The Crown Season 3, but you can watch our beloved former Queen Elizabeth II in Wolf Hall as the (spoiler alert?) ill-fated Anne Boleyn. Yes, this six-part series also focuses on the Tudor dynasty, from still another angle. I never get tired of exploring this era, so I hope you feel the same. Wolf Hall was based on two of Hilary Mantel's novels, following Mark Rylance as Thomas Cromwell, with Damian Lewis as Henry VIII. Apparently a Season 2 is coming, per RadioTimes, with the BBC adapting Hilary Mantel's upcoming novel The Mirror and the Light. That's due to be published in March 2020, so get caught up on Wolf Hall Season 1 before the sequel arrives.
Stream Wolf Hall on PBS.org or on Amazon via a free trial of PBS Masterpiece.
Versaille
Hey, not everything is about the British royals. This TV series ran for three seasons from 2015-2018, a joint production of France and Canada that also aired in the U.K. and the U.S. The story follows George Blagden as Louis XIV, King of France, during the construction of the Palace of Versailles. It's in English as well as French, so you don't have to worry about a language barrier.
Stream Versaille on Netflix.
The Tudors
God, I loved this crazy show. It ran for four seasons on Showtime from 2007-2010. This very sexy star-studded look at Henry VIII's Tudor reign was led by Jonathan Rhys Meyers, and introduced a lot of fans to some future stars -- including Superman Henry Cavill as Charles Brandon and Game of Thrones' Natalie Dormer as Anne Boleyn. I haven't seen The Tudors since it ended in June 2010 so I may have to take myself up on my own recommendation and binge-watch this one from the start.
Stream The Tudors now on Showtime, Netflix, or YouTube TV, free with subscriptions.
Blackadder
Yes, behold the latest cunning and subtle plans of Rowan Atkinson's Edmund Blackadder! This BBC show is the only pure comedy on the list, a sitcom with a laugh track -- which I will only suffer for British comedies. Blackadder ran for four seasons (plus specials) in the 1980s, with each one following Blackadder and his much-maligned servant Baldrick (Tony Robinson) in different historical time periods. Season 1 is set in the British Middle Ages, telling an alternate history for King Richard III. Season 2 was set during the reign of Queen Elizabeth II. Season 3 was set during the Regency period of the late 1700s and early 1800s, with brilliant Hugh Laurie as the Prince Regent. Blackadder is one of the greatest British sitcoms ever made. Here's a taste of what to expect, if you're not familiar:
Stream Blackadder on Hulu or Amazon Prime, included with subscriptions.
The White Princess
Back to more Philippa Gregory adaptations! This eight-episode miniseries first aired in 2017 on Starz. It follows The White Queen and picks up from the marriage of Henry VII and Elizabeth of York, which was meant to end the War of the Roses. Killing Eve's amazing Jodie Comer stars as Elizabeth "Lizzie" of York, the unhappy new queen. Watch The Spanish Princess after this one.
Stream The White Princess on Starz or YouTube TV with subscriptions.
Reign
The CW aired four seasons of this youth-centric series, in a not-so-historical look at young Mary, Queen of Scots (Adelaide Kane), in her rise to power. Reign is certainly more of a soap opera than Wolf Hall or The Crown, but it had a loyal audience for nearly 80 episodes.
Stream the Reign series now on Netflix.
The Royals
Talk about a soap opera! This one is pure delicious fizz. Elizabeth Hurley stars as Queen Helena, matriarch of a fictional modern British royal family. The Royals was E!'s first scripted series and ran for four seasons from 2015-2018. E! cancelled The Royals after some major Season 4 finale cliffhangers, so fans were hoping the show would be picked up elsewhere for Season 5 elsewhere. Sadly, that did not happen. Long live the 40 episodes fans can still cherish.
Stream The Royals now on Amazon Prime, included with the subscription.
Downton Abbey
What is a weekend? The perfect time to stream this modern classic! It may be a slight stretch to consider Downton Abbey a TV show about royals, since it doesn't focus on kings or queens, although earls and countesses count as royals too. So go ahead and stream the popular series and check out the movie -- which does have a direct royal focus -- now in theaters.
Stream the Downton Abbey series now on Amazon Prime, included with a subscription.
Outlander
Is Outlander a show about royals? It's royally awesome, anyway, and fits in with the rest of the Starz crowd. Diana Gabaldon's time travel books do have a certain amount of royal intrigue, so I say this TV show qualifies. Starz has already aired four seasons of Outlander with Season 5 premiering in February 2020 and Season 6 to come later.
Stream Outlander on Starz, Netflix, or YouTube with subscriptions.
If you're looking for more streaming recommendations, check out these past features (the British comedies one might be a good partner with these royal shows):
• 5 Excellent Keanu Reeves Roles Worth Streaming On Netflix And Amazon
• 5 Sci-Fi TV Shows To Watch On Netflix: Our Streaming Recommendations
• 5 Documentary Series To Watch On Netflix: Our Streaming Recommendations
• 5 British TV Comedies On Netflix You Should Bloody Well Watch: Our Streaming Recommendations
• 3%, Occupied, Harlots, and Other Streaming Recommendations
• 5 Robert Downey Jr. Movies To Love 3000 On Netflix
• 5 Chris Evans Movies Worth Streaming On Netflix And Amazon
• 5 Ryan Reynolds Roles Worth Streaming On Netflix And Amazon
• 5 Will Smith Movies Worth Streaming Right Now On Netflix And Beyond
• 5 Refreshingly Non-Toxic Reality TV Shows Worth Streaming On Netflix
• 5 Joaquin Phoenix Movies Worth Streaming On Netflix And Amazon Ahead Of Joker
• 5 Stripper Movies Worth Streaming In Honor Of Jennifer Lopez's Hustlers
• The 5 Best Space Movies To Stream In Honor Of Brad Pitt's Ad Astra
• 11 Unbelievable True Crime Series Worth Streaming On Netflix
• 8 Movies With 100 Percent Ratings Worth Streaming Before Netflix's The Irishman
• 7 Paul Rudd Movies Worth Streaming On Netflix Before Living With Yourself
• 8 Movies With Twist Endings Worth Streaming On Netflix After Fractured
• Where To Stream Firefly And 10 Other Great Shows Cancelled After One Season
• Whodunit? 7 Murder Mysteries Worth Streaming On Netflix
What are your favorite royal shows and movies? Are you planning to watch The Crown when it arrives this Sunday, November 17? And remind me why Netflix is scheduling the 10 episodes to drop on a Sunday...?
Your Daily Blend of Entertainment News
Gina grew up in Massachusetts and California in her own version of The Parent Trap. She went to three different middle schools, four high schools, and three universities -- including half a year in Perth, Western Australia. She currently lives in a small town in Maine, the kind Stephen King regularly sets terrible things in, so this may be the last you hear from her.