Why Avengers: Endgame Didn't Bother Agent Carter's TV Love Interest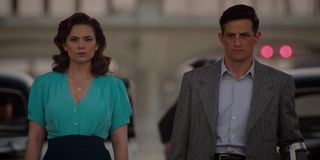 Avengers: Endgame saw Steve Rogers reunited with longtime love Peggy Carter following his decision to stay in the past. The couple may have gotten their happy ending, but the film seemed to ignore the fact that Peggy had another love interest, Enver Gjokaj's Daniel Sousa, on ABC's Agent Carter. Was Gjokaj sad about Endgame's finale? The actor explained why that moment didn't really bother him.
Agent Carter ended its two-season run with Hayley Atwell's Peggy and Daniel Sousa locking lips. At the time of the series finale, Sousa was heading the Los Angeles branch of the Strategic Scientific Reserve (SSR), S.H.I.E.L.D.'s precursor. Peggy made the decision to stay with Sousa instead of returning to New York. However Endgame may have altered the course of Peggy and Sousa's relationship, Enver Gjokaj understood why she ended up with Captain America. Here's what he told EW:
It's true, Hayley Atwell's face always managed to convey a sense of longing whenever Steve was brought up. And Peggy did keep a picture of the fallen soldier on her desk long after his presumed demise. Sousa knew he would always play second fiddle to Steve and loved Peggy anyway, so that's sweet.
In fairness, I think everyone would come in "second place" in a competition with Captain America, so Sousa never really stood a chance. Sorry, Sousa! That said, Hayley Atwell was also unbothered by Peggy ending up with Steve, calling it a "fitting end" to her character's story.
Enver Gjokaj will be reprising his role as the SSR agent in Agents of S.H.I.E.L.D. He'll cross paths with Agent Coulson, Daisy, Mack, and the rest of the team when they time travel back to 1955. Back in April, Gjokaj shared that he was surprised he was brought back for Agents of S.H.I.E.L.D.'s final season. It's unclear what Sousa will be up to when he runs into Coulson and co., but maybe he went and got married to someone not named Peggy. Either way, fans will find out soon enough.
Agent Carter is currently available to stream on Disney+. Meanwhile, catch Sousa in a new episode of Agents of S.H.I.E.L.D., airing Wednesday, May 10 at 10:00 p.m. ET on ABC. For more on what to watch in the coming months, be sure to check out our 2020 summer TV premiere guide.
Your Daily Blend of Entertainment News