The Cool Way The Mandalorian Added Fans To A Major Season 1 Moment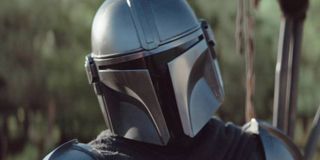 Star Wars fans may have strong opinions when it comes to the expansive franchise, but they also have an extreme love and passion for it as well. With this, one can imagine that it would be any fan's dream to actually be featured in a Star Wars project. While it's certainly an opportunity that not many have had, a select group did get to take part in The Mandalorian, and the final result was a sweet sight.
During the final installment of Disney Gallery: The Mandalorian (opens in new tab), creator Jon Favreau and producer Dave Filoni revealed that they brought in the 501st Legion as Stormtrooper extras for the show's season finale.
For those who don't know, the 501st Legion is a large, volunteer organization comprised of and run by Star Wars fans who are costume enthusiasts. These dedicated fans are dedicated to producing detailed and accurate recreations of iconic Star Wars costumes, specifically Stormtrooper outfits. Members of the organization usually appear at conventions and charity events but, on occasion, they'll also be called up by Lucasfilm to appear at film premieres.
In terms of The Mandalorian, both Jon Favreau and Dave Filoni recalled being in a bind when devising the season finale. Fans no doubt remember that the finale features a standoff between Mando and his allies and Moff Gideon and his Imperial army, which is comprised of many Stormtroopers. Well, it turns out Favreau and Filoni had only written in 30 stormtroopers but later felt that this number wouldn't work. Not only that, but they had also maxed out the number of available Stormtrooper costumes. With this, the two came up with the idea to call the 501st Legion to see if they'd help, and they were ultimately more than happy to oblige.
Jon Favreau and Dave Filoni would go on to describe the experience of having them on set. First off, they surprised the group, as they didn't know exactly what they would be filming. They also got to rub elbows with stars like Carl Weathers and Giancarlo Esposito while hanging out on set.
One of the things that really amazed Filoni and Favreau is that the fans were so prepared and moved just like Stormtroopers would. With this, the two had nothing but praise for the fans, who later spoke on just how significant and exciting it was for them to be a part of the project. And as Dave Filoni pointed out, they all now have the distinction of possessing armor that's actually been used in a Star Wars project, which is extremely cool.
These are definitely the kinds of fan stories that you love to hear, and you have to imagine that getting to join a Star Wars project, specifically the franchise's first ever live-action show, had to be a surreal and gratifying moment. And if you've seen the episode, you'd know that these troopers did their job in excellent fashion.
Both The Mandalorian and Disney Gallery: The Mandalorian are streaming on Disney+.
Covering superheroes, sci-fi, comedy, and almost anything else in film and TV. I eat more pizza than the Teenage Mutant Ninja Turtles.
Your Daily Blend of Entertainment News
Thank you for signing up to CinemaBlend. You will receive a verification email shortly.
There was a problem. Please refresh the page and try again.