Netflix's Love Is Blind Star Called Out For Allegedly Sleeping With Other Women The Whole Time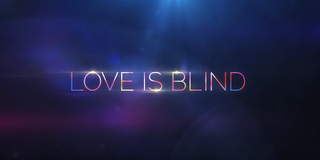 If your past few months have been anything like my past few months, it will seem like roughly 1000 years since Love Is Blind took Netflix (and its viewers) by storm. But, it was actually just in early March that the show wrapped up with a reunion special which caught up with all of the formerly engaged / newly married couples about a year after the cameras had last followed them. If you still want info on all those lovelorn singles, though, Mark Cuevas is now being accused of allegedly sleeping around on Jessica Batten while they were on the show.
There are several moving parts to this story, so try to stay with me. I'll start with the Mark and Jessica details, because no one who watched Love Is Blind came away from that show with any appreciation for Jessica. Mark basically looked like a saint, while his fiancée earned the nickname "Messica," and for very good reason.
Jessica was all over the place; saying she loved him, but showing very obvious worries about the fact that she's 10 years older than him. She also made a very bad habit of openly pining for Matt Barnett, even though he was engaged to Amber Pike, treating Mark like shit right to his face and doing weirdo stuff like letting her dog drink from her wine glass. But, now there seems to be a possibility that Mark spent at least some of their non-Mexican resort engagement time throwing dong all over Atlanta. Take a look at Jessica's comment on an Instagram post accusing Mark of cheating, and we'll dig into the details after:
Wow. This isn't a good look at all, is it? So, I know what your first question is: Who is this other person from Love Is Blind that Mark has been dating? Well, it turns out that it's Lauren "LC" Chamblin, who you will most likely remember as the third woman who was seriously interested in Barnett and whom he had some difficulty choosing between with Amber and Jessica also being in the mix.
So, a few days ago on Reddit (yes, this mess started on Reddit), someone posted to say that someone they knew was dating Mark, and included a photo of Mark with the woman. LC then commented on that post to say that she has been "dating Mark since the beginning of May," and went on to thank the poster for letting people know, adding that "I definitely just broke it off with Mark." LC went on to talk to People about what happened:
As you can see from the Instagram post, though, after the news of the LC / Mark breakup became public, he was accused of "sleeping with MULTIPLE women at the studio he trained at DURING the show," in a comment on the news. And, Jessica responded to that by saying she only knew of one woman Mark was banging it out with while they were on Love Is Blind.
Honestly? I don't know what to make of this and have so many questions. Everyone left their jobs to go to Mexico and date people sight unseen for Love Is Blind, then when they found someone under those circumstances and got engaged, they were allowed to see each other and live together back in Atlanta until the wedding. I'd thought that, between engagement and wedding, they were away from work and basically sequestered the whole time. But, if Mark was allegedly cheating on Jessica with one or more women at the place he worked, then, maybe not?
Mark, for his part, has denied that he and LC were ever exclusive, saying "at no point were we in an exclusive relationship, as LC confirmed herself," while his representative said of his relationship with Jessica that "he was fully committed to the LIB process and to Jessica" while they were in the midst of Love Is Blind madness. So, I suppose we'll all just have to make of this what we will. Though, I have to say that all of this does really make me eager for Season 2, much more so than the prospect of actually dating in real life, for sure.
Netflix has already confirmed that two more seasons of Love Is Blind are on the way, but while we wait for release dates, be sure to check out what else is coming to the streamer in 2020 and see what's new elsewhere on TV this summer!
Yennefer's apprentice, Gilmore Girl; will Vulcan nerve pinch pretty much anyone if prompted with cheese...Yes, even Jamie Fraser.
Your Daily Blend of Entertainment News
Thank you for signing up to CinemaBlend. You will receive a verification email shortly.
There was a problem. Please refresh the page and try again.