Love Is Blind Spoiler Reaction: 8 Things We Learned From The Reunion Special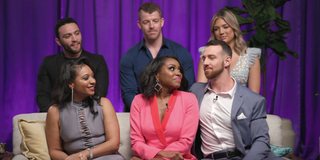 Netflix really hit the jackpot with its pre-Valentine's release of the first episode for Love Is Blind, the dating show where people try to form romantic connections with others before they even see each other. The three-week special series had people hooked last month, and led to social media hot takes and questions aplenty about the six couples (Damian and Giannina, Lauren and Cameron, Amber and Barnett, Mark and Jessica, Kelly and Kenny, and Diamond and Carlton) who decided to get engaged before seeing their beloved, with the goal of marrying just a few weeks later. Now, it's reunion time, and we learned some fascinating stuff.
Those of us who wanted more from the show than the 10 episodes currently airing on Netflix got a treat when it was announced that we'd be getting a reunion special to follow up with these 12 crazy kids to see what their lives are like now, and since it's dropped on the streamer and YouTube, we're here to give you a run down on the biggest things we learned from the reunion. If you haven't watched the reunion special yet, be aware that this article is filled to the brim with delectable spoilers. Let's do this!
Lauren and Cameron Are Happy!
Lauren and Cameron were the first couple to say heartfelt I-love-yous to each other and become engaged in the specially designed pods which kept daters from seeing (or touching) each other as they interacted. While there were some questions on Lauren's part about how life without her own, single-person space would look, and her dad (Hey, Papa Speed!) was worried about the racial difference between the two, they seem to be chugging along just fine as newlyweds!
Their portion of the conversation was filled with talk of growing together and getting to experience life as a unit. They were, honestly, the only couple who displayed zero awkwardness about what the relationship had been like or would be going forward. Actually, the only time there was even a hint of uncomfortableness was when Kenny and Damian both talked about how well they got along with Lauren while still in the pods. Cameron shifted a little in his seat at that, but, it's OK dude. You got Lauren in the end!
They Had Marriage Agreements!
One of the most surprising takeaways from the reunion actually came from cutesy-happy Lauren and Cameron when talking about their newly married life. Lauren mentioned that she told Cameron that they were going to need to get a puppy if she was getting married, to which he replied, "It was in our marriage agreement." Ummmmm....WHAT?!
Doesn't this make so much sense? I mean, no one else piped up to say that they also had a marriage agreement, but I'd like to think it was standard for the engaged couples, and a way for the show to try to make sure they were serious about marriage and would try to make it work once the cameras were off and real life got super real. And, if not, well, good on Cameron and Lauren for being smarter than the average Love Is Blind bears. Though, I would still like to know what else was in that agreement, wouldn't you?
Barnett And Amber Are The Ice Dancing Duo We Need Right Now
Surprisingly, Barnett and Amber seem to be doing pretty well as a married couple. I know! But, the very first thing I noticed when they showed up on screen was Barnett's sorta flashy jacket. I mean, what in the Robin Thicke is he wearing? Together, and with Amber's newer, blonder hair, they look like an Olympic ice dancing team that wandered into a reality dating show. But, if these two can make things work for over a year, maybe there's hope for all of us.
Unlike the tale we got from Lauren and Cameron, Barnett and Amber admitted to both being quite stubborn and butting heads frequently since they got married, and needing to figure out how to work through their issues. For those of us who were worried about the fact that Amber didn't seem to have a job or any interest in getting one, she also said that being financially dependent on Barnett did put a strain on the marriage, to the extent that she looked into getting a divorce for a short time. But, if they've pulled through so far, maybe winning that gold medal is the only thing they need to really solidify the marriage.
Giannina And Damian Are Dating!
Oooooooh, weeeeeeee. I was very surprised, after the dramatic breakup that Giannina and Damian had, that they managed to come to a middle ground and begin dating again. You might recall that after Damian said no to marrying Giannina (At the alter! In front of their families and friends! After she said yes!), that she left the building with tears of anger and disappointment streaming down her face, eventually falling in the dirt in her wedding dress as she took a breather outside. When she returned, they argued in their wedding finery and it. Was. Rough.
But, somehow against all odds, these two found their way back to one another and are doing what people do away from Love Is Blind: dating and getting to know each other without the added pressure of trying to marry in just a few weeks. I'm honestly not convinced that this is a good idea, or that it will last, but, clearly, anything is possible once you've been through this weirdo dating experiment.
Kelly Wanted To Keep Dating Kenny After The Show
WOW. Never would I have guessed this one. Kelly and Kenny were one of the couples that seemed pretty solid from the get-go. They seemed to have a wonderful time in Mexico after getting engaged, no one was hung up on anyone else from their time in the pods and their physical connection looked like it matched the emotional one they made before being able to see each other. At literally the last minute, right before the wedding, Kelly admitted that she didn't know what she was going to say at the alter, having realized that she simply wasn't physically attracted to Kenny.
That sentiment came out of nowhere for viewers, seeing as how, while still on vacation, Kelly said she was attracted to Kenny. And, it clearly came out of nowhere for Kenny, too, because he was devastated when she said no to him at the alter. While Kenny is very happily with someone else now, apparently Kelly tried to reignite their romance after realizing she's "friend-zoned a lot of those great guys" in her life, but Kenny wasn't having it. To that I say: Good for him! He seems truly happy now, but Kelly looks to still be regretting her decision, because she got very emotional when talking about how they weren't meant to be.
Amber And Jessica Are Not Here For Each Other's Struggles
OMG, you guys. If you thought that time would heal the wounds between these two, just let the look on Amber's face in the photo above disabuse you of that notion. Amber and Jessica made the realest faces when the other was talking about whatever struggles they had while on the show and afterwards. There was a lot of grimacing, eye-rolling, pained smiling and so much more which showed how they still really feel about each other.
We all know that Barnett is at the center of this conflict, but while Jessica did a good job of saying the right things, like apologizing to Amber and Barnett, she's pretty obviously not comfortable with the fact that their marriage seems to be working. By the way, that apology? Amber told Jessica, about how she tried to lure Barnett away, "Bitch, you're shysty!" and did not fully accept her words. These two will not be in the same room willingly for a long time, I'd say.
Carlton And Diamond Might Be Re-Engaged... As Friends... Sort Of
The romance between Diamond and Carlton was the biggest mess and quickest to fall apart on Love Is Blind. Within a couple of days of getting to the Mexican resort, they had a huge argument over him waiting to tell her that he's bisexual and split up with some very angry words to each other. But... I'm gonna say that, while Diamond wishes it had worked out, Carlton might actually still be in love with her. Why? Well, he got down on one knee and gave her engagement ring back to her.
Here's where it gets complicated, though. Just minutes before this, Diamond said she was too hurt by the mean things he said to her to consider trying to date Carlton again. But, as a means of apology apparently, he walks to her, goes down on one knee after saying he's not proposing again, and offers her the ring. Diamond is confused. Everyone in the room is confused. Carlton says he wants her to take it as a sign of their friendship and "to start something beautiful without any plan of action." OOOOOOKAAAAAAY... But, when Diamond accepts his apology and gets up to hug him, Carlton stops her so he can put the ring on her finger first. Seriously, are they engaged or not?!
Jessica Can Admit That Her Behavior Toward Mark Was A Problem
Jessica didn't break up with Mark until after she walked down the aisle (which may not have totally been her choice) but this relationship was, nonetheless, a messy bucket of steaming mess from almost the very beginning. Sure, they hit it off, but Jessica was very worried about the fact that Mark is 10 years younger than her. Plus, there was that whole thing about her really wanting Barnett, even after he chose Amber and Jessica had said yes to Mark's proposal. Honestly, though, I still don't know what to make of Jessica.
She did a lot of good apologizing to Mark and said she took the past year and a half to reflect and try to "change course." Jessica also came right out and admitted it was hard to watch her behavior, saying that watching the season was "cringe-worthy," she "didn't like the person she saw," "made derogatory comments" to Mark and "drank too much." Then she turned around, after admitting she knew their relationship wasn't going to work, and said she wishes they'd had more time and that she was always honest with Mark. WHAT?! Thank all the lords in all the heavens that these two didn't get hitched!
That's our rundown of the major things we learned from the Love Is Blind (opens in new tab) reunion! There's been no word on a potential Season 2 yet, but you can relive the whole dramatic affair on Netflix right now. To see what else is on the small screen, check out our 2020 midseason guide and Netflix schedule!
Bachelor Nation, Gilmore Girl; will Vulcan nerve pinch pretty much anyone if prompted with cheese...Yes, even Jamie Fraser.
Your Daily Blend of Entertainment News
Thank you for signing up to CinemaBlend. You will receive a verification email shortly.
There was a problem. Please refresh the page and try again.