Watch Netflix's Never Have I Ever Cast's Awesome Reaction To Getting Renewed For Season 2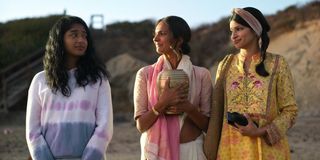 Never Have I Ever Season 1 was immensely popular the week it premiered on Netflix. It quickly rose to the number one slot on the streaming service's Top 10 feature and garnered a generally positive reception from critics and viewers alike. It seemed inevitable that the beloved series would be renewed for Season 2, but now it's official! With a renewal in the bag, the Never Have I Ever cast had the most awesome reactions to the news.
The folks at Netflix have historically made fun videos to go along with date and renewal announcements. We saw that recently with the 66.6-second video that accompanied the release date news for Lucifer Season 5. Never Have I Ever took things to the next level to announce the show's Season 2 renewal, combining a group video call with a distracted focus on series star Maitreyi Ramakrishnan's new hairdo. Watch the cast's reaction to getting a Season 2 below!
The video announcement is incredibly charming and fun. Watching the group call get derailed because everyone thinks Maitreyi Ramakrishnan called to show off her new bangs is hilarious. Poorna Jagannathan even asks Ramakrishnan if she cut the bangs herself, sounding a bit unimpressed and very much like her Never Have I Ever character. It takes a while to get everyone's attention, but as soon as Ramakrishnan tells the cast the show was renewed, they whoop with joy. There's even a Season 2 cake prepared. It's too cute.
Never Have I Ever was previously in renewal limbo along with a few other Netflix favorites. However, now that the show has been greenlit for Season 2, I can breathe a sigh of relief. This show is just too good and charming to only have gotten one season.
There's also the fact that Season 1 left plenty of storylines open-ended and Maitreyi Ramakrishnan's Devi still has a lot of growing up to do. For Season 2, the series star hopes that Never Have I Ever focuses on the "idea of self-love" as a part of Devi's journey. Ramakrishnan believes that it would be relatable to both teens and adults.
That said, my biggest concern is whether Sendhil Ramamurthy will return as Devi's hot dad given that his character is dead and all. He did manage to pop in during flashbacks throughout Season 1 and I'm honestly fine if he's just a figment of everyone's imagination in Season 2.
Never Have I Ever Season 1 is currently available to watch on Netflix. Season 2 is coming soon, but a premiere date has not yet been scheduled. Stay tuned to CinemaBlend for updates on the show. In the meantime, catch up with some of Netflix's other series by checking out our 2020 premiere guide.
Your Daily Blend of Entertainment News
Thank you for signing up to CinemaBlend. You will receive a verification email shortly.
There was a problem. Please refresh the page and try again.