Mindhunter, On My Block And 5 More Shows Netflix Still Hasn't Renewed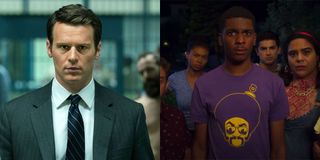 Netflix used to be the place where cancelled shows would go to get revitalized, but over the past several years, the subscription streaming service has started cancelling its fair share of shows as well. Among these have been some notable shows like Spinning Out and The OA, both which ended on cliffhangers before getting cancelled. Sometimes Netflix is fairly good about renewing shows, as recently happened when Lost in Space got the greenlight for Season 3 or Stranger Things was greenlighted for Season 4. However, what's maybe most common is when the subscription streaming service leaves a series in limbo for a while, as has happened with Mindhunter Season 3.
And it's not just Mindhunter in limbo. It has also happened with shows from On My Block to Sweet Magnolias. Take a look at more shows that still haven't been renewed by Netflix, below, and please note this is not a comprehensive list, but rather a look at some shows CinemaBlend readers are often asking us about.
Will On My Block Get Renewed For Season 4?
While a lot of the shows on this list are still fairly early in their runs, On My Block has already been going strong for three seasons on Netflix. Season 3 hit Netflix back in March and has received good reviews from both critics and fans. In addition, the cast has already talked hopes for Season 4 and more, so why the delay on a renewal?
Are The Sweet Magnolias Coming Back For Season 2?
There are not a lot of romance shows with three leading ladies who are in their forties and have seen plenty of life already. This is one of the reasons – the others being the proliferation of margaritas and some pretty intriguing menfolk – that Sweet Magnolias has seemingly been a hit on Netflix. It's also based on a series of books by Sherryl Woods, so there's plenty more to the actually narrative, Netflix just needs to sign on the dotted line for Season 2 first.
Outer Banks Renewed For Season 2?
I honestly thought Outer Banks would be a no brainer. The teen-based TV mysterious was about lost treasure – gold to be specific—and it was routinely in Netflix's Top 10 list its first few weeks available streaming. Since then, there's been nary a peep from Netflix and I think we'd all like to know whether it will be cancelled or renewed at this point, particularly given the creative team has already detailed its vision for Season 2 to fans.
Will Dead To Me Come Back For Season 3?
Dead To Me is another Netflix show I thought would be a shoe-in for a renewal. It's fairly early in its run still, but does have more than one season under its belt and does seem to be popular given the information Netflix reveals to the public. Possibly more importantly, given the implications of the Season 2 finale, we really need to see how the finale storyline plays out for Judy and Jen, not to mention Detective Perez in a third season. C'mon Netflix, gives us a renewal win here.
Is Lucifer Renewed For Season 6 Or Cancelled?
One of the older staples on this list, Lucifer is a weird one and was already cancelled by Netflix once (after being cancelled on network TV once too). Formerly, the upcoming Season 5 was supposed to be the last for the show, but then there was interest in doing more. Because of this, there have been some contract issues playing out over the last few months involving series lead Tom Ellis. Now, it seems that Ellis will return to play Lucifer Morningstar, which leaves me asking: Where's the Season 6 renewal, Netflix? In the meantime, we'll let you know once Season 5 officially comes out, but complicating that further has been the Hollywood shutdown, which reportedly affected Lucifer.
What's Going On With Mindhunter Season 3?
There's nothing that will really get my goat more than talk about Mindhunter Season 3 from director David Fincher. The man is doing some sort of movie for Netflix about Herman Mankiewicz, aka the dude who co-wrote Citizen Kane with Orson Welles, and seemingly because of that Mindhunter Season 3 is on hold and has not been renewed by the streaming service yet. Mindhunter is single-handedly my favorite thing Netflix has produced thus far and the thought the series may not work its way through its bulletin board of baddies is just upsetting to contemplate. Hopefully, this is one series that will pick back up down the line when Fincher is ready to get back to it, particularly given there are apparently specific plans for the show.
Will Never Have I Ever Never Ever Return?
I really just wanted to make that one a tongue twister. Meanwhile, Netflix's final newcomer on this list Never Have I Ever has not been renewed for Season 2 yet. Honestly, I liked this show, but compared to most on the list, the coming-of-age narrative actually wraps on a perfect note at the end of Season 1 (and even features a John McEnroe cameo). Sure, it leaves some storylines open for Season 2, but the way the series ends could be a final ending and I'd feel comfortable with that. Doesn't leave me wanting Season 2 any less, however and we'll have to wait and see what fate is in store for the charming series.
Obviously, there are other shows in renewal limbo at the streaming service, but I suppose no news is way better than getting bad news about any of these show. The way Netflix makes its decisions can sometimes feel baffling, as programs like Locke and Key sometimes get renewed fairly quickly while other shows sit on the sidelines for a while. But Netflix does have a global audience to consider and not just the U.S. While we anxiously wait the decisions for what's coming to streaming next, totally let us know if there's something else you are really missing and hope will come back some day. In the meantime, which of these shows do you hope we hear about soon?
This poll is no longer available.
Amazing Race & Top Chef superfan with a pinch of Disney fairy dust thrown in. Theme park junkie. If you've created a rom-com I've probably watched it.
Your Daily Blend of Entertainment News
Thank you for signing up to CinemaBlend. You will receive a verification email shortly.
There was a problem. Please refresh the page and try again.