What Netflix's Never Have I Ever Star Hopes For Devi's Story In Season 2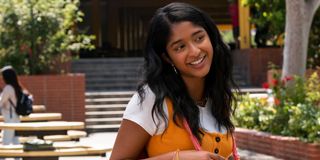 Devi had a lot on her plate in Season 1 of Netflix's Never Have I Ever. She started off the season by attempting to date high school heartthrob Paxton Hall-Yoshida and ended the season kissing her rival, Ben Gross. And so, the love triangle kicked off the Team Paxton vs. Team Ben debate. However, Never Have I Ever's Maitreyi Ramakrishnan has something completely different in mind for what Devi's story could be in a potential Season 2.
Devi wasn't exactly the kindest, most respectful friend or daughter in Season 1 of Never Have I Ever. Hotheaded and impatient, Devi often ignored other people's problems to focus on her own. Although she seemed confident in herself, there were a lot of underlying personal issues that she didn't fully contend with. That said, Maitreyi Ramakrishnan has some thoughts about what she'd like the show to focus on moving forward. Here's what the actress told Entertainment Tonight about her hopes for Devi's journey in a potential Season 2:
Knowing how much Devi has yet to learn about herself and the feelings of grief she's only beginning to grasp, the "idea of self-love" sounds like a great storyline to explore in a potential Season 2. Devi has a very long way to go and the Season 1 finale was only the start of her coming into her own. Perhaps the self-love aspect will lead the character to pronounce herself "Team Devi," which is the camp Maitreyi Ramakrishnan firmly supports.
While the end of Season 1 left a few storylines unresolved, the series hasn't officially been renewed for a second season. However, Never Have I Ever received a lot of positive critical and viewer reception and was number one on Netflix in the first week of release, so I'd wager that a Season 2 renewal is on the horizon. There's still so much of Devi's story left to tell and it would honestly be a shame if Season 1 was the last we saw of her and her family and friends.
Never Have I Ever Season 1 is currently available to stream on Netflix. Stay tuned to CinemaBlend for updates. For more on what to watch in the coming months, be sure to check out our 2020 summer TV premiere guide.
Your Daily Blend of Entertainment News