6 Unbreakable Kimmy Schmidt Inside Jokes That Are Still Completely Brilliant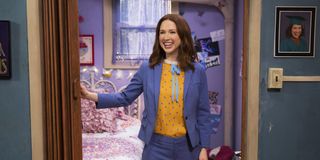 When you really think about it, Unbreakable Kimmy Schmidt is an exceptionally strange show right down to its very core concept, being a comedy that follows a young woman who has been traumatized from an experience being kidnapped by a cult leader for most of her life. What made the Netflix show work, however, was an impressive ear for tone, some brilliant character work from leads Ellie Kemper, Tituss Burgess, and Jane Krakowski, and some exceptionally smart writing. Not only are the situations and banter funny, but the series finds some super subtle ways to make audiences laugh.
From secret crossovers to hidden cameos, Unbreakable Kimmy Schmidt features some excellent inside jokes – and it's that particular brand of humor that we are here to celebrate. Just as we've done with Community and Rick and Morty in the past, here are six bits from the show that you may have missed if you didn't know to look for them:
Mikey Politano
Being co-created by Tina Fey and Robert Carlock, two of the key minds behind 30 Rock, Unbreakable Kimmy Schmidt will long be associated with the Emmy Award-winning NBC sitcom – but what takes that to a special level is the fact that the two shows seem to exist in the same universe. There isn't as anything as blatant as a Liz Lemon or Tracy Jordan cameo, and it's not like you ever see any kind of advertisements for TGS, but there is a direct link made between them thanks to Mikey Politano, the character played by Mike Carlsen.
When Mikey first appeared in Season 1's "Kimmy Kisses a Boy!" it seemed like his inclusion was just as a one-off joke about lewd construction workers – but 30 Rock fans may have registered something special about him. After all, in 2010 Mike Carlsen had a small role in the 30 Rock episode "When It Rains, It Pours"… as a lewd construction worker. Mikey, of course, went on to become a key character in Unbreakable Kimmy Schmidt, recognizing that his outwardly project masculinity was a cover for being gay, but it will always be appreciated that his introduction was part of a super subtle crossover.
The Orange Is The New Black Crossover
There is a long tradition of crossovers in network television, but that isn't something that has fully translated in the streaming era just yet. With different shows operating with different production companies and having totally different production schedules, it just doesn't happen that much. Unbreakable Kimmy Schmidt is an exception, however, as the series not only seems to directly tie to 30 Rock, but also another one of Netflix's flagships: Orange Is The New Black.
The connection is made in Season 3's "Kimmy Steps on a Crack!" which finds Kimmy enlisted by the FBI for help in dismantling a cult started by Lauren Adams' Gretchen Chalker – specifically one that flips the typical script by having a female leader and teenage boys as followers. When she is eventually taken into custody, the post-credits scene features a flash-forward that finds Gretchen arriving at Litchfield Prison, the principal setting of Orange Of The New Black, and in addition to being surrounded by some familiar faces she is also having a conversation with Cindy Hayes, Adrienne C. Moore's character from the show.
Sadly, Lauren Adams never actually completed the crossover by appearing in an Orange Is The New Black episode, however we can always just use our imagination to fill that gap.
"I hope you die, become ghost, fly around the room."
In Season 1's "Kimmy's In A Love Triangle!" the show's titular sunbeam of a human being walks in on a tense moment between her classmate/love interest Dong (Ki Hong Lee) as he is being dressed down by his boss, Hu Zha Qi (Phil Lee). Blaming Dong for an immigration raid that saw his employees taken, Hu Zha Qi says, "It's your fault. I hope you die, become ghost, fly around the room. That make everybody happy."
It's a weird enough line that gets a laugh all by itself, but what makes it even funnier is the fact that it is actually part of an inside joke among TV writers stemming from a notorious incident behind the scenes of the show Rosanne.
Per people that were involved in the making of the 1980s/1990s sitcom, Rosanne had a somewhat odd writers room as a result of Rosanne Barr having the tendency to hire people randomly – even those with little or no experience. On one fateful day, one of these inexperienced writers chimed in with an idea about introducing a twin sister for Rosanne on the show, and it had to be explained to him that Rosanne already had a sister, Laurie Metcalf's Jackie. This first led the writer to ask, to the amazement of everybody, "Who Jackie?" (which is how you phonetically pronounce the name of Dong's boss), and then explain that Rosanne should move forward with his twin idea by saying that Jackie should "die, become ghost, fly around the room. That make everybody happy." It's the kind of reference you only recognize if you know to recognize it – but now that includes all of you!
Gals On The Town
In the 30 Rock episode "Double-Edged Sword," Tina Fey's Liz Lemon finds herself in a horrible situation. While planning a getaway with her pilot boyfriend (Matt Damon), the plane experiences technical issues that keeps them trapped on the tarmac – and the only thing that's available to watch are cancelled NBC shows. The joke is driven home with an intro for a hyper-generic sitcom called Gals On The Town starring Aisha Tyler, Teri Polo, and Lindsay Price – and that very same intro returned seven years later in the final season of Unbreakable Kimmy Schmidt.
That's right: Mikey Politano isn't the only part of the Netflix show that ties it into the same universe as 30 Rock. The very same Gals On The Town intro is featured in the episode "Kimmy Has A Weekend," as Kimmy, Titus, and Jacqueline binge watch the show when they wind up with a free weekend together. As an added bonus, we get to learn a bit more information about the show – including the fact that it seemingly got revived at some point by NBC. Through their binge, the trio winds up making it to episode 50 of Season 9 – which is pretty damn impressive/sad for a single session.
How To Stream Party Monster
Speaking of "Kimmy Has A Weekend!" that episode ends with a peculiar twist. Surfing through the streaming service "House Flix," Kimmy and Titus come upon a recommendation for a documentary titled Party Monster, which happens to be made by Jacqueline's ex-boyfriend, DJ Fingablast (Derek Klena) and about the show's central villain, Reverend Richard Wayne Gary Wayne (Jon Hamm). The episode that follows, titled "Party Monster: Scratching The Surface," allows viewers to actual watch said documentary – but what makes for an added bit of fun is that watching Unbreakable Kimmy Schmidt isn't the only way to access it.
If a subscriber does a Netflix search for Party Monster, the first result that comes up is an independent page for the documentary, featuring faux credits and everything. The only unfortunate thing about it is that it doesn't edit out the appearance by Kimmy and Titus at the very end (as funny as it is to see the sunny protagonist swear, it ruins the illusion). Still, it remains a cool Easter egg for fans to discover.
Lisa Kudrow's Early Appearance
The central arc of Unbreakable Kimmy Schmidt's second season finds Kimmy dealing with her abandonment issues and making the effort to confront her absent, roller coaster-obsessed mother, and everything is capped off with a special appearance by Lisa Kudrow in the final episode, and a certain degree of emotional catharsis for the lead character. It's both a funny and rewarding arc, and what makes it even better is that the show tells you where things are going to go long before it does... provided that you're paying attention.
In the 10th episode of Season 2, "Kimmy Goes to Her Happy Place!" we learn that Kimmy's method for suppressing her anger is to mentally transport herself to an animated wonderland – one that features all of her friends as magical animals, and is protected by a Fairy Godmother. Eventually it's revealed to Kimmy by her therapist (Tina Fey) that she has some resentment toward that Fairy Godmother for not protecting her from being kidnapped a.k.a. her mother issues, and what surprisingly drives that home is that the animated Fairy Godmother is voiced by Lisa Kudrow. You have to really listen for her it, as the character doesn't have many lines, but it's unmistakable.
Do you have a favorite inside joke from Unbreakable Kimmy Schmidt? Is it on our list, or did we miss it? Hit the comments section with your own findings, and know that you can perpetually revisit the show and discover more of these funny subtle jokes on Netflix.
Your Daily Blend of Entertainment News
Assistant Managing Editor
NJ native who calls LA home and lives in a Dreamatorium. A decade-plus CinemaBlend veteran who is endlessly enthusiastic about the career he's dreamt of since seventh grade.