Michaela Coel: 6 TV Shows And Movies You Need To Check Out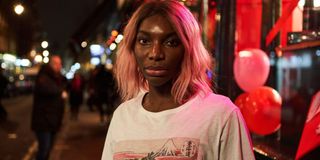 Michaela Coel's recent series I May Destroy You has been receiving lots of buzz and praise from critics and TV fans. Its boldness, unique storytelling, and Coel's performance as the star, writer, creator, and producer have made it a must-watch show. This HBO Max program may be the first time many have heard of Michaela Coel, but this is far from her first project.
Michaela Coel is a British actress who made her TV debut at 26. She has done stage work, TV, and films. Her debut TV role was on the critically acclaimed Channel 4 series Top Boy. Her role as Kayla was just the beginning of a fascinating career. Coel is becoming a powerhouse for her clever writing and earnest acting skills. She's definitely someone on the rise so keep her on your film and TV radar. And if you've haven't seen any movies or TV shows starring Michaela Coel yet, here are a few to check out.
I May Destroy You
The trailer for I May Destroy You keeps things vague, and I believe that this is one of those series that's best going into with little or no prior knowledge of what it is about. So I'm going to give a very generic summary of the plot. It's about a Twitter famous woman named Arabella (Michaela Coel) who is struggling to write her next book. It's also about her life and her friends.
Coel acts as creator, producer, director, writer, and star of the series. I May Destroy You is a dark British comedy, so it has moments that have you laughing hysterically, while also sobbing and feeling Arabella and her friends' pain and struggles. The show is quite personal to Coel as it's based on real-life events and features some of her real-life friends. I May Destroy You has been one of the most thought-provoking and unique shows of the summer.
Chewing Gum
Chewing Gum was Coel's first starring role. It's another series that she created, wrote, and produced. The series follows Tracey, a 24-year old woman from a very religious family who just wants to lose her virginity. It's about her frank exploration of her sexuality. This is also another series personal for Coel, as she grew up in a very religious household.
The series won her the BAFTA for Best Female Performance in a Comedy Programme and Breakthrough Talent in 2016. The series aired on E4 for two seasons. It was eventually brought to an American audience on Netflix as an original series. Coel's portrayal of Tracey was manic, funny, and contagiously optimistic. Tracey kept things lighthearted and weird, and that's one of the things that made the series great.
Been So Long
Been so Long is a 2018 musical starring Michaela Coel and Arinze Kene. It's about a single mother who meets and falls in love with a handsome stranger. Things aren't so simple as they sound, because Simone (Coel) has been hurt by her previous relationship, so she's not trying to rush into things with Raymond (Kene). Raymond doesn't have a clean past either, so Simone isn't sure if he's stable enough to be in her life.
Been So Long is an original musical with songs written and produced just for the movie. Been So Long has a bit of a fever dream feel mixed with some classical romantic drama moments. The film also features George Mackay, Ronke Adekoluejo, and Joe Dempsie. Been So Long blends drama, comedy, romance, and catchy music. What more could you want from a movie? The film is compelling because of how Coel and Kene keep the audience engaged and invested in their love story.
The Aliens
The Aliens is a science fiction comedy about a British society where humans and aliens co-exist, but the aliens are mistreated and discriminated against. Michael Socha plays Lewis, a man who finds out that he's half-alien. While trying to keep his alien origins a secret from the humans, he gets pulled into the dark underworld of the aliens.
Michaela Coel plays Lilyhot, a street smart alien. She's on a mission and serious about her work, but Lewis is kind of the goofy guy that tags along. Lilyhot allows Coel to play a more rogue, serious, and action hero character than many of her other roles. This serious side nicely pairs with Socha's generally innocent, goofy Lewis. The Aliens only lasted for one season but it was a very entertaining series while it lasted, and like many sci-fi series, it used aliens to talk about societal issues like discrimination and racism.
Black Mirror
Michaela Coel appeared on two episodes of Black Mirror. The first appearance was in Black Mirror Season 3, Episode 1, "Nosedive." The one starring Bryce Dallas Howard. She only had a small role as an airline stewardess. She then returned to the series in Black Mirror Season 4, Episode 1, "U.S.S Callister." She has a much bigger role as one of Robert (Jesse Plemons)' co-workers who ends up in his imaginary world.
In this world, he gets to control them and torture them. "U.S.S Callister" takes on a Star Trek simulation. Also among the actors featured on the "U.S.S Callister" are Cristin Milioti, Jimmi Simpson, and Billy Magnussen. Both "Nosedive" and "U.S.S Callister" are considered some of the best episodes of Black Mirror for various reasons, one of them being the acting. Each character in the "U.S Callister" fit their Star Trek-esque role well.
Black Earth Rising
Black Earth Rising is a mini-series centered around Kate (Coel), a legal investigator who is trying to find out the truth behind a Rwandan conspiracy. It starts with Kate's adopted mother Eve (Harriet Walter) about to prosecute a man who helped stop genocide. Then it leads to a bigger conspiracy and cover-up. Kate works alongside barrister Michael Ennis (John Goodman).
Black Earth Rising is a British suspense drama that's also about Kate trying to find her own heritage as a Rwandan refugee. It's a thriller with twists, turns, and history about the Rwandan genocide and western involvement in it. Coel is very much that leading lady in this story and commands your attention whenever she's on the screen.
Michaela Coel is just beginning to show the world what she can do, and I'm very excited to see her next projects. Most of the shows and movies mentioned on this list are available to stream on Hulu and Netflix. I May Destroy You is currently available to stream on HBO Max. Stream it here (opens in new tab).
Spent most of my life in various parts of Illinois, including attending college in Evanston. I have been a life long lover of pop culture, especially television, turned that passion into writing about all things entertainment related. When I'm not writing about pop culture, I can be found channeling Gordon Ramsay by kicking people out the kitchen.
Your Daily Blend of Entertainment News
Thank you for signing up to CinemaBlend. You will receive a verification email shortly.
There was a problem. Please refresh the page and try again.