Big Brother's 8 Most Iconic Quotes Over The Last 20 Years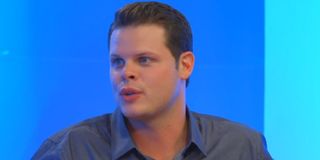 2020 marks the 20th anniversary of Big Brother, which means 21 seasons of drama, great gameplay, and expecting the unexpected. The years have given the fandom plenty of houseguests to love, and maybe a few to dislike. We've also gotten some great lines over the years that have sometimes become even more iconic than the players who uttered them.
The quotes that made this list range from being included because they're true in regards to Big Brother, they're hilarious, or they led to some truly unbelievable moments. Full disclosure I openly acknowledge there is no definitive list and that every fan has their own set of quotes they've heard that are "iconic," though I'd argue these are certainly strong candidates to be on anyone's list.
"This Is The Big Brother House, You Can Bounce Checks" - Mike "Boogie" Malin
Mike "Boogie" Malin may be one of the more controversial figures of Big Brother, but his knowledge of the game can't be denied. The first Big Brother All-Stars winner was invited back as a mentor/coach to new players in Season 14 and attempted to impart some of that knowledge to the new players he was mentoring. Perhaps the most helpful advice he imparted to season winner Ian Terry is that in the world of Big Brother, you can "bounce checks." It's a phrase that's been repeated by players since, reminding other players that one can certainly make promises they can't keep if it'll better their odds of advancing to the next week.
"Just Own It!" - Brett Robinson
Brett Robinson quickly became one of Big Brother's most likable villains because he was so good at stirring up chaos and creating confusion. Some could say his lies certainly caused rifts in Season 20's alliance FOUTTE, but most everyone can say his lie about Rockstar flipping the vote created one of the best Big Brother memes. Rockstar confronted Brett about telling such a lie "on [her] daughter's birthday" and Brett continually egged her on by saying "just own it!"
It's fair to say fans tend to remember Rockstar's daughter's birthday the most out of the exchange, though Jackson Michie did nearly expose his lie about Tommy Bracco in Season 21 by using the "own it" line. Probably not one a houseguest should use unless they're trying to call someone out for lying.
"Bye Bye Bitches"- Janelle Pierzina
Big Brother Season 6's "Friendship" alliance may have thought they were the sweethearts of the season at the time, but history would say the most memorable people of the season were ostracized from the group for various reasons. Among them, Janelle Pierzina, whose counter-alliance, the Sovereign Six, went to war against the Friendship and finally scored a decent blow when she won HoH. Janelle took the chance to put Jennifer Vasquez and Maggie Ausburn on the block, and was so excited she said "bye-bye bitches," right as Julie Chen cut back to the house for the end credits. The moment has lived on as one of Janelle's most iconic moments, even if Maggie did go on to win the season.
"I Sadly Vote To Evict..." - Multiple Houseguests
Hard to say where this one originated, though it's safe to say the phrase is said multiple times throughout a season in Big Brother. Typically the circumstances are houseguests wanting a unanimous house vote and the person voting not wanting to make waves and voting someone on the principle of not being the outlier. It's one I've always disliked, if only because we all know these people aren't all that sad. At the end of the day, anyone without a target on their back that week is secretly doing cartwheels it's not them. Just be real about it, it's not like these are being seen for jury management!
"I Hate You All, There's No One I Hate More Than Anyone Else" - Dr. Will Kirby
It can't be stated just how great a Big Brother player Dr. Will Kirby was. The fact that he has never won an HoH or Power of Veto speaks volumes about Will's social game, which he flexed in a major way on Big Brother All-Stars. During eviction speeches, Will challenged the entire house to vote him out of the game, stating that he hated them all and would "throw" the game if kept in the running. It was a play Will only made because he already knew he wasn't the target, which made the speech overly arrogant and awesome at the same time.
"But First..." - Julie Chen
You can't watch Big Brother without hearing Julie Chen say "but first" at least once during the live show. At first, audiences took jabs at the host for the repetitive and robotic script she ran through in every episode, but it didn't take long for Chen's phrases to become a vital part of the Big Brother experience. Julie's repetitive phrases are as vital to Big Brother as Jeff Probst's exaggerated remarks during puzzle competitions in Survivor. They're repetitive and played out, but dammit, this show wouldn't be the same without them.
"You Can Always Look At Me And See Home" - Tommy Bracco
I'll be the first to admit this may not be as equally iconic line for other Big Brother fans, but Tommy Bracco's motivational words to Christie Murphy was about the hardest I laughed watching this show. Christie's crying in the shower, Tommy is trying to offer some words of wisdom, but Christie can't hear it. After two tries Tommy gathers his theater experience and gives the most emotional delivery of the line yet, and is instantly shut down by a blubbering Christie not buying it. It was a hilarious collapse of what could've been a tender show moment, but I think that's what makes it all the more iconic for me.
"Holla" - Derrick Levasseur
Holla is a quote that, while associated with Derrick Levasseur, is not really one that became iconic because it came from him. Derrick went in on a prize in the slip and slide that got him 5,000 dollars, but at a cost of 5,000 hollas. Derrick was then bombarded for weeks with a voiceover shouting "holla" at him, which created some tense but hilarious moments in the house. It also created a heartwarming one when the show played one from his wife and child, as well as when the audience yelled it at him when he finally won Big Brother.
Got a favorite quote or line from Big Brother (opens in new tab)? Share it in the comments, and be sure to stick with CinemaBlend when Big Brother All-Stars premieres on CBS Wednesday, August 5 at 9:00 p.m. ET.
Your Daily Blend of Entertainment News
Mick likes good television, but also reality television. He grew up on Star Wars, DC, Marvel, and pro wrestling and loves to discuss and dissect most of it. He's been writing online for over a decade and never dreamed he'd be in the position he is today.