The Umbrella Academy: 6 Things Season 2 Did Better Than Season 1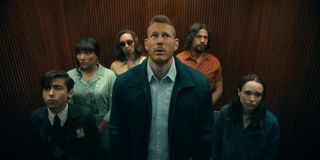 The Umbrella Academy Season 1 ended with the Hargreeves siblings failing in their attempt to stop the apocalypse, and under Five's stunted guidance, they figured time traveling would offer a second chance to get things right. Season 2 of the stylishly fun Netflix series wastes no time, kicking things off, with the title superheroes landing smack dab into the middle of the 1960s. Filled with great new (and returning) characters, elaborate scheming, and another wild Hargreeves family reunion, it's safe to say that The Umbrella Academy Season 2 did quite a few things better than Season 1.
SPOILERS ahead for The Umbrella Academy Season 2.
The Umbrella Academy Season 2 is a wild ride, as is expected from a show where a monkey can speak and take on space travel, where time assassins exist, and where Emmy Raver-Lampman's Allison can persuade anyone (even racist cops) with a rumor. The show's sophomore season maintained and even boosted its sense of whimsy, while also deepening the characters' relationships and emotional journeys, not to mention a few other noticeable upgrades that have made the season all the more enjoyable. Here are six things The Umbrella Academy Season 2 did better than Season 1.
6. Diego's Love Interest Survives
Remember Eudora Patch in Season 1? She was a skeptical detective who wasn't as quick to entertain Diego's seemingly wild stories as she was to entertain his advances. And when she realized his claims might be true, she went after Cha-Cha and Hazel and wound up dead. R.I.P. Eudora.
Naturally, when Lila was introduced in Season 2, I figured it was best not to get too attached. Diego and romance (no matter how nice or how complicated) has not had a great track record. Luckily, The Umbrella Academy avoided fridging a woman this time around and Lila survived the season unscathed. Whew! Despite her betrayal at various points, the characters have a lot in common, and I'm glad she lived to see a potential Season 3.
5. Less Time Spent With The Commission
The Umbrella Academy Season 1 spent a lot of time with the Commission, an agency tasked with maintaining the timeline (whichever one that is at this point). And I mean a lot of time. Cha-Cha, Hazel, and the Handler were core to the various plots of the first season. However, Season 2 scaled back on direct use of the Commission.
Sure, the Swedish assassins were sent to kill the Hargreeves and the Handler was back in a big way, but this time with Lila as a secret weapon in her plans. Still, the proper Commission and its agents only ever appeared when necessary, leaving more time with the Umbrella Academy and their relationships. Plus, just about everyone who worked there got killed off in glorious fashion at one point or another.
4. The Music-Action Combination Is Better
Don't get me wrong, the music in Season 1 was great. Who could forget the Hargreeves dancing along to Tiffany's "I Think We're Alone Now" during that much-discussed sequence? That said, The Umbrella Academy Season 2 turned the music choices up a notch and seamlessly incorporated each song with an action sequence or montage.
Whether it's Allison fighting the Commission assassins to the Backstreet Boys song "Everybody (Backstreet's Back)" – as prefaced by Klaus' hilarity – or Five taking out a talking goldfish and the Commission's board of directors set to Tony Joe White's "Polk Salad Annie," the music-action combo is excellent. And though it's not an action sequence, who could forget the Swedish cover of Adele's "Hello" playing while the assassins lay their brother to rest? Perfection.
3. The Pacing And Writing Are Tighter
Maybe it's the fact that Season 2 episodes were shorter than Season 1 that made the pacing and storytelling feel so much more focused. Whatever the case may be, both elements superseded previous efforts. The story was allowed to move pretty quickly since there weren't very many side characters to deter from the main cast and central plotlines.
Even Reginald Hargreeves and his mystery-mystery subplot are given just enough development and shocking reveals without distracting from the main course. This is a major step up from Season 1, which kind of lagged in the middle and slowed the natural momentum.
2. Vanya's Romance Is More Believable
Ellen Page's Vanya spent most of Season 1 alienated from her family. After being historically sidelined by her siblings, and believing that she didn't have powers, Vanya fell for the manipulative villain Leonard, and their relationship was unfortunately central to the plot last season. However, The Umbrella Academy's creative team gave Vanya a much more believable romance when they paired her with Sissy, despite the latter being married to a man.
Vanya also entered the relationship with a clean slate (amnesia), which put her romance with Sissy on more equal footing. It also gave the series some much-needed LGBTQ representation that it lacked in Season 1. Yes, Klaus and David were in a relationship in the first season, but the latter died before we got to know him. And to be quite frank, it felt like he was killed off for Klaus' pain, and David's return in Season 2 didn't really disprove that notion.
1. Ben Got More Development And Then Some
Perhaps the biggest mystery throughout Season 1 was the cause of Ben's death. All we did know was that Klaus was able to convene with Ben's spirit and, while that provided some insight into Ben's personality, he didn't get to do all that much. Season 2 offers a lot more of Justin H. Min's Ben as a separate entity from Klaus, even when they're within the same body. Ben even becomes attracted a woman in Klaus' cult and attempts to get to know her, which means fighting his brother a lot more often, and in pretty singular ways.
Viewers even learned a bit more about the circumstances surrounding Ben's death, as well as why he decided to stick around in the afterlife. Ben ended up sacrificing himself for the good of saving Vanya and stopping another apocalypse. However, the Season 2 finale indicated that we'll be getting a lot more of Ben in a potential Season 3, and the character will barely have the same personality in the new timeline.
With the way that Season 2 ended, it seems that the Umbrella Academy will be dealing with an entirely new set of problems that have nothing to do with the apocalypse. Both Sir Reginald Hargreeves and Ben are alive, for one thing, and it looks like the siblings have been replaced by a mostly new group called Sparrow Academy. How they'll manage to tackle these problems is anyone's guess at this point, but I can't wait to find out.
For now, there's no official word on whether The Umbrella Academy has been renewed for Season 3, but stay tuned to CinemaBlend for updates. In the meantime, the first two seasons are now available to stream on Netflix (opens in new tab). For more on what to watch, be sure to check out our fall TV premiere guide, as well as our complete 2020 Netflix schedule.
Your Daily Blend of Entertainment News
Your Daily Blend of Entertainment News
Thank you for signing up to CinemaBlend. You will receive a verification email shortly.
There was a problem. Please refresh the page and try again.