Stargirl: 8 Questions We Have After The Season 1 Finale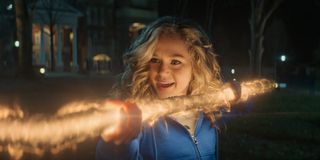 Spoilers ahead for all of Stargirl Season 1.
When Stargirl Season 1 first premiered, I didn't know what to really expect from the freshman series. But, after 13 episodes of twists and turns, excellent character development, thoughtful hero and villain arcs, as well as shocking deaths, Stargirl cemented itself as a superhero show worth watching.
The Season 1 finale tied up plenty of loose ends while setting up quite a few potential plots for Stargirl Season 2 to tackle. With the Injustice Society of America's plans thwarted by Stargirl and her team, the Season 1 finale had more than its fair share of surprises and plots to ponder in the aftermath. So, here are eight questions we still have after the Stargirl Season 1 finale.
8. Was That The Real Starman At The End Of Season 1?
Joel McHale's Starman seemingly died in the first episode of Season 1. He had a few parting words to Pat before dying in his arms, or so we thought. In Stargirl's Season 1 finale, Starman arrived at Pat's old apartment in search of his friend and later introduced himself as Sylvester Pemberton. But, are we to believe that this guy is the real Starman?
His arrival calls into question everything we knew about the character in Season 1. Is this someone impersonating him? If this is the real Starman, how did he survive the Injustice Society of America's attacks and why is he just now showing up after ten years? For what it's worth, I do think that the man in the finale is the real Starman. Maybe his storyline went the way of the Shining Knight's and he lost his memory somehow. Whatever the case, I'll be interested to find out.
7. What Are The Aftereffects After Brainwave's Mass Mind Control?
Brainwave proved to be perhaps the most powerful villain in Stargirl Season 1. With the power of his mind, he could change the thinking of millions of people across the U.S. When Brainwave offered to alter Barbara's mind and erase the memories of her family, Icicle was against it. He brought up the fact that no one is ever the same after Brainwave messes with their minds.
Knowing that he brainwashed millions of people, I can't imagine that anyone walked away without some kind of effect on the noggin. Will Barbara and the other adults be acting a bit differently in Season 2? It's possible, and since Icicle brought it up, I think it's definitely something the writers should address next season.
6. How Will Eclipso And The Shade Factor In?
Following the defeat of Icicle, Brainwave, and Dragon King, the ISA is down several members (Principal Bowen included). With their plans also thwarted, The Shade showed up briefly to admonish the villains for their failure. Meanwhile, Cindy escaped her lockup and headed straight for the ISA archives to say hello to Eclipso. In DC Comics, Eclipso can possess the minds and bodies of other people, which is pretty scary.
If Cindy actually lets Eclipso out, it's possible that the villain will possess the teenager to do their bidding (at least for a while). In The Shade's case, the villain has been a major antagonist of The Flash and Starman in the comics. With the return of Starman at the end of Season 1, it's possible The Shade's arrival in Blue Valley will be connected to Sylvester's return.
5. What Actually Happened To The Seven Soldiers Of Victory?
Stargirl Season 1 revealed that Pat was actually a member of the Seven Soldiers of Victory before joining up with the JSA. The Shining Knight, the former leader of the Seven Soldiers, went to find Luke Wilson's Pat to help him regain some of his memories. In the Season 1 finale, the Shining Knight left Blue Valley in search of the rest of his team. Of course, one has to wonder what happened to the rest of the heroes and why they even disbanded.
Did some members lose their memory like Shining Knight? Did Stargirl's version of Green Arrow decide to hang up his bow and quiver and lead a normal life like Pat? Are the other members dead? The latter would be very sad, but I'll bet that the majority of them are just laying low for now. Otherwise, I assume that Pat would have heard about some of their daring rescues in the years since he left them behind.
4. Will The Cosmic Staff Have To Choose Between Stargirl and Starman?
The Cosmic Staff revealed itself to Courtney in Season 1 because, like Pat said, it believed in her. While Courtney based the ownership of the staff on the idea that she was a JSA legacy kid, the reveal that she isn't Starman's daughter made it clear that genetics weren't a factor in her becoming a hero.
Now that Starman is seemingly back, it's possible that the Cosmic Staff will have to choose a side. Will it go back to Starman or remain with Stargirl? My money's on the staff staying with Courtney since she's proven herself to be a hero worth rooting for. Plus, it seems like the powerful artifact would have remained with Starman if it had known he was alive the whole time, right?
3. When Will The Mysterious Pink Pen Come Into Play?
At the beginning of Season 1, Courtney visited the JSA's headquarters and stole Wildcat's suit, Dr. Mid-Nite's goggles, Hourman's costume, and a mysterious pink pen, among other things. Pat nearly had a heart attack when Courtney touched the pen, telling her that it's "the most dangerous thing."
However, the pink pen, which belonged to the superhero Johnny Thunder, remained unused for the rest of the season. Courtney did touch it, but it did nothing and she left it discarded on her desk. It's possible that Stargirl Season 2 will finally put the pen to good use. Maybe she'll pick up the pen by accident and it will finally unleash the thunderbolt for use in battle against whatever the ISA has planned next.
2. Why Did Stargirl Leave Out Icicle's Son Cameron?
Poor Cameron. When he was first introduced, I wondered why Icicle never let him in on the family secret. Cindy was clearly the only ISA kid who knew she was a villain's kid, and Henry later found out about Brainwave. However, Cameron remained in the dark about Icicle and what he was up to.
Beside Cameron asking Courtney out and showing up to dinner at the Whitmore-Dugan's house, his presence in Season 1 was underwhelming. Considering that he's the son of such a powerful ISA member, you'd think that the show would have done more with his character instead of leaving him out of the main plot. Perhaps that will change in Season 2, but time will tell.
1. Will Solomon Grundy Be A JSA Ally?
Rick had a bone to pick with Solomon Grundy after finding out that he was sent to kill his parents. When Rick found Solomon on the JSA's first foray into Dragon King's lair, he attempted to remove the door to his prison to fight him. In the Season 1 finale, Rick finally went toe-to-toe with his nemesis but didn't kill him.
In fact, Hourman let Solomon Grundy go and that means he could return at some point in Season 2. Now that he's no longer Dragon King's prisoner or an ISA lackey, it's possible that Solomon could become an ally to the JSA. In DC Comics, Solomon Grundy briefly fights alongside Infinity Inc., a superhero team made up of the JSA's children. Solomon's storyline could very well follow a similar path in Stargirl Season 2.
Stargirl has already been renewed for a second season and will return exclusively to The CW (its original home was DC Universe). However, there's no premiere date set for Season 2 just yet, so stay tuned to CinemaBlend for updates. In the meantime, be sure to check out our 2020 fall TV premiere guide for options.
Your Daily Blend of Entertainment News
Your Daily Blend of Entertainment News
Thank you for signing up to CinemaBlend. You will receive a verification email shortly.
There was a problem. Please refresh the page and try again.