Big Brother Spoilers: Who Will Be Evicted Week 4?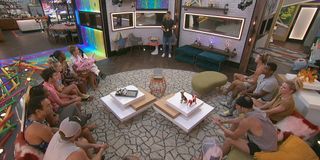 Warning! The following contains spoilers from Big Brother All-Stars' live feeds as of Wednesday, September 2. Read at your own risk!
Another week is rapidly drawing to a close in the Big Brother All-Stars house, and things have been exciting. A nominee for eviction finally won the veto, and yet another wall yeller put Ian Terry on the path that exposed the dirty secret that may blow this game wide open very shortly. The questions now are will any of it impact the current nominations, and will Kaysar Ridha or Christmas Abbott go home?
There's still some time left for some major moves to be made ahead of the live eviction, but at the moment, it'll almost certainly be Kaysar Ridha exiting the house. Here's how the game has progressed since Kevin Campbell pulled himself down from the block and other things that have come into play ahead of the vote.
Ian Cracked The Code, But No One Sees The Big Move
Ian Terry has successfully sniffed out Cody Calafiore and Nicole Franzel's pregame Final 2 alliance, and how they've been deceiving most of the house and their majority alliance with phony Final 2 deals. This theory combined with the wall yeller giving the vague statement of "Cody and Nicole are playing everyone," should make it easy to sell to the rest of the house.
This is a move that could absolutely be used to save Kaysar Ridha, but as of Wednesday afternoon, no one has figured that out. So far Ian Terry has convinced Kevin Campbell, Da'Vonne Rogers, Bayleigh Dayton, and David Alexander to get in on this plan, which would make for five votes. That's enough to tie this week's vote and make Enzo Palumbo break the tie. Right now Enzo would likely break the tie in favor of Christmas Abbot, so they'd need a majority to make it happen.
Here's the extra gut-wrenching part: that sixth vote wouldn't be all that hard to get. Tyler Crispen has been talking about making a "big game move," and there's some clear frustration on his end that he doesn't have quite the astounding run as his Season 20 performance was so far. Tyler flipping the vote would be a massive betrayal of his alliance, but also one he could easily mask when the time came.
Dani Briones is another option for a sixth vote, as her name has been dragged through the mud this week in the name of potentially being the first sacrificial lamb of the majority alliance taken out. Dani is losing the strongest members of the majority alliance and could recover some ground with the other side of the house throwing that vote. Unfortunately, it doesn't look like this plan will happen, and it's largely because of Kaysar Ridha.
Kaysar Has Given Up Hope And Has A Bad Ally
Kaysar Ridha hustled his ass off the first two weeks of the game trying to save other people in the house, so it's kind of sad to see him not really doing that at all this week. Yes, it does seem like the vote is a done deal on the surface level, but a smart guy like Kaysar should've been able to connect the dots and realized it's not over quite yet.
The problem is that even if Kaysar Ridha does eventually realize he's just a vote or two away from flipping things, his main confidant will be the one to betray him. Janelle Pierzina confirmed that Kaysar is 100% oblivious to the fact that Memphis Garrett is a member of the majority alliance, albeit a silent one not nearly as integrated into the group. Memphis' rogue nominations probably played to his benefit in this instance, and it will serve him once again because Kaysar will undoubtedly come to him first for a potential sixth vote.
Memphis Garrett is currently a non-factor in competitions due to a back injury, so the last thing he'd want to do is stick his neck out for Kaysar. He has historically been very against Janelle and Kaysar's wishes; they just haven't been aware of it. The old-schooler will likely leak Ian's news to the majority alliance ahead of the vote, which would only solidify their resolve to unify against the rest of the house even if Cody and Nicole are playing them.
Could Kaysar Be Saved Anyway?
Let's not forget that the past two weeks of Big Brother All-Stars have had hinky votes, so if someone gets cute and decides to shake up the game while there are votes already going to Kaysar Ridha, he could unintentionally be saved from leaving the Big Brother house. I can't even begin to imagine the chaos that would create in the house, to the point that Ian's reveal really wouldn't need to reach more people.
Let's also remember that the Safety Suite has retired, and a new twist is going to be revealed in Big Brother All-Stars this week. There have been no clues as to what that may be for the moment, but there has been tons of speculation regarding a battle back or some way of ensuring evicted all-stars have a chance to return. Of course, a lot of people lost hope that was in the cards when Janelle Pierzina went home, because if production isn't going to save her, who will they save?
Still, the mystery surrounding this upcoming twist does have me wondering if Big Brother All-Stars' next twist won't incorporate the latest evicted houseguests in some way. Without some fear that these people will return, the majority alliance has a good chance of running through the house largely uncontested, so something needs to be done to put an end to that. A twist that gives Kaysar Ridha and others a chance to return and influence the game would go a long way and combat the current verdict that All-Stars 2.0 has been pretty boring. Something needs to happen to spice up this game immediately, and something tells me more wall yellers aren't the answer.
Big Brother All-Stars (opens in new tab) airs on CBS Sundays, Wednesdays, and Thursdays at 8:00 p.m. ET. Continue to stick with CinemaBlend for the latest on what's happening on the live feeds, and for more news on what's happening in television and movies.
Mick likes good television, but also reality television. He grew up on Star Wars, DC, Marvel, and pro wrestling and loves to discuss and dissect most of it. He's been writing online for over a decade and never dreamed he'd be in the position he is today.
Your Daily Blend of Entertainment News
Thank you for signing up to CinemaBlend. You will receive a verification email shortly.
There was a problem. Please refresh the page and try again.