Why It's Important That Classic Black Sitcoms Are Seeing A Resurgence Right Now, According To Kim Coles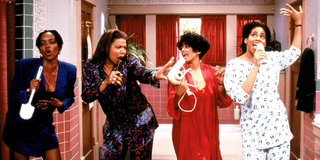 Living Single is a classic, there's no doubt about that. The Queen Latifah-starring sitcom is typically central to discussions about influential Black sitcoms and how it shaped the 1990s. Now that we're seeing a resurgence of classic Black sitcoms, with Sister, Sister, Moesha, Girlfriends and more arriving on streaming platforms, Living Single vet Kim Coles explains why it's so important right now.
On Living Single, Kim Coles played Synclaire James-Jones, an aspiring actress who lived with her friends in New York. There's no doubt that the show helped to usher in an era of sitcoms that better reflected and centered the perspectives of Black characters. Now that Living Single and a plethora of other Black sitcoms are being rejuvenated via streaming, Coles believes the impact of these shows will be greatly felt all over again. Here's what she told EW:
I was honestly so excited to hear that shows like Sister, Sister and Moesha in particular were coming to Netflix. Living Single and other Black sitcoms were already streaming on Hulu, but having so many more classics available to binge makes my life that much better. With these series being a lot more accessible to fans now, I'm sure they'll attract a lot of viewers who will be discovering the shows for the first time. Here's hoping that the resurgence of classic Black sitcoms does indeed "spark something anew."
Kim Coles concedes that Black sitcoms are also important because, despite being labeled a "Black show" and marketed to a Black audience, Living Single (as an example) resonated with many other demographics and influenced other shows. And who didn't watch other shows like Family Matters, The Fresh Prince of Bel-Air, and Hangin' with Mr. Cooper? (If you didn't, please go watch these sitcoms now!)
It seems like no coincidence that series like One on One and The Game are finally headed to Netflix after so many years, especially considering the discussions surrounding representation, diversity, and the Black Lives Matter movement in Hollywood. Back in June, Netflix also added a Black Lives Matter category and included several Black-led series like Dear White People, the miniseries When They See Us, #BlackAF, and many more.
Living Single is currently available to stream on Hulu. Meanwhile, Moesha, The Game, Girlfriends, and so many other Black sitcoms are currently available on Netflix. For more on what to watch, be sure to check out our 2020 fall TV premiere schedule.
Your Daily Blend of Entertainment News
Your Daily Blend of Entertainment News
Thank you for signing up to CinemaBlend. You will receive a verification email shortly.
There was a problem. Please refresh the page and try again.