Doom Patrol Actress Explains Why It Was 'Really Important' To Show Black Love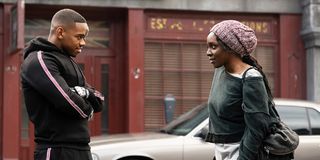 Doom Patrol Season 2 opened the doors for Joivan Wade's Cyborg to explore his PTSD and so he left the team for a while and joined group therapy. While there, he met Karen Obilom's Roni Evers, a war vet with her own trauma and secrets. The pair hit it off, and Obilom recently explained exactly why it was "really important" to show Black love on Doom Patrol.
Roni was all about second (and third) chances, while Cyborg had a bit of a different definition of justice. This ruffled him a bit at first, especially considering how little the other Doom Patrol members challenged him on that front. However, it wasn't long before Roni and Cyborg entered into a romantic relationship and spent the remainder of Season 2 getting to know each other. During the Doom Patrol panel at DC FanDome, Karen Obilom revealed why she liked Cyborg and Roni together and the importance of showing Black love on screen. Here's what she said:
I have to agree about it being a nice surprise for Doom Patrol. The superhero series isn't exactly known to have strong romantic subplots, but Cyborg and Roni's relationship really worked in favor of the show. It's also incredibly important to show such a happy and loving dynamic between two Black characters — at least for a little while before the angst settles in, as is always the case in this genre.
Joivan Wade agreed with his co-star about getting to see Black love represented on screen. He also added that Cyborg was drawn to Roni because she was the "closest reflection" to Vic in terms of being able to relate to someone on another level. Wade also said that being in a relationship with Roni helped Cyborg to love himself more and that, in and of itself, was a beautiful thing.
The relationship between Roni and Cyborg hit a major bump by the end of Doom Patrol Season 2, and it remains unclear if they'll be able to resolve their issues. Considering that Roni's storyline is also far from over, I'm sure Karen Obilom will be back on the show when it returns for Season 3.
Doom Patrol Season 3 doesn't yet have a premiere date, but it will air exclusively on HBO Max (bypassing DC Universe altogether). Stay tuned to CinemaBlend for updates and be sure to swing by our 2020 fall TV guide for more on what to watch.