Sounds Like Jurassic World's Bryce Dallas Howard Is A Fan Of Netflix's New Camp Cretaceous Series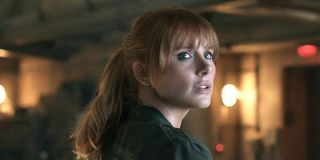 While the world waits for Jurassic World: Dominion to dive into the world of dinosaurs on the big screen all over again, Netflix has a dino-filled option set in the same Jurassic World universe, and one movie star is evidently a fan. Bryce Dallas Howard, who of course played Claire Dearing in Jurassic World and Jurassic World: Fallen Kingdom, has shared her reaction to Jurassic World: Camp Cretaceous on Netflix. The animated TV show finally debuted on September 18, and Howard wasted no time in weighing in.
Bryce Dallas Howard took to Instagram to hype the new show, writing:
JurassicPark and #JurassicWorld to me are the ultimate wish fulfillment (even though everything goes very bad and very quickly). What @colin.trevorrow has done with #CampCretaceous is absolutely brilliant -- being able to step inside the park and have imagination become reality; it lives in that pocket of grand awe and thrill that we love and crave as viewers. And for the fellow parents of dino-loving kids, I'm so excited to have this story for my family.
In her post, Bryce Dallas Howard admitted that even though things tend to go wrong pretty early in any Jurassic Park or Jurassic World project, they can provide a lot of fun, and Camp Cretaceous is evidently no exception. The show is aimed at kids, so it's safe to say that things don't get quite as bloody on Jurassic World: Camp Cretaceous as they might in the film installments of the Jurassic franchise.
The show centers on six teens who are invited to attend a state-of-the-art adventure camp located on Isla Nublar, a.k.a. the site of pretty much every dino disaster except what went down in The Lost World: Jurassic Park and Jurassic Park III. Too bad the movies don't exist in-universe, or I'm guessing Jurassic World might have a hard time getting some kids to come to camp! When the dinosaurs inevitably break out of captivity, the teens will have to band together to survive.
According to Bryce Dallas Howard, her kids are dinosaur fans (who also sent her an adorable message while she's across the ocean filming Jurassic World: Dominion) and she's excited about Camp Cretaceous for her family. Who better to trust than somebody who knows her way around dinosaur catastrophes in the Jurassic universe? If she can flee a dinosaur in heels after extensive training, I think she can vouch for what makes for a good dino TV show. It doesn't hurt that Colin Trevorrow and Steven Spielberg of the films were on board as executive producers!
Check out Bryce Dallas Howard's full post hyping Jurassic World: Camp Cretaceous!
You can find the eight episodes of Jurassic World: Camp Cretaceous streaming on Netflix now. There are also plenty of other dino-filled options on the streamer. Jurassic Park, The Lost World: Jurassic Park, Jurassic Park III, and the Jurassic World: The Indominus Escape are all available on Netflix as well. The Indominus Escapes isn't exactly another thrilling chapter in the Jurassic saga, but worth a few laughs! Jurassic World: Dominion is expected to premiere in 2021.
If you need some TV options that aren't packed with genetically-engineered dinosaurs with a knack for escaping enclosures, check out our 2020 fall TV premiere schedule!
Resident of One Chicago, Bachelor Nation, and Cleveland. Has opinions about crossovers, Star Wars, and superheroes. Will not time travel.