Bachelorette Spoilers: Was The Show More Prepared For The Clare And Tayshia Switch Than We Thought?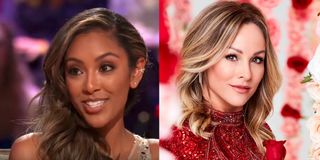 Warning! Potential spoilers ahead for Season 16 of The Bachelorette with Clare Crawley (and probably also Tayshia Adams)!
Well, would you look at that? After a delay of several (excruciating) months, we are actually, really, nearing the start of The Bachelorette Season 16. Even though Clare Crawley's time as head rose-giver was besieged by unforeseen difficulties from the very beginning, no one could have predicted the massive rumor which would come about just a few days after filming was finally able to get underway. Oh, have you not heard? Apparently, Clare fell in love almost immediately, and Tayshia Adams will take up her Bachelorette mantle. What we heard when this report first came out was that Clare's decision threw production into disarray, but was the show actually more prepared for the switch than we thought?
While it would make total sense to most of Bachelor Nation that Clare deciding to abandon her post a mere 12 days into filming (after such a long delay and many other worldwide health crisis-related obstacles had to be overcome) would, indeed, lead to a massive shakeup which caught the producers way off guard, we're hearing that this simply isn't the case. According to spoiler guru Reality Steve, not only were those behind the show not surprised when Clare and suitor Dale Moss began falling in love super early in the process, but they already had a plan in place for when that affection became obvious.
While we don't have all the details yet on how the switch from Clare as lead to Tayshia's Bachelorette time will go down, Reality Steve is saying that none of those murmurs we heard (back when reports first came out that Clare wasn't going to be the lead for very long) are true. We'd heard that Clare quickly became a problem once she and Dale were brought together on the show; refusing to film, cancelling dates and cocktail parties, and then quitting the show altogether to be with her newfound love.
Instead, Steve's intel says that while Clare did check her potential suitors out online during the long break before filming, she and Dale didn't have any actual virtual or in-person contact (not even texting) before the show began to film. But, she was already pretty hot on the model / former football player by then, and had Dale in her mind as a potential front-runner. When the cameras actually started to roll on Season 16, apparently there was no way to hide the attraction between both of them, and luckily, the producers already had a plan.
Apparently, producers had had enough conversations with Clare throughout the break to know that she had the tingles for Dale before filming began, and figured that she wouldn't be extremely keen to continue after meeting and talking to him for a bit. So, what did they do? According to Steve, they made sure Tayshia was prepared to come in and take over, settling on the new Bachelorette before they even started filming.
Reality Steve points out that, at no point, did The Bachelorette stop filming once things got going. This seems to mean that they were more than ready for the switch way ahead of time. He also notes that Tayshia was taken to the Palm Springs resort where they shot the season just nine days into filming, and she was quarantining there as Clare was still going on dates. He asserts that the producers were already worried about Season 16 being boring because of the single location, and when it became clear that Dale and Clare would fall for each other they just went ahead and worked Tayshia into the production schedule ASAP.
And, here's the real kicker to all of this. Steve's information also says that Clare didn't even really quit the season. I know! He believes (or has a scoop which has led him to believe) that the producers are the ones who set off the whole process of Clare leaving. They went to her after it was apparent that she and Dale were hitting it off in person and presented her with the opportunity to leave The Bachelorette behind so that they could pass the torch to Tayshia, who was happily waiting in the wings.
I really don't know what to make of all this, but I can certainly see the producers worrying about how exciting the season would be without all of their usual jet-setting. When you add in their supposed knowledge of Clare and Dale's pre-show feelings for each other, and how that (apparently) manifested so clearly when they were filming, it makes sense that they would have had a plan in place should they feel the show stalled in the "most dramatic season ever" department.
It's incredibly unlikely that anyone behind the show will publicly confirm any of this, and we certainly don't know if any of these behind-the-scenes shenanigans will show up on screen, but it is fascinating to consider, right? And, we can all see how this plays out on camera when The Bachelorette premieres, Tuesday, October 13 at 8 p.m. EST on ABC.
Bachelor Nation, Gilmore Girl; will Vulcan nerve pinch pretty much anyone if prompted with cheese...Yes, even Jamie Fraser.
Your Daily Blend of Entertainment News
Thank you for signing up to CinemaBlend. You will receive a verification email shortly.
There was a problem. Please refresh the page and try again.