Ser Davos Game Of Thrones Actor Reveals One Thing He Refused To 'F-ing Do' On The Series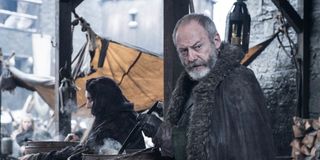 It's been over a year since Game of Thrones wrapped its eight-season run on HBO. While the show might be over, new information about the series has come to light by way of James Hibbard's Fire Cannot Kill a Dragon. Within the book's pages, Liam Cunningham revealed the one thing he refused to have his character Ser Davos "fucking do" on Game of Thrones and, more importantly, why he chose not to do it.
Liam Cunningham joined Game of Thrones in Season 2. Initially loyal to Stannis Baratheon's cause, Ser Davos went on to fight alongside Daenerys Targaryen. In addition, Ser Davos was a very kindly father-figure to Stannis' daughter, Shireen. However, Cunningham says that Game of Thrones co-showrunner David Benioff wanted Ser Davos to have feelings for Missandei, Daenerys' advisor, after their meeting in Season 7. Cunningham was having none of that. Here's what he said (via Insider):
I, for one, am so happy that Liam Cunningham fought David Benioff and Mark Mylod on that storyline for Ser Davos. It would've been super awkward had he been crushing on Nathalie Emmanuel's Missandei, especially considering the fatherly role he was already playing on the show.
I shiver at the thought that this could've happened on Game of Thrones. Not to mention that the 28-year age gap between them is huge. Realistically speaking, I think Ser Davos could've been a father-figure to Missandei as well, despite the fact that she was in her twenties. All told, here's what he said to the Game of Thrones showrunners about the idea:
Liam Cunningham added that he wasn't "100 percent sure" that David Benioff wasn't just trying to annoy him with the suggestion. Still, Ser Davos was stalwart and thoughtful, and I don't think he would have ever voiced (or had) any romantic feelings toward Missandei. Luckily, Liam Cunningham was adamant about staying true to his character no matter what.
Ser Davos did mention that he had a wife and kids early on in the show's run. However, they never appear on screen, and I don't recall them ever being brought up again in later seasons. That said, I assume they're still alive somewhere and that Ser Davos probably went off to see them after things settled at King's Landing.
All eight seasons of Game of Thrones are available to stream on HBO Max. For more on what to watch, be sure to check out our updated 2020 fall TV premiere guide.
Your Daily Blend of Entertainment News
Your Daily Blend of Entertainment News
Thank you for signing up to CinemaBlend. You will receive a verification email shortly.
There was a problem. Please refresh the page and try again.