A Baby Is Coming: Kit Harington and Rose Leslie Are Having Their First Child Together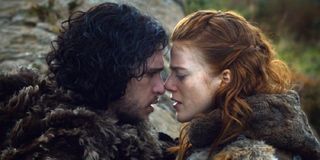 Game of Thrones' series finale may have disappointed a lot of fans and critics, but the show did bring Kit Harington and Rose Leslie together, so that's a major plus. The couple, who played Jon Snow and Ygritte, respectively, met while filming Season 2 of the HBO drama and eventually got married in 2018. Now, Harington and Leslie have a baby on the way and are about to become parents for the first time.
Kit Harington and Rose Leslie are a fairly private couple. Neither Harington or Leslie are active on Instagram, so the public had no idea that they were expecting their first child together. (They're a bit like Supergirl's Melissa Benoist and Chris Wood, who didn't announce the birth of their child until weeks after he was born.) However, Leslie recently posed for the cover story of the UK magazine Make. The publication's fashion editor Ursula Lake posted a photo of the actress from the mag's photoshoot that confirmed the pregnancy. Take a look below!
Congratulations to the happy couple! Ursula Lake revealed that Rose Leslie's shoot consisted of an all-woman team, which was organized alongside her interview for the magazine. Leslie looks positively radiant and fulfilled in the photo, if I do say so myself.
Though the photo revealed the existence of Leslie's pregnancy, it's still unclear how far along she is or when the baby is due. As of this writing, neither actor has made an official statement on the matter, and I suppose we won't find out a whole lot more information for some time, considering how much Rose Leslie and Kit Harington tend to stay out of the public eye.
While Kit Harington's Jon Snow remained with Game of Thrones until the end, Rose Leslie's Ygritte died during the Battle of Castle Black in Season 4. When she couldn't bring herself to kill Jon, the young Olly (who later aided in killing Jon), shot Ygritte with an arrow in the back, and she soon died in Jon's arms. Thankfully, things are far less tragic for the duo in real life.
Prior to Ygritte's death, she and Jon were onscreen lovers for a time and their chemistry certainly translated off-screen as well. Rose Leslie and Kit Harington dated for many years before getting engaged in 2017 and tying the knot a year later. As you can probably guess, several of their Game of Thrones castmates attended that wedding, including Emilia Clarke, Maisie Williams, Richard Madden, and Sophie Turner, who recently had her first child with hubby Joe Jonas.
Rose Leslie most recently starred in The Good Fight and the upcoming film Death on the Nile alongside Wonder Woman's Gal Gadot and Armie Hammer. Meanwhile, Kit Harington landed a major project following Game of Thrones and will next be seen in Marvel's Eternals, where he will play Dane Whitman, a.k.a. Black Knight. The MCU film notably dropped "the" from its title and has officially been postponed until November 2021.
With a baby on the way, we wish Leslie and Harington nothing but the best in the coming months and congratulate them on the happy news!
Your Daily Blend of Entertainment News