Big Brother Spoilers: Who Will Be Evicted Week 11?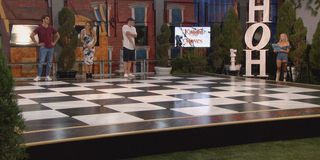 Warning! The following may contain spoilers from the Big Brother All-Stars live feeds as of Wednesday, October 21. Read at your own risk!
Big Brother All-Stars is nearly over and, while some fans may be hoping that ending comes sooner than later, there is still some game left to play. A decision must be made on whether or not Christmas Abbott or Nicole Franzel will be sent to the jury house and miss out on finale week. The decision isn't entirely up to them at this stage, but rather the man who has been running the house since Day 1, Cody Calafiore.
So which of the two seems most likely to walk out the door on Thursday? As of this writing, it's looking like Christmas Abbott will be the exiting houseguest and will not be joining Enzo Palumbo and Cody during finale week. Here's how that decision came together and whether there's any chance that Christmas could find a way to save herself before the vote.
It's All About Comp Wins, Yo
As is usually the case in this stage of Big Brother, comp wins are key in the Final 4. With only one person available to vote, everyone wants to be the person that casts the vote that ultimately decides who will be competing against each other during finale week. Enzo Palumbo already guaranteed himself a spot with his Head of Household win, and Cody Calafiore also likely secured his position with a clutch veto win.
This means the vote is in Cody's hands this week on whether or not to save Nicole Franzel or Christmas Abbott and, as anyone who has been following Big Brother All-Stars may know, he's going to look out for his Final 2 since before the game even started, Nicole. Had this been a more dynamic season, the situation may be different, but Cody has no reason to burn Nicole this late in the game.
I only make mention of that because some live feed chatter has featured Cody Calafiore weighing the option of betraying Nicole Franzel, but it's all talk. Cody knows that if he saved Christmas there's no way in hell she'd take him to a Final 2 if she had the choice. Furthermore, Christmas is more of a threat to defeat Cody twice in the final competitions to be able to make that decision, so he's better off keeping Nicole Franzel.
Cody Could Make Things Interesting, But Why Would He?
With Cody Calafiore's win, Big Brother All-Stars has made history in it being the lowest amount of times a veto has been used in a season. The two veto uses only resulted in one actual target being saved from the block, and a fairly predictable season from start to finish. The season has benefitted Cody Calafiore from the start, so why would he suddenly go rogue on everything when it's all worked out for him so far?
Trust me, I know it's never a wise strategy to assume players in Big Brother will do the thing that makes sense but, in the context of Big Brother All-Stars, everyone has done the most obvious and logical thing. This is especially true in the case of Cody Calafiore, who has played such a flawless game he has not been nominated despite his 7 comp wins ahead of finale week.
Basically, if anyone is betting on Cody to make some dumb decision out of hubris, I'm 99% sure that's not going to happen. I know we like to speculate and hope against hope that his game will implode in finale week but, seriously, you gotta hand it to the guy for putting himself in the best possible position to win. Enzo Palumbo and Nicole Franzel will have to beat him twice in competitions if they want to knock him out ahead of Final 2, and the odds of that right now feel incredibly low.
Does Christmas Have Any Chance At Staying?
The feeds have featured Christmas Abbott making all the offers she can to stay over Nicole Franzel, and she's pitching Cody Calafiore the moon. At one point yesterday, she even made the argument that there's no way she'd be able to beat him twice and that she'd never win in a Final 2 against him. After that, she said if she did get a chance to choose the Final 2, she would be taking Cody. It's a deal that Cody, literally, couldn't go wrong in taking.
Of course, the only problem with it is there's absolutely no way she means any of it. Even Nicole Franzel and Enzo Palumbo can't seriously be considering taking Cody Calafiore to the Final 2 if they really want to win Big Brother All-Stars. Christmas/Enzo/Nicole are all in relatively equal standing in terms of accolades in the game, so to take Cody to the Final 2 with them just to get runner up when they could win it all sounds like an incredibly stupid decision.
Cody Calafiore knows this, and that's why he's currently aligned with two people in the house he believes he has a very solid shot at beating so he can have his choice of who he takes to the Final 2. He also had agreements with Nicole and Enzo about a Final 2 long before Christmas ever approached him about any agreement for finale week, so there's really no point in him even lying to her that she won't be receiving his vote.
Right now, it doesn't seem like Cody Calafiore has directly told Christmas Abbott he's keeping Nicole Franzel, but I'd hope he would. It doesn't seem like Cody has given anyone a heads-up about them leaving all game, even though he's always been in the know. At first, I thought it would be some poor jury management that would come back to haunt him in the Final 2 but, considering who he'll likely be up there against come Finale Week, I'd wager that part of his game will be overlooked. Bottom line, Christmas' goose is cooked, though I wouldn't expect her to stop trying until that's official.
Big Brother All-Stars (opens in new tab) airs on CBS Mondays, Wednesdays, and Thursdays at 8:00 p.m. ET. Continue to stick with CinemaBlend for all the latest happening in the franchise, and for more news happening in television and movies.
Your Daily Blend of Entertainment News
Mick likes good television, but also reality television. He grew up on Star Wars, DC, Marvel, and pro wrestling and loves to discuss and dissect most of it. He's been writing online for over a decade and never dreamed he'd be in the position he is today.
Your Daily Blend of Entertainment News
Thank you for signing up to CinemaBlend. You will receive a verification email shortly.
There was a problem. Please refresh the page and try again.