All American On The CW: What's Going On With Season 3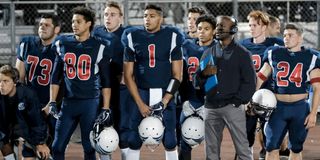 In recent years, The CW has given audiences some of the best of television with shows like Arrow, Supernatural, and Riverdale, but one program that has seemingly flown under the radar but still has a mass of supportive fans is the football drama All American. Since its debut in 2018, the series inspired by the life of former NFL linebacker and Super Bowl champion Spencer Paysinger and his upbringing in South Los Angeles has explored the divide between characters living in vastly different worlds. And with the fall typically being the time shows like this return, some may be wondering what is up All American Season 3.
There's quite a bit going on with the CW series as it prepares to return for a third season of intense football action and all the drama both on and off the gridiron. With that being said, here's what's going on with All American.
The CW Renewed All American For A Third Season In January 2020
Back in January (which honestly seems like years ago at this point), The CW made the decision to renew all 13 of its scripted series that weren't ending following the 2019-2020 season. This included second seasons of shows like Batwoman and Nancy Drew, as well as staples like Supergirl, Riverdale, and All American. In a Deadline report revealing all of the returning shows to the popular network, it was noted that All American's Season 3 order was in stark contrast to its treatment in 2019 when a second season wasn't ordered until April thanks in part to the show's popularity on Netflix despite being one of the least-viewed programs on TV during the 2018-2019 season.
All American Season 3 Is Slated To Premiere On The CW In January 2021
Shortly after The CW ordered a third season of All American, the entertainment world (like the rest of us) was flipped upside down because of the COVID-19 pandemic. With television and film productions shut down around the world for several months, networks had to think about the long term plans and figure out solutions for the long delays. In May 2020, The CW president Mark Pedowitz decided to be proactive and postpone most of the network's programming until 2021. So instead of seeing the return of All American this fall, we'll have to wait until January 2021 before we see how things play out for Spencer James and the rest of the characters.
On October 29, The CW announced that All American Season 3 will premiere on Monday, January 18, 2021.
Production Got Underway In September 2020, But Was Temporarily Paused Following A Positive COVID-19 Test
Production on All American Season 3 officially got underway in late September 2020, not too long after the show's official Instagram account released a post saying it was "so close" with this image:
However, production on the latest season of All American was temporarily halted a few days later when someone on set tested positive for COVID-19. According to The Hollywood Reporter, the person, whose identity has not been revealed, entered quarantine and the show took a short break as a safety precaution. Unfortunately, it seems this has become common with productions as of late as the industry continues to resume shoots in the middle of a pandemic.
The Show Reentered Production Following The Brief Delay With New Safety Measures
The temporary pause in production was rather short, one day to be exact, and All American was back and running in early October 2020, according to Deadline. There were no additional positive tests reported at the time, but if a video posted by Taye Diggs (while wearing a face shield) on his Instagram account is to be believed, some pretty intense safety measures were put into place to ensure the safety of those on set:
In case you didn't watch the video, here's what Taye Diggs had to say about being back on set:
Taye Diggs, who always seems to be having the time of his life, will be returning as Beverly Hills High School football coach Billy Baker when All American Season 3 finally premieres in 2021.
Chelsea Tavares (Patience) Was Promoted To Series Regular In October 2020
Chelsea Tavares, who portrayed Patience as a recurring character on the first two seasons All American will have a more prominent role when Season 3 premieres after the actress was promoted to series regular in October 2020, according to a Deadline report. First introduced in the show's freshman season, Patience quickly became a fan-favorite despite only appearing in 19 episodes in the series so far. Whether it's her journey to become a famous musician or her relationship with Coop (Bre-Z), the character has a lot of potential now that she has a more expanded role.
The First Two Seasons Of All American Are Currently Streaming on Netflix
As mentioned earlier, All American didn't really find an audience on The CW, but the show's first two seasons have found an audience and then some on Netflix since episodes were first added to the streaming platform. There was even a stretch of time in March 2020 (around the time everyone was stuck in quarantine) where All American could be found in the Top 10 listing on Netflix's homepage. And while we will have to wait at least a few more months before we get to see Season 3 on The CW, all 32 episodes of All American's first two seasons are currently streaming on Netflix (opens in new tab).
Well, that about catches us up with everything that's going on with All American Season 3. If you're bummed out about the show not returning this fall, make sure to check out our fall 2020 TV schedule for all the programs still slated to return this fall.
Philip grew up in Louisiana (not New Orleans) before moving to St. Louis after graduating from Louisiana State University-Shreveport. When he's not writing about movies or television, Philip can be found being chased by his three kids, telling his dogs to stop yelling at the mailman, or yelling about professional wrestling to his wife. If the stars properly align, he will talk about For Love Of The Game being the best baseball movie of all time.
Your Daily Blend of Entertainment News
Thank you for signing up to CinemaBlend. You will receive a verification email shortly.
There was a problem. Please refresh the page and try again.