Black Lightning Is Cancelled At The CW, But It's Not Over Yet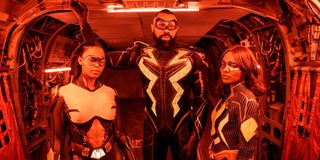 It suddenly feels like the Arrowverse shows are dropping like flies. After eight seasons, Arrow came to an end this past January. Supergirl's sixth season was revealed as its last a couple of months ago, and now Black Lightning is being cancelled at The CW after just four seasons. The good news is that it's not over yet, with Season 4 still on the way and a Black Lightning spinoff in the works.
Black Lightning was the first Black-led superhero series to premiere on The CW. While it was initially not a part of the Arrowverse, the show joined the shared universe during the mega "Crisis on Infinite Earths" crossover in December 2019. Black Lightning was renewed for Season 4 way back in January, prior to production shutdowns and nationwide lockdowns. In hindsight, it was a different world then. Now, that renewal news is bittersweet because it's been announced that the fourth season of the superhero show will officially be its last.
While the news of cancellation comes as a bit of a shock (to me anyway), all hope is not yet lost. For one, Black Lightning's fourth season still hasn't aired yet, which means we've got a whole season left to look forward to. What's more, The CW is reportedly developing a spinoff starring Jordan Calloway's Khalil Payne (AKA, Painkiller).
Painkiller has been a part of the series since Season 1, going on a long and painful journey that has seen him die at the hands of the villain Tobias Whale (though he was later resurrected). It's no surprise that The CW is interested in giving the character his own show. The potential spinoff is being worked into Black Lightning's fourth season as a backdoor pilot that is set to air as the seventh episode.
Black Lightning showrunner and co-creator Salim Akil says he knew that the show would be a "unique addition" to The CW's slate when it premiered, as well as how important it was for representation that the series focused on a Black superhero and his family. Here's what he said in a statement (via Variety):
I think it's a bit disheartening that Black Lightning is only getting four seasons to tell its story while other superhero shows on The CW have gone on for a lot longer than that. Maybe network execs want to turn their focus to developing a Painkiller series and other superhero shows, but the cancellation still stings regardless. Black Lightning had the potential to go many more seasons and it'll be sad to say goodbye when it wraps its fourth season.
Black Lightning Season 4 premieres on February 8, 2021 at 9:00 p.m. ET on The CW. For more on what to watch in the coming months, be sure to check out our fall TV guide and our 2021 winter and spring premiere schedule.
This poll is no longer available.
Your Daily Blend of Entertainment News