Superman And Lois: 7 Quick Things We Know About The CW TV Show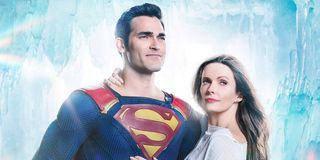 In October 2019, it was announced that the Arrowverse's Clark Kent and Lois Lane were getting their own spinoff series, aptly titled Superman & Lois. Tyler Hoechlin and Elizabeth Tulloch are all set to reprise their roles as the titular characters and the pair couldn't be happier about the news of their upcoming superhero series. Ahead of the series premiere, we have a few things worth knowing about Superman & Lois, including its release date, where The CW TV show will take place, and more.
Superman & Lois' first season will consist of 13 episodes in total. The freshman series — the seventh to join the ever-expanding Arrowverse — was lucky enough to receive a straight-to-series order by The CW alongside the Walker, Texas Ranger spinoff in January 2020. The show will be set in the aftermath of the "Crisis on Infinite Earths" crossover, which saw the collapse of the multiverse. While specific plot details and character arcs are still relatively scarce, here are seven quick things we know so far about Superman & Lois.
The Superman & Lois Release Date Is Set For February 2021
Superman & Lois was originally slated for a fall 2020 premiere. However, hundreds of TV productions shut down in March due to the ongoing pandemic, delaying The CW series. When the network announced that its slate of Arrowverse shows would return in the winter, Superman & Lois was scheduled to debut at some point in January. Filming is finally underway and the superhero series now has a concrete series premiere date. Mark your calendars for Tuesday, February 23, 2021 at 9:00 p.m. ET, immediately following The Flash's Season 7 premiere.
Superman And Lois Will Have Two Teenage Sons
Prior to the "Crisis on Infinite Earths" crossover, Lois and Clark only had one son, an infant named Jon. Once the multiverse was reborn and several earths merged to form Earth Prime, however, the couple found themselves with two teenagers instead. Jonathan and Jordan will have wildly different personalities as well. During the series' DC FanDome panel, Todd Helbing revealed why Superman & Lois opted for teen sons instead of a baby (via Decider):
Superman Will Have A Brand New Suit
Tyler Hoechlin has been wearing the Superman suit for quite some time now. The actor has primarily put on the famous red and blue costume whenever Clark has dropped in during the Arrowverse crossovers. However, now that he has his own show, Superman is upgrading to a whole new supersuit. According to Todd Helbing, Superman's previous suit wasn't sustainable long-term since it was created to be worn only for the crossovers. However, rest assured that the new suit will definitely be "badass." What the new costume will look like hasn't been revealed yet, but we can still expect it to include the superhero's iconic insignia and cape.
Superman And Lois Will Be Set In Smallville
Supergirl established that Clark Kent lived and worked in Metropolis. However, during the Arrowverse's "Elseworlds" crossover, Clark and Lois packed up their bags and moved to Argo City, the last remnant of his home planet Krypton. That's where they were settled in for the foreseeable future. Unfortunately, Argo City was destroyed during "Crisis on Infinite Earths." The first Superman & Lois teaser hinted at the couple's return to Clark's hometown of Smallville. During the show's panel at DC FanDome, Todd Helbing revealed that the couple was moving back to Smallville following a tragic event. While it's unclear what that tragedy entails, it seems to be the caveat that brings them back to the small Kansas town.
Lana Lang Will Be A Big Part Of The Show
Emmanuelle Chriqui was cast in the role of Lana Lang, Clark's high school friend and former crush. The role was previously played by Smallville vet Kristin Kruek (who approves of the direction Superman & Lois is taking Lana). While everyone left the town behind, Lana decided to stay in Smallville and is now a loan officer with the local bank. She's married to firefighter Kyle Cushing and the couple has one daughter together. When Clark crosses paths with her again, Lana will be going through one of the hardest periods in her life thus far.
One Writer Has Already Left Superman And Lois
On November 6, Nadria Tucker (Underground, Krypton) claims she was let go as a writer for Superman & Lois. In a Twitter thread, Tucker alleged that her pointing out sexism and racism in the scripts went ignored in the writers room. In her words:
There Will Be A Love Triangle, But Not The One You Think
When the Kent family moves back to Smallville, an unexpected love triangle will emerge. As it turns out, Lois and Clark's sons will both develop a crush on Sarah Cushing, Lana and Kyle's daughter. That will probably create some major conflict between Jonathan and Jordan. The Arrowverse shows have had their fair share of love triangles and romantic tension, but the love triangle being set up in Superman & Lois will be different because it involves two brothers. Here's hoping that things will at least be amicable between all three characters (even though those teenage hormones may be running wild).
Superman & Lois will officially join the Arrowverse's slate of shows when it premieres on February 23, 2021 at 9:00 p.m. ET on The CW. Stay tuned to CinemaBlend for updates on the show, including premiere image photos, trailer releases, and more. In the meantime, be sure to check out our 2020 fall TV premiere schedule and our 2021 winter and spring guide for more viewing options to come.
Your Daily Blend of Entertainment News
Thank you for signing up to CinemaBlend. You will receive a verification email shortly.
There was a problem. Please refresh the page and try again.