Gordon Ramsay: Uncharted And 10 Other Travel Shows To Stream While Staying Home For The Holidays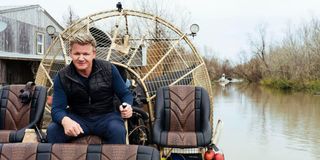 In any normal year, we would all be traveling to either see our families or going off on some grand adventure to escape them during the holiday season. But with everything going on in the world, many of us are either going on shorter day trips with our immediate families or staying home entirely as we try to stay safe and well this holiday season. This doesn't mean we can't explore the world, however, as there are countless travel shows like Gordon Ramsay: Uncharted, Ewan McGregor's Long Way Up, and cherished classics from the likes of Rick Steves and Samantha Brown to help us get over the travel bug.
So, as we sit around our houses looking for something to take our minds off the claustrophobia that is making us all a little crazy, there's never been a better time to turn to any number of those great travel shows to put a little adventure back into our lives. Grab your trusty pair of walking shoes, that backpack you bought for a European vacation in college, and a map because we're going on a journey into the world of travel shows.
Gordon Ramsay: Uncharted (Disney+)
To many, Gordon Ramsay will always be the irate British chef breaking down hapless restaurant and bar owners on Kitchen Nightmares, but the volatile and foul-mouthed television icon's latest show, Gordon Ramsay: Uncharted is something entirely different. In each of the National Geographic Channel show's two seasons (both are available on Disney+), Ramsay travels to a different section of the world where he explores the landscape, the people, their culture, and unsurprisingly, their food. As you watch Ramsay find himself playing the role of the student opposed to the teacher, you will see him in places like Peru, Alaska, Tasmania, and India as he treks the globe learning about the secrets of the world.
Stream it on Disney+ (opens in new tab).
Down To Earth With Zac Efron (Netflix)
When the name Zac Efron comes up, you might think back to his days in the High School Musical movies or other film projects over the years that have showcased his ridiculous physique, but his Netflix travel series (which debuted it's first season in 2020) Down to Earth With Zac Efron is surprisingly one of the most genuine and sincere shows you'll watch this year. In each of the show's eight episodes, Efron and wellness expert Darin Olien (who is often the highlight) go to places like Iceland, Puerto Rico, Sardinia, and even Iquitos in the Amazon rain forest, where they learn about the culture as well as the healthy and sustainable habits of the local people.
Stream it on Netflix (opens in new tab).
Anthony Bourdain: Parts Unknown (HBO Max)
It has been two years since the death of legendary chef and world traveler Anthony Bourdain, but the food and culture icon's impact still lives on in the various programs he produced throughout the later years of his life. Bourdain's final show, Anthony Bourdain: Parts Unknown, had a similar concept to No Reservations, a program which took the chef and author to new levels in the early 21st Century, but also dives into the strange and less taken paths on his culinary journey to the heart of the human experience. All 12 seasons of the CNN program are streaming on HBO Max, meaning you can enjoy the Season 6 episode in Charleston, South Carolina, where Bourdain and some of the city's best chefs share stories over the best Waffle House has to offer.
Also try Anthony Bourdain: No Reservations on Hulu (opens in new tab).
Stream it on HBO Max (opens in new tab).
Somebody Feed Phil (Netflix)
One of the most earnest travel shows you can stream right now is the Netflix docuseries Somebody Feed Phil, which follows Everybody Loves Raymond co-creator Phil Rosenthal as he sets out to eat as much food and meet as much people around the world. Now in its fourth season, the Netflix original is very similar to Rosenthal's 2015 PBS series I'll Have What's Phil Having with the only major difference being the name. So, if you were a fan of the short-lived travel series, then Somebody Feed Phil is right for you. With cities like Lisbon, Copenhagen, Chicago, and Rio De Janerio all getting episodes of their own, this beautifully written and shot series about a man's love of food and the world is a must watch.
Stream it on Netflix (opens in new tab).
Long Way Up (Apple TV+)
Unlike the previous four travel shows discussed here, Ewan McGregor's Long Way Up includes a single journey undertaken by the Scottish actor and his longtime friend Charley Boorman as they drive up the length of South and Central America on converted Harley Davidson electric motorcycles. Over the course of the 100-day, 13,000-mile journey, the two explorers visit a number of UNICEF sites and programs in places like Bolivia, Peru, and Honduras and work with local residents on a number of different causes. The show is similar to 2004's Long Way Around and 2007's Long Way Down, which saw the pair go on epic journeys from London to New York and Scotland to South Africa, respectively. All three titles are currently streaming on Apple TV+ and are certainly worth the time.
Also try Long Way Round (opens in new tab) and Long Way Down (opens in new tab) on Apple TV+.
Stream it on Apple TV+ (opens in new tab).
Samantha Brown's Places To Love (PBS)
As far as travel show presenters go, there are few names that carry as much weight as Samantha Brown. The former Travel Channel mainstay who hosted a number of award-winning and influential programs over the years moved over to PBS for the 2018 show Samantha Brown's Places To Love. Over the course of the show's three seasons (all are available on the PBS website with no registration required), Brown has taken viewers around the world to some of the most unique spots that are often off the beaten path. Whether Brown is exploring places like Cajun Country in southern Louisiana, Lake Geneva in Switzerland, or Budapest, Hungary, there is something charming and unexpected by this easy-to-watch series.
Stream it on PBS.
Rick Steves' Europe (Amazon)
If you want to experience old-fashioned yet timeless journeys through the heart of the European continent, there is no better tour guide than the legendary Rick Steves and no better show than Rick Steves' Europe. Since its debut in 2000, the informative and entertaining Steves has taken audiences to some of the most popular and remote areas of in nearly every country in Europe, and has this sense of childlike innocence about him. And even though the first six seasons aren't available to stream right now, Seasons 7 through 10 will surely help you learn more about the various cities, regions, and countries that are explored in great detail in each episode.
Stream it on Amazon (opens in new tab).
Taste The Nation With Padma Lakshmi (Hulu)
Those looking for a different side of the United States should check out cookbook author and Top Chef host Padma Lakshmi for her Hulu original series (opens in new tab) Taste the Nation with Padma Lakshmi. Each of the first season's 10 episodes explore a unique region of the American landscape and follows Lakshmi as she dives into the people there fighting to preserve their culture and culinary traditions in a country that continues to be a melting pot. No corner of the United States is left untouched here, with places like El Paso, Milwaukee, South Carolina, and New Jersey all getting dedicated episodes touching on their inhabitants way of life.
Stream it on Hulu (opens in new tab).
Conan Without Borders (Netflix, HBO Max)
Longtime late-night talk show host Conan O'Brien has done a little bit of everything over the course of his nearly 40-year career (Saturday Night Live, The Simpsons, multiple talk shows), so it's only natural that he would eventually have a travel show of his own. But Conan Without Borders (which is streaming on Netflix and HBO Max) isn't your normal travel show. Sure, O'Brien goes to places like Korea, Cuba, Mexico, and Armenia over the course of 13 episodes, but during those travels, the former Tonight Show host brings his unique brand of comedy wherever he goes and finds himself in some insane situations in places like the DMZ on the border of South and North Korea or starring in a telenovela in Mexico City.
Stream it on Netflix (opens in new tab).
Stream it on HBO Max (opens in new tab).
Travel Man (Hulu)
Richard Ayoade, who is probably best well remembered for his turn Maurice Moss on the British comedy series The IT Crowd, was the longtime host of the the Channel 4 travel documentary sereies Travel Man. Over the course of the show's first 10 seasons (seven of which are available on Hulu), Ayoade would spend 48 hours in various cities around the world and would explore each of them with a different celebrity. Whether he is spending two days in Florence with Rebel Wilson, 48 hours in Los Angeles with Lena Dunham, or a holiday in Hong Kong with Jon Hamm, this highly entertaining and informative program brings both the laughs and appreciation for the world around us.
Stream it on Hulu (opens in new tab).
Lost Cities With Albert Lin (Disney+)
And then there is the National Geographic Channel adventure travel program Lost Cities with Albert Lin, which follows the world renowned explorer as he uses state-of-the-art technology to scan various ruins around the world and builds recreations of the cities that once stood as the center of ancient civilizations. Part action-adventure and part history lesson, Lost Cities provides the best of both worlds and ends being one of the most inventive travel and archeological shows you can find. The first season of the show can be enjoyed in its entirety on Disney+, meaning you'll be digging through sites like El Dorado and Stonehenge in no time.
Stream it on Disney+ (opens in new tab).
That is just a sampling of all the great travel shows you can enjoy if you are spending the holidays locked in your house. If those titles don't hold you over and you're looking for something more adventurous, you can always seek out the wild Finnish travel show Madventures which is unfortunately not streaming anywhere at this time.
Philip grew up in Louisiana (not New Orleans) before moving to St. Louis after graduating from Louisiana State University-Shreveport. When he's not writing about movies or television, Philip can be found being chased by his three kids, telling his dogs to stop yelling at the mailman, or yelling about professional wrestling to his wife. If the stars properly align, he will talk about For Love Of The Game being the best baseball movie of all time.
Your Daily Blend of Entertainment News
Thank you for signing up to CinemaBlend. You will receive a verification email shortly.
There was a problem. Please refresh the page and try again.