6 Superhero Characters Supernatural's Jared Padalecki Would Be Perfect For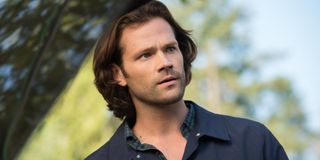 As the hero of 2009's Friday the 13th, first victim of 2005's House of Wax, and host of MTV's short-lived Scare Tactics rip-off Room 104, Jared Padalecki is most commonly associated with the horror genre, and rightfully so. Yet, I would still consider his adventures with Jensen Ackles on Supernatural to be somewhat comic book-esque - an idea which came full circle later with graphic novel spin-offs. But, it will take officially casting Padalecki as a superhero in the Marvel movies, or those of DC, to bring that comparison full circle for the actor himself.
Actually, there was a time when the former Gilmore Girls star could have been part of the DC family. Years ago, before he even became Sam Winchester, Warner Bros. considered Jared Padalecki to play Clark Kent in a Superman reboot which was to be helmed by McG, but would eventually become Bryan Singer's Superman Returns. And, that is far from the first time an actor's chance to be put in a cape slipped through his fingers before he received a second chance anyway.
I would even say that the 38-year-old Texan is now primed for a superhero movie role more than ever, with all the experience he has acquired. I bet you could even choose a fair number of potential comic book characters to cast Jared Padalecki as based on his filmography alone. In fact, that is exactly how I selected the following six characters from Marvel, DC, and beyond, starting with one who would be an interesting twist on his Supernatural follow-up role.
Terra-Man
In his next major TV project, Jared Padalecki will take over Chuck Norris' legendary Texas lawman role in the modern-day reboot Walker - which is fitting since the Lone Star State native has already been fighting evil on TV for much his life. That being said, I think it would be fun to challenge him a bit with a role that takes the western motif into a more "supernatural" direction, as with Tobias Manning - a 19th Century outlaw who would call himself Terra-Man after he is taken into space and surgically altered with alien technology. He would eventually continue his villainous tirade on Earth, where he became an enemy of Superman, which would be hilariously ironic, would it not?
Green Lantern (Hal Jordan)
On the other hand, Jared Padalecki is usually best when playing a hero and, thankfully, another comic book role that would allow him to portray an Earthly being equipped with otherworldly abilities is Hal Jordan. The former pilot, and second person to carry the Green Lantern moniker in DC Comics, will return to live action cinema, following Ryan Reynolds' underwhelming 2009 attempt, in the DCEU's Green Lantern Corps, in which he will team up with fellow cosmic cop John Stewart, who has yet to be cast. I think it would actually be another interesting opportunity for some clever irony if they gave the role of Stewart to Sterling K. Brown, who made enemies with Padalecki on a handful of episodes of Supernatural.
Adam Warlock
While Hal Jordan can claim to have been in a movie, one character fans have been eagerly waiting to see given the same treatment is Adam Warlock, whose only contribution to the Marvel Cinematic Universe so far is a mere mention in one of Guardians of the Galaxy Vol. 2's five mid-credits sequences in 2017. When his big screen debut finally arrives, however, Jared Padalecki has the support of many comic book readers who would love to see him play the golden boy, and I think they may be onto something. Like Supernatural's Sam Winchester, Warlock possesses strong capabilities that define him as an assertive force against evil. Not to mention, being able to invoke the character's regality and naivety (essentially being an adult infant) would also be a refreshing new challenge to Padalecki.
Nova
Actually, Adam Warlock is not the only Marvel character whom online fan casters have had their eyes on Jared Padalecki for, as there happens to be yet another intergalactic crime fighter whose MCU introduction is a much-anticipated event: Richard Rider. The sole surviving Nova Corpsman, after acquiring the powers of his fallen comrades, became Nova, who is known for facing off against Galactus and sharing a legendary romance with Gamora - both of which I feel need to be involved in the MCU in some fashion. Perhaps Padalecki is the man who can bring those moments to life for the same reason CW saw his potential as the new Cordell Walker: he effortlessly exhibits the qualities of a loner whose dedication to justice makes him a fearsome force to be reckoned with.
Booster Gold
You know, I have always felt that, in a few distinct ways, Nova's outfit bore a slight resemblance to that of DC superhero Booster Gold, even though he has no actual similarities to the earthbound character in any other way, really. This also has nothing to do with why I feel Jared Padalecki would be a fun fit to play the famously self-centered alter ego of the wealthy, futuristic businessman Michael Carter. It really has more to do with his classic good looks and boyish charm (a key element of the role) and the well-versed comedic timing he acquired when Supernatural turned its cheesiness up a few notches in later seasons.
Dylan Dog
Speaking of, Supernatural was actually the first thing I thought of when deciding on comic book characters for Jared Padalecki, believing that, after 15 seasons as Sam Winchester, he would be a natural to play anyone who specializes in the paranormal. Adopting that mentality in my search led me to find Dylan Dog, the star of his own Italian-based comic book who aimlessly investigates things that go bump in the night. He even has a few similarities to Sam, including a morbid sense of humor, eccentric criticisms, and phobias to things that seem harmless compared to the phenomena he deals with professionally. Plus, the role would give Padalecki another chance for some vengeful irony by playing the character better than Superman Returns' Brandon Routh did in the critical and commercial misfire Dylan Dog: Dead of Night in 2010.
What do you think? Would one-upping the guy who "stole" his Superman part on its own make taking the role of Dylan Dog worth it, or do you doubt Jared Padalecki has any hard feelings toward Brandon Routh in the first place? Let us know in the comments and be sure to check back for additional information and updates on the future star of Walker, as well as even more hypothetical comic book movie casting sessions, here on CinemaBlend.
Jason has been writing since he was able to pick up a washable marker, with which he wrote his debut illustrated children's story, later transitioning to a short-lived comic book series and (very) amateur filmmaking before finally settling on pursuing a career in writing about movies in lieu of making them. Look for his name in just about any article related to Batman.
Your Daily Blend of Entertainment News
Thank you for signing up to CinemaBlend. You will receive a verification email shortly.
There was a problem. Please refresh the page and try again.