Nathan Fillion: 8 TV Show Appearances You Might Have Forgotten About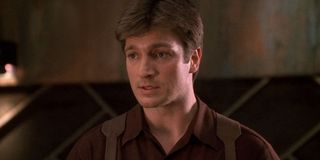 Did you ever stop to really think about how prolific Nathan Fillion is as a TV actor? I mean, you most likely realized that already from his iconic starring roles on shows like Firefly as Capt. Mal Reynolds or as the title character of crime dramas Castle and The Rookie. Not to mention, he has countless recurring spots, like on Santa Clarita Diet, and voice acting appearances, such as on Big Mouth as himself, under his belt. Yet, how many of those credits do you actually remember?
Before becoming one of pop culture's most celebrated geek gods, the 49-year-old Canadian-born actor (who will next appear in The Suicide Squad, written and directed by his friend James Gunn) was mostly a face without a name. For instance, you may not have initially recognized Nathan Fillion as the solider Tom Hanks mistook for Matt Damon's character early on in Saving Private Ryan or the fact that he actually voiced a few one-off characters on Justice League Unlimited before becoming DC's go-to Green Lantern in more recent animated projects.
It may be hard to imagine, but Nathan Fillion has made plenty more underrated appearances among his sizable small screen resume alone. I could probably even write a book on the subject, but I figured narrowing the list down to just eight notably unnoticed TV roles would suffice, starting with the very first of his many voice acting credits.
King Of The Hill (Frisbee Guy)
Nathan Fillion only has one line in a 2001, Season 5 episode of Mike Judge's hit animated comedy King of the Hill, in which Luanne (voiced by the late Brittany Murphy) hopes to essentially "reverse" her sexual history by joining a church group. During her baptism, her wet, white-robed emergence from the local lake distracts a nearby denizen (Fillion) from catching his friend's frisbee pass, which hits him square in the head. He then approaches Luanne asking if she'd "like to play some bee," which Henry Hill hilariously mistakes for a threat to his niece's newfound celibacy.
The Outer Limits (Michael Ryan)
Like many A-listers can claim, the mid-90s reboot of The Outer Limits was one of Nathan Fillion's earliest TV appearances and first sci-fi role in a career practically defined by the genre. He plays a club owner in a neutral territory of an alien-occupied Earth, circa 2056, whose former lover (Angeline Ball) seeks his help in rebelling against the invaders in this dystopian take on Casablanca from the anthology series' fifth season.
Gravity Falls (Preston Northwest)
Another example of Nathan Fillion's definitively strange TV roles is Preston Northwest - a snobbish, wealthy descendant of the founder of the titular town in Gravity Falls, whose sinister agendas become more apparent overtime. While Fillion voices most of Preston's appearances on the popular Disney Channel series (which ran from 2012-2016, and many describe as The X-Files for kids), the character was actually originated by Chris Parnell of Rick and Morty and Saturday Night Live fame.
Miss Match (Adam Logan)
Of course, not all of Nathan Fillion's recurring TV spots have been particularly "strange." Take, for example, his perfectly down-to-earth role on Miss Match, which starred fellow DC movie star Alicia Silverstone in a Golden Globe-nominated performance as Los Angeles divorce lawyer turned ironic matchmaker Kate Fox. Fillion was a major presence near the end of the short-lived NBC dramedy (even in episodes that never made it to air in 2003) as Adam Logan, the estranged friend of Kate's on-and-off beau, and soon-to-be ex-husband of a divorce client, who later becomes her romantic foil in another awkward love triangle involving her friend Victoria (Lake Bell). Sounds like something right out of Desperate Housewives, does it not?
Desperate Housewives (Dr. Adam Mayfair)
Speaking of ABC's hit primetime soap opera, Nathan Fillion would appear in several episodes of Desperate Housewives (mostly in Season 4, which aired from 2007-2008) and, once again, as a guy in an awkward love triangle named Adam - the biggest difference being his career in gynecology. Fillion would actually reprise the role of Dr. Mayfair (who apparently changed his practice) opposite his Dr. Horrible's Sing-Along Blog co-star Neil Patrick Harris in the second episode of Harris' webseries Neil's Puppet Dreams.
Two Guys, A Girl And A Pizza Place (Johnny Donnelly)
Long before those recurring TV spots (yet another common theme in his career), Nathan Fillion landed his first starring role on Two Guys, a Girl and a Pizza Place before the title was shortened to just Two Guys and a Girl. He joined the cast in Season 2 as Johnny Donelly, a jukebox repairman with feelings for Traylor Howard's Sharon (the titular "girl"). The ABC sitcom was also a breakthrough for fellow Canadian Ryan Reynolds - who, coincidentally, would also go on to play Green Lantern, but not quite as successfully as Fillion's voice role.
Robot Chicken (Various)
Speaking of Green Lantern, Nathan Fillion's portrayal has become so popular since debuting in the 2011 animated film Green Lantern: Emerald Knights, he has been asked to voice the role for parodies on Robot Chicken on several occasions. Yet, Hal Jordan was not the first DC character the long-running Adult Swim series enlisted him for, nor was he the last. Fillion played The Flash in a 2007 sketch and voiced villains Mr. Freeze and Black Adam (in addition to Green Lantern) in some later DC-themed specials - meaning he can at least claim to have beaten Dwayne Johnson to the punch on a popular comic book role.
Buffy The Vampire Slayer (Caleb)
You have to imagine that Joss Whedon has cast Nathan Fillion in many of his projects partially to make up for how things ended with Firefly. He got to work on that apologist effort pretty quickly after the sci-fi/western hybrid's premature cancellation in 2002, by giving the actor a recurring spot on Buffy the Vampire Slayer the following year. His role of Caleb was very against type, however, being a preacher whose sadistic behavior and misogynistic ideals led him to become defrocked by his church, but promoted as servant to the First Evil.
What do you think? Did Nathan Fillion's brief stint on Buffy the Vampire Slayer convince you he should play more villains, or are you more interested in seeing him become the official live action Green Lantern for once? Let us know in the comments and be sure to check back for additional information and updates on the beloved actor, as well as even more inside looks at the lesser-known roles of your favorite celebrities, here on CinemaBlend.
Your Daily Blend of Entertainment News
Jason has been writing since he was able to pick up a washable marker, with which he wrote his debut illustrated children's story, later transitioning to a short-lived comic book series and (very) amateur filmmaking before finally settling on pursuing a career in writing about movies in lieu of making them. Look for his name in just about any article related to Batman.
Your Daily Blend of Entertainment News
Thank you for signing up to CinemaBlend. You will receive a verification email shortly.
There was a problem. Please refresh the page and try again.