5 Chilling Adventures Of Sabrina Spinoffs We Want After The Final Netflix Season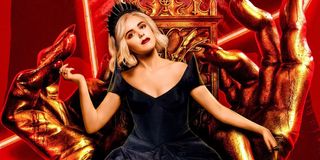 With the finale of The Chilling Adventures of Sabrina right around the corner, many fans have been wondering what would be in store for everyone's favorite witches and warlocks after the curtain finally closes. The show has been around for some time now and while it's surprising that it's coming to an end so soon, it was only a matter of time before it was done. However, there are still many stories that have been left untold in the tales of Greendale.
There are so many secrets that are still undiscovered, the pasts of certain people that haven't been told that much. As someone who is a big fan of the show, you can only wonder what might come from them once Sabrina's story is over. And that's where this list comes in handy. From the journeys of two people together to a family story, these are the spinoffs after the Chilling Adventures of Sabrina finale that we all need to see.
Riverdale With Witches And Warlocks
It's already been established that Riverdale and The Chilling Adventures of Sabrina take place in the same universe. They've had some of the characters potentially cross over such as Cheryl Blossom's mom, and had Riverdale boys come to Greendale once when they were seduced by Sabrina and the three other witches after they hurt one of her friends. Not only that, but Sabrina literally crossed over to the town of Riverdale in one episode. It's clear that they are very close together.
While it's a shame that there won't be a physical crossover happening in the show, as it will be happening in the comics, I still think it would be fun to see a potential spinoff where fans of both shows could see maybe Archie and his gang come in contact with witches and warlocks. Imagine what their reactions would be after all the stuff that's happened on Riverdale. They'd probably lose their minds. It would be a fun crossover, that is for sure.
The Rise Of The Spellman's
Sabrina's history is one that was sort of undercover in the first season. We didn't know much about her until stuff was revealed from her aunts, later on, telling her the real story of what happened with her parents and why they caused such a big deal. But the name 'Spellman' seems to be synonymous with some sort of power in the past, how they were some of the best witches and warlocks in their coven until Sabrina's birth happened and everything sort of fell apart.
I would love to see the beginning of this family and how they rose to the heights that they were at. We don't really know much about her aunts other than they were good witches, as well as their brother. I want to know about their story and what they did when they were Sabrina's age. The two aunts seem like completely different women and I'd love to see how they came together to be the sisters they are now.
The Adventures Of Ambrose And Prudence
Honestly, I was a huge fan of Ambrose and Prudence's interactions. I loved watching them hunt down Blackwood and try and destroy him, especially in the way they did find him in the show. However, there's a lot of blank space between when they did find him, and the moment they left the school to go on their quest. That's what I want to see, the build-up to this crazy relationship that these two had.
Obviously, we know that Ambrose and Prudence ended up sleeping together at some point during the show so that's what brought them together in the first place, but I want to know how that relationship grew. What they did, where they went. They said that they traveled all over the world. Why can't we see those adventures? And it wouldn't just be some silly travel vlog you'd see on YouTube, this would be with magic and witchery and everything combined. I could only imagine the mischief these two would get up to.
The Story Of Lilith
Alright, yes, I know that Lilith is based on a Jewish mythical character in real life but I loved her in the show, even if she was the antagonist. Lilith's goals to become the Queen of Hell are real and I understand why she was so upset that Sabrina would be the one to get the crown instead of her, the first wife of Adam. And then soon, she rebels against him once she begins to lose faith, a change we never thought we would see.
But what I wouldn't give to know more about her. I know she's a demon but everyone starts somewhere, and I'd adore seeing what she was like before Sabrina. When she found out about the child. How she rose to her own power. She's such an interesting character with a surprising amount of depth and the chance to hear about what she has to say to about everything would be certainly intriguing.
The Story Of The Walkers
Roz is cool and all, but she didn't get her powers out of thin air. She got them from her grandmother. The blood before her. I want to know her story. In fact, I want to know the whole Walker storyline, because apparently, this has run in the family. Where did this seer-seeing come from? How have they used it to their advantage? How have they used it to save Greendale in the past? And how did Ruth, Roz's grandmother, come to terms with it and still keep it a secret for so long from her family, only until Roz came forward and told her did she tell it?
I don't know, there are so many different things that we don't know about the people of Greendale. Harvey's family apparently used to hunt witches and warlocks. Why can't we know more about Roz's family and her grandmother? I know that would be a great little spin-off to watch.
It's a shame the show is coming to an end so quickly but we can at least wonder what it would be like to explore other stories. What are your ideas after The Chilling Adventures of Sabrina ends?
Big nerd and lover of Game of Thrones/A Song of Ice and Fire. Will forever hate season eight. Superhero and horror geek. And please don't debate me on The Last of Us 2, it was amazing!
Your Daily Blend of Entertainment News
Thank you for signing up to CinemaBlend. You will receive a verification email shortly.
There was a problem. Please refresh the page and try again.