The 7 Most Disappointing Netflix Cancellations of 2020 So Far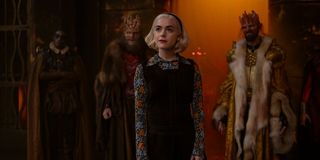 It's a rare feat for a Netflix show to go beyond Season 4. The ever-popular Stranger Things may very well get that chance, but other shows aren't so lucky. Many are cancelled after one or two seasons, while others might find a home on other platforms. Last year saw the cancellation of the beloved sci-fi series The OA and the animated Tuca & Bertie, and this year is also racking up its fair share of disappointing cancellations.
For every series that Netflix picks up, it seems there's another waiting to end. That's not to say that all cancellations are shockers; Dead to Me was among the shows Netflix cancelled this year, but it wasn't the most surprising or frustrating. (I suspected it wouldn't go past Season 2, so Season 3 was a win in my opinion). With the year not over yet, here are the seven most disappointing Netflix cancellations of 2020 so far.
7. Astronomy Club
Astronomy Club, which premiered last December, was like a cross between Big Brother and Saturday Night Live. The premise involved eight strangers living together in a house, with their lively banter, and plenty of entertaining and comedic sketches to fill the time.
Not only were the sketches funny, but they delivered timely, intelligent, and thought-provoking commentary on race and pop culture. Considering that the series was made up of an all-black cast and sketch team, I think it's a shame that Netflix cancelled the series so soon as it was only just getting started.
6. Spinning Out
Kat, struggling to balance her bipolar disorder with the pressures of succeeding in the highly-competitive world of figure skating, tries to make a comeback following a devastating injury. Spinning Out was cancelled one month following its premiere in January, which sucked because the show had a lot of promise. Fans were certainly not happy about it and called out Netflix for cancelling a show that covered mental illness.
The series also had the ingredients of a memorable drama, with lots of angst, some romance, and a family coming together despite their struggles. What was most impressive was its implementation of the figure skating world, but any story potential for Season 2 is lost forever now.
5. Altered Carbon
Altered Carbon was a high-concept sci-fi drama that truly pulled out all the stops. It was also compared to Sense8, another one of Netflix's sci-fi dramas that was gone way too soon. Starring The Falcon and the Winter Soldier's Anthony Mackie and Hamilton alum Renée Elise Goldsberry, Altered Carbon included body swapping and psychological modification, among other intriguing sci-fi aspects.
Set over 300 years in the future, the series was ambitious and tackled race, gender, and other subjects as well. There was even an anime movie spinoff of the show. How cool is that? Sadly, Netflix cancelled the series after just two seasons in August, reportedly after the streamer reviewed the cost of renewal against the number of viewers.
4. Chilling Adventures of Sabrina
I may have seen this one coming, but that doesn't make it any less heartbreaking, especially as I watch Riverdale from the same creator begin production on its fifth season. Chilling Adventures of Sabrina is such a fun and engaging series, and it really set itself apart from the 90s sitcom. I looked forward to this show every year, but I suppose it did have a decent run.
And, hey, at least it wasn't cancelled after one season. Thank Hecate! That said, Season 3 ended on a cliffhanger that saw two versions of Sabrina and, while I'm positive Season 4 will wrap up all of the remaining storylines, I'd be remiss if I didn't say that I wish we had more time with this witchy and mythology-heavy series.
3. The Society
The Society's cancellation was gut-wrenching because Netflix had already renewed the series for Season 2 last summer. In fact, production was gearing up to resume when the cancellation news was announced and creator Christopher Keyser expressed frustration with the "abrupt" end to the show. The blame for the cancellation was reportedly due to the impact of COVID-19.
The Society was really hitting its stride too and ended with the realization that the high school students, who thought the adults had died, were actually living in some parallel universe. Christopher Keyser revealed that he'd tell fans about what was supposed to happen in Season 2 at some point. Until then, however, fans will have to face the crushing disappointment of never getting to see the characters' fates play out on screen as intended.
2. Patriot Act with Hasan Minhaj
Patriot Act with Hasan Minhaj was informative, smart, and had a great setup to boot. This cancellation hurt because I think it came at the worst time, just when we needed this show the most to explain and break down topics happening in the U.S. and abroad. Patriot Act was axed too abruptly despite it running for six seasons.
Fans were pretty angry about the cancellation and reacted accordingly on social media. I think that Patriot Act was one of the best shows Netflix had to offer and it spoke to so many people. It could've gone on for much longer and it's truly a shame that it didn't. Suffice it to say that I will miss this show deeply, that's for sure.
1. I Am Not Okay With This
I am definitely not okay with Netflix cancelling I Am Not Okay with This. The sci-fi series crossed into horror-esque territory by the end of its first season and I was greatly looking forward to seeing where it would go next. Sadly, the hope of seeing these characters again — including Sydney, who had just taken a major turn with her telekinetic powers — was quickly squashed by Netflix's decision to cancel the series after just one season.
While cancelled series The Big Show Show and Ashley Garcia are getting Christmas specials to wrap up their storylines, I Am Not Okay with This is not. Not that a Christmas special would have suited this show, but it would've been nice to get some closure. As it stands, I Am Not Okay with This will be joining a long list of Netflix series cancelled after just one season. What a damn, tragic shame.
But, wait! Not everything on Netflix is cancelled. The streamer still has plenty of shows to offer, so be sure to check out our Netflix premiere schedule. For more on what to watch elsewhere, swing by our fall TV guide for options.
Your Daily Blend of Entertainment News
Thank you for signing up to CinemaBlend. You will receive a verification email shortly.
There was a problem. Please refresh the page and try again.