Chilling Adventures Of Sabrina Season 4: 7 Quick Things We Know About The Netflix Show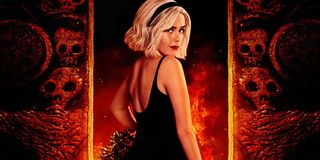 If you've been craving your favorite Satanic witches, warlocks, and devils lately, then I'm sure you're thinking of the upcoming season of The Chilling Adventures of Sabrina. The Netflix hit has been on the small screen for a little bit of time now, and this will be the conclusion of Part 2 of the series (more commonly known as Season 4).
While it's been hard for most television shows to continuously film and produce during these hard times, the Chilling Adventures of Sabrina moved forward and will be coming to our homes soon. From what the story will be about to who is going to be returning, we have some quick facts for you to know prior to Season 4 arriving on screens. But be careful – something wicked this way comes.
The Chilling Adventures Of Sabrina Season 4 Is Premiering At The End Of The Year
For a while it was unknown exactly when Season 4 would come out because production had been a bit funky due to the ongoing pandemic that has hit the world. But, it has been confirmed as of recently with a new trailer that the fourth season of the Chilling Adventures of Sabrina will stream on December 31st. Talk about a way to ring in the new year – with your favorite witch, Sabrina Spellman, and Fright Club.
Season 4 Will Be The Last Season
I know, I can hardly believe it either. I thought this was going to be one of those Netflix shows that seemed to last forever and didn't have an end, but I suppose all the magic in the air must fall down at some point as well. Back in July, it was announced by Netflix that they were going to make Season 4 the final season.
Even so, it seems that people were quite displeased with the news. Many were calling for Netflix to make another season, and some were surprised that a show that had so much representation (LGBTQ+, POC, etc.) was something the streaming giant would end. Maybe one day there will be another season after the fan outcry.
Filming On The Chilling Adventures Of Sabrina Season 4 Has Already Completed
Filming has actually been done for Season 4 since the beginning of the year (I know, it sounds like forever ago, but I promise you it's still 2020). According to Kiernan Shipka's Instagram page, she posted on February 23rd on the last day of filming, followed by her caption, "Bye bye for now @sabinranetflix."
So it seems that getting the show together and wrapping up the post-production process is what caused the delay in the premiere. But with plenty of shows bringing back production as of lately, it was only a matter of time before The Chilling Adventures of Sabrina would spawn back up as well. Coven for life.
The Chilling Adventures Of Sabrina Season 4 Cast
Netflix has officially confirmed the cast list, with the return of Kiernan Shipka, Miranda Otto, Ross Lynch, Lucy Davis, Chance Perdomo, Michelle Gomez, Jaz Sinclair, Lachlan Watson, Gavin Leatherwood, Tati Gabrielle, Adeline Rudolph, Abigail Cowen, and Richard Coyle. All of the favorites returning back for one last ride.
Season 4 Will Bring The Eldritch Terrors To Greendale One By One
Honestly, the producers, stars, and creators of the show have been keeping a lot of what is going to happen under wraps. They don't want people to discover what the final season is going to be about, and for good reason. For those who don't recall from the last season, Sabrina ended up splitting time itself and created two versions of her – a past Sabrina and a current Sabrina.
The past Sabrina decides to take over Hell and become the Queen like she was always meant to be, while the current Sabrina ascends above and returns to the mortal world to live with her friends and family. And that created a hell of a rift in time. Oh, and now there's a monster that was suddenly released in an egg, creating a new threat for Greendale – sounds peachy, doesn't it?
While a rift in time and a possible horrible creature looming around the town sounds dangerous in of itself, Netflix released a small description about what to expect in the upcoming season. The 'Eldritch Terrors' will be coming to Greendale, a combination of horrifying threats such as 'The Weird, The Returned, The Darkness' and more, all while leading up to The Void, which is supposed to be 'the end of all things.' Doesn't seem to be as light as the last season, now does it?
It Doesn't Sound Like We'll Be Getting A Riverdale Crossover In Season 4 Of Sabrina
Don't get your hopes up, all you Riverdale fans. While some would like to see the two popular shows mash-up considering they are both made by the same creators, it seems that it won't be happening on screen like we believed it to be. The creator of The Chilling Adventures of Sabrina responded to comments about it happening, and said that if there was a Part 5, that would have been the crossover on screen.
As for if it will happen, it will happen in the comics they are creating alongside the show, not actually on the show itself. So if you'd like to see Archie Andrews and Veronica Lodge meet everyone's favorite Spellman, then you have to scurry on down to a book or comic store to continue the journey. I'm sorry, everyone!
Nick And Sabrina Could Be Getting Back Together In Season 4… We Hope
There have been multiple sources and reasons to think Nick and Sabrina will be reuniting once more in the last season. Not only have there been multiple cast pictures of Kiernan Shipka and Gavin Leatherwood making the rounds on social media, there's video footage of them together in some of the latest trailers, as well as a confirmation of 'Nick earning his way' back into Sabrina's heart from Netflix itself.
So are we going to see a Nabrina kiss soon? I think we just might. But don't hold out your hopes just yet – we can only wait and see.
Despite everything coming so quickly, it seems that the end is near for the Spellman's. Keep an eye out for December 31st when the last season finally drops on Netflix.
Big nerd and lover of Game of Thrones/A Song of Ice and Fire. Will forever hate season eight. Superhero and horror geek. And please don't debate me on The Last of Us 2, it was amazing!
Your Daily Blend of Entertainment News
Thank you for signing up to CinemaBlend. You will receive a verification email shortly.
There was a problem. Please refresh the page and try again.