Cole Sprouse: 5 Marvel Characters The Riverdale Star Would Be Perfect To Play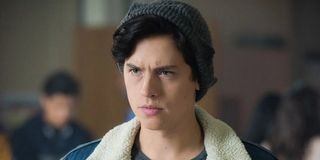 Before clicking on this article, the headline might have had you asking, "Why does Cole Sprouse need a part in the Marvel movies when he plays a comic book character for a living already?" While you would certainly be correct in pointing out that his role on Riverdale, as Forsythe Pendleton Jones III (otherwise known as Jughead), is lifted directly from the Archie comic book series, I personally question how many fans of the hit CW series actually realize that fact.
The first thing that most average audiences picture when envisioning the subject is costumed vigilantes in an epic tale of good vs. evil, and the last is, decidedly, a melodramatic teen soap opera. With all due respect to Riverdale, all I am saying is that for the 28-year-old former Disney Channel star to really earn the reputation of a comic book movie star, he might have to put on a cape (which are actually pretty rare in the MCU lately, I will admit).
His brother, Dylan Sprouse, has already expressed interest in joining the MCU, so why not give Jughead a shot while we are at it. In fact, I actually have an idea that could see the twins share a Marvelous onscreen reunion if one of my following five casting suggestions becomes a reality. However, let us start with a Marvel character I have already previously recommended Cole Sprouse for.
The Beyonder
Recently, I took a look at most of the main cast of Riverdale and imagined what famous comic book role (outside of the Archie universe, of course) each might be the best fit to play. I recommended K.J. Apa as Elongated Man and Lili Reinhart as the Fantastic Four's Invisible Woman, but for Cole Sprouse, the first character to come to my mind was The Beyonder.
For a while now, I have felt that this practically unbeatable being (an entire universe that grows sentience, takes human form, and kidnaps superheroes to be his own personal gladiators) would be the perfect successor to the role of the MCU's next "big bad" after Thanos. Plus, not only is Cole Sprouse nearly a dead ringer for the cosmic villain, but he has yet to play a character that is truly the personification of pure evil, and, as an actor always looking for a challenge, what could be a better option?
Legion
Well, come to think of it, there are a good number of Marvel characters who are, essentially, just as powerful and complex, but without the same jovially tyrannical instincts. I mean, just look at what playing the title role in Legion, an acclaimed FX series in canon with the X-Men movies, demanded from Dan Stevens. He had to put himself in the mindset of a man horrified to learn he is mentally ill, only to later discover his delusions are actually the very real consequences of his mutant abilities... and his actually mental illness, too, unfortunately.
Fans (including Dan Stevens) have been waiting to see a character as fascinating as David Haller (Charles Xavier's extremely powerful, DID-stricken biological son) brought into the MCU, even before the electrifying Legion series went off the air. And, now that Disney owns the X-Men property, it may become a reality soon. Cole Sprouse has already shown the world his skill for playing emotionally complex characters as Jughead. As Legion, he could turn that talent up to 1000%.
Human Torch
I understand that, having recommended Lili Reinhart as an ideal candidate for Invisible Woman, suggesting her onscreen significant other in Riverdale (and in real life at one point, too) as her brother sounds just a little weird. Well, leaving out the fact that this would not even be the first time the MCU did exactly that (Aaron Taylor-Johnson and Elizabeth Olsen played married in 2014's Godzilla, and twin siblings in Avengers: Age of Ultron a year later), I think Cole Sprouse could make a fantastic Human Torch (no pun intended).
Johnny Storm, the youngest member of the Fantastic Four, lives up to his nickname not just for his incendiary abilities, but for his hot-headed, yet somewhat charming, devil-may-care attitude - also a defining element, in many ways, to Cole Sprouse's performance as Jughead on Riverdale. This could spark a rivalry between him and his brother, who previously called dibs on the role, but, in the event that the twins cannot compromise, I have a back-up in mind.
Wiccan
If you are not familiar with Marvel Comics' iconic House of M storyline, one major plot detail is how Wanda Maximoff magically creates two twin sons named Billy and Tommy into existence, only for Mephisto to take them out of reality. They are later reincarnated with Billy developing powers similar to his mother, and Tommy with powers like his uncle, Quicksilver, and each inventing the respective superhero aliases Wiccan and Speed.
I mention this because the Disney+ series WandaVision is rumored to be loosely inspired by House of M which, to me, suggests we may see these next generation super-siblings in the MCU some day soon. Therefore, what better twin brother power duo than Cole Sprouse and Dylan Sprouse to portray this, literally, powerful twin brother duo onscreen?
Space Turnip
Speaking of the Sprouse Brothers, before playing the title roles in The Suite Life of Zack & Cody, starring as the same character on the sitcom Grace Under Fire made them one set of the Hollywood's most beloved twin siblings. They were soon called to the big screen, appearing opposite Adam Sandler in Big Daddy, and as the spawn of Charlize Theron and an alien-possessed Johnny Depp in The Astronaut's Wife, which gives me another interesting casting idea.
Why not give Cole Sprouse the opportunity to live out his role of an evil half-human, half-alien hybrid further than in the last two minutes of the aforementioned 1999 sci-fi thriller, by playing such a being that exists in the Marvel Universe? The one I have in mind is named Space Turnip, an enemy of Howard the Duck, whose extra-terrestrial physiology comes from a race of sentient vegetables. Even if it meant only voicing the role in an animated series, I think it sounds like a real fun idea for the actor to revive his comedic chops.
What do you think? Does Cole Sprouse still have the right sense of humor to play a Marvel villain as ridiculous as Space Turnip, or do you doubt even Marvel Studios would go forward and adapt the character at all? Let us know in the comments and be sure to check back for additional information and updates on the Riverdale star, as well as even more hypothetical comic book movie casting sessions, here on CinemaBlend.
Jason has been writing since he was able to pick up a washable marker, with which he wrote his debut illustrated children's story, later transitioning to a short-lived comic book series and (very) amateur filmmaking before finally settling on pursuing a career in writing about movies in lieu of making them. Look for his name in just about any article related to Batman.
Your Daily Blend of Entertainment News