8 Tiny House TV Shows To Watch Streaming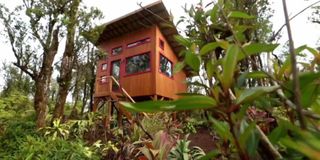 CinemaBlend participates in affiliate programs with various companies. We may earn a commission when you click on or make purchases via links.
It's an appealing idea to live in a tiny house. You restrict yourself to only the essentials and start to live a minimalist, back to basics, kind of life. These homes can also represent the hope of adventure. You can take your tiny home almost anywhere and live out the adventurous life that you've always dreamed about. The tiny house revolution has not only led to more people buying tiny homes, but it has increased tiny home programming. HGTV, Netflix, FYI Network, Discovery+, and more have created wonderful tiny house programming, like Tiny House Nation on Netflix and Tiny House Hunters on HGTV.
If you're one of those people who can't get enough of shows about tiny homes, then I have a few series to recommend. If you can't build or buy your dream tiny home yet, you can always get inspired by others doing it.
Tiny House Hunters (Discovery+)
If you're like me, House Hunters is one of your favorite guilty pleasure shows. It's an HGTV series that follows individuals, couples, and even throuples, looking for a home. House Hunters has many spin-off series, but the Tiny House Hunters one focuses exclusively on people searching for tiny homes.
Tiny House Hunters is a fun way to look at various tiny home options in different locations, budgets, and desired aesthetics. It's kind of like a way to window shop for tiny homes without leaving your couch.
Stream it on Discovery+ here (opens in new tab).
Tiny House Nation (Netflix)
John Weisbarth and Zack Giffin host Tiny House Nation. The series began on FYI, then moved to A&E, and in 2019 it became available to stream on Netflix. Each episode revolves around a person or couple who wants a tiny home (no more than 500 square feet). Then John and Zack oversee the development project.
It's a home renovation show that focuses on the process of constructing people's dream tiny homes. Tiny House Nation shows the steps it takes to design and construct a tiny home and the final results.
Stream it on Netflix here (opens in new tab).
Tiny House Big Living (Discovery+)
Tiny House, Big Living follows families, couples, and individuals as they attempt to live their dream of owning a tiny house. This series focuses on the renovation or building of the tiny home--sometimes it's built by professionals and other times the homeowners take on the project.
Viewers watch as these seemingly simple projects become increasingly more difficult for non-professionals. Tiny House, Big Living is mainly about the empowerment these individuals feel from achieving their dream of owning a tiny house. It also shows the difficult but rewarding process of building a home.
Stream it on Discovery+ here (opens in new tab).
Tiny Paradise (Discovery+)
Tiny Paradise follows different individuals as they embark on a journey to have their dream tiny home built in a paradise location. The show blends some DIY with hired designers and contractors. This is like the tiny house world from people with a bit more wealth. This feels like a fantasy tiny house show as most people can't just move to paradise--maybe unless you're on a reality dating show--but that's part of the show's appeal.
Tiny Paradise might not be the most practical tiny home show but it's a fun indulgent one. You get to see gorgeous tiny houses in beautiful locations. It's the perfect tiny house show for those who appreciate paradise living on their reality TV.
Stream it on Discovery+ here (opens in new tab).
Tiny Luxury (Discovery+)
Tiny Luxury follows premier tiny house builders, Tyson and Michelle Spiess, and their family (specifically Michelle's brothers and their wives) as they build high-end tiny homes with special amenities, such as a three-bedroom tiny house, Victorian style, his and her clothes, spa-inspired bathrooms, and more.
The series is similar to many other tiny house shows, but it demonstrates how tiny homes don't have to follow the standards, and you can customize and alter it to fit your needs, yes even with a home only a few square feet.
Stream it on Discovery+ here (opens in new tab).
Terrific Tiny Homes (Discovery+)
Terrific Tiny Homes may be the most unique tiny home show out there. It features unusual tiny homes (and sometimes their designers). You see tiny homes that are treehouses, huts, hotels, and many more surprising designs all across the country.
Some of the tiny houses featured on Terrific Tiny Homes are available to rent or stay in for a few nights. So the show also can be a helpful resource when planning your next tiny house tour. Terrific Tiny Homes has the most wow-factor homes that really make the idea of owning a tiny house even more intriguing. Who wouldn't want to live in a tiny home treehouse?
Stream it on Discovery+ here (opens in new tab).
Tiny House Hunting (Youtube)
Tiny House Hunting is narrated by Tiny House Nation's host John Weisbarth. It's a series about different families, couples, and singles looking for tiny homes all across the USA. It basically showcases the tiny home real estate market in various cities. Tiny House Hunting is quite similar to Tiny House Hunters, especially in format. The major difference is that FYI produced it and Weisbarth's narration.
The good thing about Tiny House Hunting and Tiny House Hunters is that both allow people, especially in major cities, to see the options that may be available to them. The homes featured on these series are likely to go off the market fast, but you can see the price range and neighborhoods that may offer your dream home. FYI has made this show available on its official Youtube page. As of 2021, 123 episodes are available to watch on youtube.
Stream it on Youtube here.
Tiny House World (IMDBTV)
Tiny House World is basically FYI Network's version of House Hunters International. It involves singles, couples, and families looking for tiny homes or apartments across the globe. Each episode involves someone looking for a place in various countries, like Australia, France, Ireland, Portugal, and etc. The family or individual has a list of must-haves within their budget (though usually at least one space outside of a person's budget is featured).
They then check out a couple different places that meet some or all of their demands. At the end of the episode, they go over what they liked and didn't like about each place before making their decision. The series is a good show to watch if you like tiny house programming and if you have a case of wanderlust. Tiny House World might inspire you to go tiny and live abroad. Some of the episodes of Tiny House World are available to stream on IMDBTV.
Stream it on IMDBTV here.
If you dream of owning a tiny house or just enjoy watching programs about them, then this list offers a variety of choices. Also, some programs not all about tiny homes feature them. Shows such as the original version of House Hunters and Fixer Upper have tiny home episodes.
Spent most of my life in various parts of Illinois, including attending college in Evanston. I have been a life long lover of pop culture, especially television, turned that passion into writing about all things entertainment related. When I'm not writing about pop culture, I can be found channeling Gordon Ramsay by kicking people out the kitchen.
Your Daily Blend of Entertainment News
Thank you for signing up to CinemaBlend. You will receive a verification email shortly.
There was a problem. Please refresh the page and try again.