The Best Movies To Watch Streaming On CBS All Access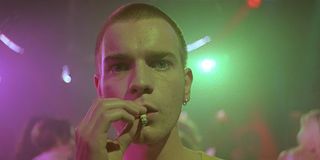 The CBS All Access streaming platform may be known for its collection of the latest and greatest in the broadcast network's television library, but the service is also chock full of some of the greatest movies of all time (no joke). In addition to all those shows (both from CBS and the other channels under the Viacom umbrella), there are also hundreds of titles ranging from romantic comedies like When Harry Met Sally and Harold and Maude to classics from Hollywood's golden era like Roman Holiday and To Catch A Thief, and so much more. Here are the best movies to watch on CBS All Access.
When Harry Met Sally (1989)
When Harry Met Sally is the gold standard when it comes to romantic comedies and every movie in the genre should be compared to the 1989 classic written by Nora Ephron and directed by Rob Reiner. The story centers around the titular characters played by Billy Crystal and Meg Ryan and their relationship starting with the contentious car ride from Chicago to New York and then the blossoming friendship over the next decade as they navigate the ups and downs of personal and professional lives while trying to remain friends. The chemistry between the two leads has never and probably will never be beaten or even matched, it's that strong and electric.
Stream it on CBS All Access here (opens in new tab).
Also try Harold and Maude (opens in new tab).
Trainspotting (1996)
On the surface, Danny Boyle's 1996 drug-fueled romp Trainspotting may appear to be easier to digest than similar movies from the era (looking at you, Requiem for a Dream), but peel back the comedic timing by a young Ewan McGregor as the deadbeat Renton and the amazing soundtrack of high-tempo pop and rock songs and you have one of the most depressing downward spirals ever captured on film. Based on the novel of the same name from Scottish novelist Irvine Welsh, this gut-wrenching yet aesthetically arousing movie follows in the life of a group of junkies who will do anything for the next kick, whether that be on the soccer pitch or in Mother Superior's drug den.
Stream it on CBS All Access here (opens in new tab).
Also try Go (opens in new tab).
Hard Eight (1996)
Paul Thomas Anderson gets a lot of love for most, if not all of his movies, and for good reason. Films like The Master, Boogie Nights, and There Will Be Blood are technical and artistic masterpieces, but one of PTA's movies that doesn't get talked about enough is his 1996 directorial debut, Hard Eight. Centered around an old gambler (Philip Baker Hall) as he takes a young man (John C. Reilly) under his wing and shows him the ropes, the plot quickly unfolds with revelations of betrayal, murder, and lots and lots of criminal elements as the freshman filmmaker explores the darkness of Nevada's biggest industry.
Stream it on CBS All Access here (opens in new tab).
Scream (1996)
Everyone is stoked about the long-awaited return of the Scream franchise which makes now the perfect opportunity to see where it all began with the late Wes Craven's 1996 classic that reinvented the slasher subgenre as we know it. Centered around a mysterious lunatic with a memorable white mask and butcher's knife who preys on high-school students in a quiet suburban town, the movie is able to pull off comedy, horror, and drama better than anyone could have expected. And surprisingly enough, the movie still stands up nearly 25 years later.
Stream it on CBS All Access here (opens in new tab).
Also try Scary Movie (opens in new tab).
The Conversation (1974)
Released just eight months before The Godfather Part II, Francis Ford Coppola's 1974 thriller The Conversation is one of those movies that tends to slip through the cracks when discussing the filmmaker's filmography, but it's not because it's a bad movie. Heavens no, Coppola's story about a surveillance expert (Gene Hackman) who finds himself in a moral dilemma when he records what he believes to be a potential murder is fascinating, thrilling, and remains one of the best films he has released. And add a supporting cast including the late John Cazale, Harrison Ford, Teri Garr, and countless others and you have yourself a great way to spend a couple of hours.
Stream it on CBS All Access here (opens in new tab).
Roman Holiday (1953)
Written by the once-blacklisted screenwriter Dalton Trumbo and directed by the great William Wyler, the 1953 romantic comedy Roman Holiday is one of the best romantic comedies you can watch on any streaming service. As the title implies, the movie is set in Rome and follows a young princess (Audrey Hepburn) who tries to hide her identity from an American reporter (Gregory Peck) who quickly figures out what's really going on. Set with the backdrop of the Italian capital city, this sleek and cool story of romance and hidden identities is everything it's cracked up to be and then some.
Stream it on CBS All Access here (opens in new tab).
Also try The Wedding Planner (opens in new tab).
To Catch A Thief (1955)
There is never a shortage of Alfred Hitchcock movies to stream these days and now you can add his 1955 romantic thriller To Catch a Thief to that list. Starring Cary Grant and Grace Kelly in her third and final Hitchcock movie before she left acting to become the Princess of Monaco, the film centers around a retired burglar who is accused of committing a string of high-value robberies as he falls in love with the jewel's owner, who soon suspects that he is responsible for the crimes. What follows is classic Cary Grant doing everything he can to clear his name and not lose the girl.
Stream it on CBS All Access here (opens in new tab).
Zodiac (2007)
David Fincher's 2007 retelling of The Zodiac Killer in the highly suspenseful and frustrating Zodiac is one of the best movies in the director's library, even if it doesn't get as much love as Seven, Fight Club, and The Social Network. Following the three protagonists played by Robert Downey Jr., Mark Ruffalo, and Jake Gyllenahaal, the movie tackles all aspects of the decades-long cold case that still troubles law enforcement, reporters, and everyday citizens in the San Francisco Bay area. And while the movie doesn't offer any definite answers (though it heavily implies) about the identity of the killer who preyed on young couples in the late 1960s and 1970s, it has a distinct mood and tone that make it worth returning to time and time again.
Stream it on CBS All Access here (opens in new tab).
Top Secret! (1984)
Sure, Val Kimer's Nick Rivers may be one of the worst spies to ever star in a spy movie, but the 1984 action comedy Top Secret! is hands down one of the funniest movies to star "Ice Man," who made his acting debut as a rock star who travels to East Germany for a performance only to find himself trapped in the middle of an international incident. With spies, dance numbers, and a certain cow, this one has it all.
Stream it on CBS All Access here (opens in new tab).
Scrooged (1988)
I know, I know, Scrooged is technically a Christmas movie, but that doesn't mean it can't be enjoyed any time of year, right? Right? Well, this 1988 reimagining of Charles Dickens' timeless A Christmas Carol stars Bill Murray as a ruthless and downright awful television executive who is visited by three ghosts on Christmas Eve as he comes to his senses and makes up for terrible decisions he made in life. With David Johansen, Carol Kane, Bobcat Goldthwait, and Karen Allen rounding out the cast, this classic comedy should be enjoyed even when Christmas is still months away.
Stream it on CBS All Access here (opens in new tab).
Patriot Games (1992)
There have been plenty of great actors who portrayed Jack Ryan at some point over the past 30 years, but none compare to Harrison Ford's version of the CIA analyst, especially in the 1992 spy thriller Patriot Games. When Ryan thwarts a terrorist attack while on vacation, he and his family become the key targets in the crosshairs of a radicalized outfit in the IRA. When the terrorists bring the fight to Ryan's home in the United States, things are taken up a notch and we see just how far the normally calm and collected character can get when his loved ones are at stake.
Stream it on CBS All Access here (opens in new tab).
The Addams Family (1991)
Quite a bit went into the making of The Addams Family, but all the hard work and long days on set paid off in the long run as the film adaptation of the classic comic strip and television series is one of the best of its kind. When Gomez Addams' (Raul Julia) long-lost brother Fester (Christopher Lloyd) returns after a long absence, the family takes part in one of the wildest and spookiest and kookiest reunions.
Stream it on CBS All Access here (opens in new tab).
That may seem like a lot of films, but this is barely scratching the surface of what CBS All Access has to offer in the movie department. In addition to all of those listed above, there are titles like The First Wives Club, Madonna: Truth or Dare, all sorts of Jackie Chan movies, and so many slasher flicks that you'll need more than a bucket to hold all the blood. What is your favorite movie on the streaming platform? Sound off in the comments below.
Philip grew up in Louisiana (not New Orleans) before moving to St. Louis after graduating from Louisiana State University-Shreveport. When he's not writing about movies or television, Philip can be found being chased by his three kids, telling his dogs to stop yelling at the mailman, or yelling about professional wrestling to his wife. If the stars properly align, he will talk about For Love Of The Game being the best baseball movie of all time.
Your Daily Blend of Entertainment News
Thank you for signing up to CinemaBlend. You will receive a verification email shortly.
There was a problem. Please refresh the page and try again.