Peacock's Punky Brewster Revival Cast: Where You've Seen The Actors Before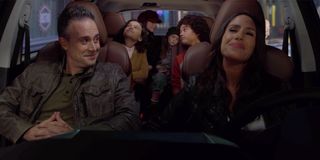 This week, Punky Brewster is back. After 32 years away from the air, Soleil Moon Frye returns to the plucky title protagonist that made her a household name. Reunited with Cherie Johnson and joined by Freddie Prinze Jr., Lauren Lindsay Donzis, and a number of fresh faces, this family sitcom reboot serves as one of Peacock's most high-profile original/not-so-original shows to date. It's way too early to know if this show will find the same audience that turned the original NBC program into a cult favorite, though Peacock has high expectations for Frye's reprisal of her most famous character. Time will tell regarding the public's reception to this newest TV revival, though if you're wondering why you recognize the cast behind this streaming sitcom, we're here to help.
Here's where you've seen the Punky Brewster cast before.
Soleil Moon Frye (Punky Brewster)
As our grown-up title character, former child star Soleil Moon Frye reprises her most famous role at the forefront of Peacock's revival, which is also called Punky Brewster. The actress first played the part at age eight when NBC's Punky Brewster premiered in 1984. The beloved series only lasted four seasons, but it also included the cartoon spin-off, It's Punky Brewster, which featured Frye as the voice of the main character. Away from these shows, the actress is also known for Sabrina the Teenage Witch. Following that show's conclusion, Frye has worked primarily as a voice actress, most notably as the voice of Zoey in The Proud Family and Jade in the Bratz direct-to-DVD franchise. She can also be heard in Tiny Toon Adventures, Robot Chicken, and Planet Sheen.
Additionally, Soleil Moon Frye can be seen in films like Motel Blue, The St. Tammany Miracle, and Pumpkinhead II: Blood Wings. Additionally, the TV actress hosted OWN's Home Made Simple. Furthermore, Frye wrote, starred in, and co-directed 1998's Wild Horses. She's also directed two documentaries, Sonny Boy and the upcoming Kid 90.
Freddie Prinze Jr. (Travis)
In the role of Travis, Punky's immature-but-caring ex-husband, Freddie Prinze Jr. plays the male lead in Peacock's Punky Brewster. Previously, the actor starred in I Know What You Did Last Summer, I Still Know What You Did Last Summer, She's All That, and Summer Catch. Additionally, Prinze Jr. is remembered for playing Fred Jones in 2002's live-action Scooby-Doo and its 2004 sequel, Scooby-Doo: Monsters Unleashed. His other notable film credits include The House of Yes, Down to You, Boys and Girls, Head Over Heels, Brooklyn Rules, New York City Serenade, and Jack and Jill vs. The World.
Additionally, on TV, Freddie Prinze Jr. starred in or played recurring characters in 24, Boston Legal, and Freddie, where he also served as a producer and creator. He was also seen in Family Matters, Frasier, Friends, Boston Legal, Pysch, Witches of East End, George Lopez, and Bones. Outside of acting, Prinze Jr. hosted USA Network's First Impressions and, for a brief period of time, he was a host and creative consultant on WWE Raw. Furthermore, the actor frequently appears in Movie Trivia Schmoedown.
In the past decade-plus, not unlike his Punky Brewster co-star, Soleil Moon Frye, Freddie Prinze Jr. has established a second career for himself as a voice actor. Most notably, he lent his voice to Kanan Jarrus in Disney XD's Star Wars Rebels. Additionally, the actor can be heard in Shark Bait (also known as The Reef), Happily N'Ever After, Delgo, Mass Effect: Paragon Lost, Star Wars: The Rise of Skywalker, Kim Possible: A Sitch in Time, Robot Chicken, Bordertown, Dragon Age: Inquisition, Disney Infinity 3.0, and Star Wars Rebels: Recon Missions. Recently, Prinze Jr. worked on GEGG Wars: Galaxy of Crime.
Lauren Lindsey Donzis (Hannah)
Playing the part of Hannah, Punky's teenage daughter, Lauren Lindsey Donzis is the eldest child in Peacock's Penny Brewster. Previously, Donzis starred in Netflix's short-lived dramedy series, No Good Nick. She was also seen in the fourth season of Disney Channel's Liv and Maddie. Her other TV credits include Austin & Ally, Best Friends Whenever, Ghosted, All About the Washingtons, and The Young and the Restless. She also starred in Amazon Prime's An American Girl Story: Summer Camp, Friends For Life. Additionally, Donzis lent her voice to Disney Channel's animated series, 101 Dalmatian Street. Also, the child actress appears in a pair of short films, 2015's No She Wasn't, and 2019's Something Better. Next, Donzis appears in the upcoming sci-fi film, I Am Mortal.
Quinn Copeland (Izzy)
As Izzy, a spunky orphan adopted by Punky Brewster, Quinn Copeland plays a heartfelt character in Peacock's revival series. This show will serve as not only her breakout role but her screen introduction; she has no previous acting credits. It should come as no surprise to know that this prominent early part in this buzzy series is expected to make this young child actor's profile rise in the years to follow, much like how Soleil Moon Frye came to fame thanks to NBC's program. Certainly, it's a big deal for the new talent.
Oliver De Los Santos (Daniel)
In the role of Daniel, Punky's adopted son, Oliver De Los Santos received his first major part in Peacock's Punky Brewster. Prior to this revival, De Los Santos was seen in Yo Mama Battle! and Matt Henry's "Little Dead Bird" music video. He also appeared in Occupation: Rainfall, which premiered at Monster Fest and is expected to come out later this summer. Additionally, the child actor will star in the sports drama, Home Plate.
Noah Cottrell (Diego)
Playing the part of Diego, Punky's other adopted son, Noah Cottrell received one of his earliest roles in Peacock's Punky Brewster. Previously, Cottrell starred in Skyscraper. The child actor also appeared in an episode of VidAngel's The Chosen.
Cherie Johnson (Cherie)
As Cherie, Punky's best friend, Cherie Johnson reprises her role from the NBC favorite in Peacock's Punky Brewster. She also voiced Cherie in It's Punky Brewster. Away from these shows, Johnson is known for her long-standing part in ABC/CBS's Family Matters. Her other TV credits include Days of Our Lives, The Parkers, A Place Called Hollywood, and Eve. Outside of television, Johnson wrote, produced, and starred in 2009's indie rom-com, I Do ... I Did! She also split acting and producing duties on One Blood, A Place Called Hollywood, Crush, Dead Tone, and Raven. Additionally, Johnson produced Cash Rules. Her other acting credits include Teaching Mrs. Tingle, Killer Weekend, The Intruders, Lights Out, Nobody Smiling, Guardian of Eden, Fanaddict, Plum, Who Can I Run To, Signed, Sealed & Delivered, and Diamond Cobra vs. The White Fox.
Outside of acting, Cherie Johnson is also the author of Around the World Twice, Two Different Walks of Life: A Celebrity And Average Housewife, Peaches & Cream, and Stupid Guys Diary. She was also part of the talk show series, Girlfriends and Champagne, and she hosts the podcast, Cherie's World Podcast. Next, Johnson is expected to star in The Regiment, South Beacon Hill, Once A Soldier, and For My Friend.
Conor Husting (Sean)
In the role of Sean, Conor Husting will play a supporting character in Peacock's Punky Brewster. Previously, Husting had a prominent part in Netflix's The Expanding Universe of Ashley Garcia, which is also known as Ashley Garcia: Genius in Love. Additionally, the actor can be seen in several episodes of Prince of Peoria, while also making guest star appearances in Man with a Plan and 2020's Game On! A Comedy Crossover Event. On the big screen, Husting had a minor role in Almost Home. Next, he'll appear in Let Us In.
Hanani Taylor (Bree)
Playing the part of Bree, Hanani Taylor appears in a few episodes in Peacock's Punky Brewster revival. Previously, the actress was seen in Criminal Minds, Mr. Student Body President, Speechless, and The Orville. Taylor also plays the lead in 2019's short film, A-Minor. In addition to her television credits, the actress will soon be seen in Raise Your Hand and Puzzled. Taylor is also attached to star in The Gospel Truth and Lost in Terra Dimension. Furthermore, the actress is expected to write, produce, star in, and co-direct the horror film, Rosehill Dwelling, but there haven't been any new developments on the project since 2017.
Riley Go (Madison)
As Madison, Riley Go appears in a few episodes of Peacock's Punky Brewster revival. Outside of this streaming series, Go can be seen in Agents of S.H.I.E.L.D., Teachers, Game Shakers, Scorpion, 2 Broke Girls, Better Things, Good Trouble, Conan, and The Big Bang Theory. She can also be heard in Whisker Haven Tales with the Palace Pets and Mickey and the Roadster Racers. Also, Go is expected to appear in Showtime's Rita.
With its mix of familiar faces and young newcomers, Peacock's Punky Brewster will serve as both a revival and reboot of this familiar NBC property. Whether it earns the same audience as the original series remains to be seen, but we don't have to wait long to find out how it fares. Punky Brewster will premiere on Peacock (opens in new tab) on February 25th.