Relive Mary-Kate And Ashley Olsen's A+ Diss Song About Sister Elizabeth Olsen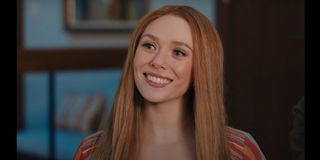 As Marvel Studios and Disney+'s WandaVision grows more popular, so does Wanda Maximoff actress Elizabeth Olsen. The actress has been playing Scarlet Witch since 2015's Avengers: Age of Ultron, even proving that Wanda is perhaps the strongest Avenger in the last two Avengers movies. With Olsen's growing popularity, more people are discovering just why her last name sounds so familiar.
Surprisingly, people are just finding out that Elizabeth Olsen is the younger sister of famous twins, Mary-Kate and Ashley Olsen. Yes, Scarlet Witch is Michelle Tanner's little sister. There's even a nod to them in WandaVision! Recently, a Twitter user was so shocked at the fact that people were just finding out this information that she posted a video of the Olsen Twins dissing their little sister in 1994's The Adventures of Mary-Kate & Ashley: The Case of Thorn Mansion. Watch and relive the clip below!
Doesn't it take you back to a time when life was simpler? The song, "B-U-T-T Out," is a very catchy diss track in which the twins tells the future WandaVision star that she can't come with them, and she should rather "get lost," telling her that maybe some other time she can join them. While the mission they're going on is dangerous, they go on to say things that their younger sister does, like embarrassing them and they can't stand her face. Ouch. However, Olsen's first acting roles were in her sisters' projects, like How the West Was Fun and even Full House!
The Olsen Twins were pretty harsh with their siblings. Before there was "B-U-T-T Out" there was the ever so iconic "Brother For Sale." In the twins' film, Our First Video in 1993, which contained seven music videos, one song included the famous twins trying to sell their older brother. Fed up with his antics, they put up a "Brother For Sale 50c" sign in their front yard, telling everyone passing by what they'd be getting. Seeing that people weren't giving in, they lower the price to a quarter, even using a blow up panda bear and a plane to get their message across. The catchy tune is one that will never get old, same with "B-U-T-T Out."
While the sudden realization of Elizabeth Olsen being related to Mary-Kate and Ashley Olsen is shocking a lot of people, being able to go back and relive one of the twins' best songs when they were younger might be one of the best things to happen this year. Although, nothing can ever be more iconic than the pizza song from one of Mary-Kate and Ashley's You're invited videos, which has found its way back to popularity over the years as people rediscover the weirdness of it and watch it either in slow motion or sped up.
For more weirdness from an Olsen sister, check out WandaVision streaming with leading lady Elizabeth Olsen on Disney+ now!
Passionate writer. Obsessed with anything and everything entertainment, specifically movies and television. Can get easily attached to fictional characters.
Your Daily Blend of Entertainment News
Thank you for signing up to CinemaBlend. You will receive a verification email shortly.
There was a problem. Please refresh the page and try again.