Superman And Lois: 8 DC Comics Villains That Should Appear In The Arrowverse Show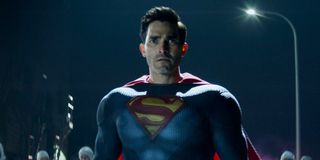 It only took five years (nine if you want to count the entire run of the TV franchise before his initial introduction), but the Arrowverse finally gave the most powerful titan in DC Comics and his lovely, equally badass reporter wife their own show. Among its other exciting reveals, the premiere episode of Superman and Lois also introduced an entirely new, but still somewhat familiar, main villain for Season 1. It makes us wonder what other more recognizable foes we can expect on The CW's latest superhero show.
The new baddie in question is named Captain Luthor, played by The Vampire Diaries and Yellowstone alum Wolé Parks, who we're just starting to get to know in this new series. Some have already begun to theorize that he is either an alternate version of Jon Cryer's Lex Luthor or even the Arrowverse's interpretation of the ruthless criminal's son, Alexander Luthor, Jr. Regardless, it is always fascinating to see how this shared universe reinvents classic comic book antagonists, but I would be lying if I said I was not itching to see more of the classic villains, especially on a show with the Man of Steel in the spotlight.
That being said, there are many from the Kryptonian's rogues gallery who still have yet to be officially introduced in the Arrowverse, with some having only been subtly mentioned, adapted as a different character, or given a faceless cameo. Perhaps Superman and Lois will see them get a proper entrance. With our fingers crossed we pick out eight of Supes' greatest foes whom we hope to see on his new series, starting with his polar opposite.
Bizarro
In the first season of Supergirl, Kara Danvers met her own sinister doppelgänger (also played by Melissa Benoist) in an episode aptly titled "Bizarro." Considering how the Arrowverse introduced this adaptation of "Bizarro-Girl" prior to Clark Kent's first appearance, I think there is still room to see his own more famous "evil twin" at some point during Superman and Lois (which would be his live action debut), especially for the family drama he could cause at the farm.
Ursa
The live action debut of this villainess was her first appearance as co-screenwriter Mario Puzo originally created her, as one of General Zod's accomplices in 1978's Superman: The Movie, before she was brought into the comics Harley Quinn style in 2006. Since Zod already met a bitter end in the Arrowverrse at the hands of the Man of Steel (before experiencing a 31st-century resurrection, that is), I would vote on Ursa to be next Kryptonian (or, at least, one of the next) whom he faces off against on Superman and Lois, seizing an opportunity to introduce her to a new generation of DC fans, and bringing her back into the mainstream.
Harley Quinn
Say, speaking of Harley Quinn, her presence in the Arrowverse actually predates her cinematic debut in Suicide Squad as portrayed by Margot Robbie. She appeared (and was voiced by Tara Strong) on a Season 2 Arrow episode also called "Suicide Squad" in 2014. However, I think some fans may agree it would be fun to see a bit more of the Clown Prince of Crime's spunky, underappreciated lover than in an ARGUS cell with her face turned away, and, unless Batwoman tries that out first, making her the main threat on a Superman and Lois episode would be an interesting twist.
Black Adam
The same Arrow episode in which Harley Quinn appears also gave us our first hint that this off-and-on Justice Society of America member may exist in the shared universe through mentions of his home country, Kahndaq, but without any concrete inclusion of Black Adam himself. If Superman and Lois were to give the anti-hero a proper Arrowverse appearance, it may want to hurry up before Dwayne Johnson's highly anticipated solo film steals its thunder.
Brainiac
On the other hand, it looks like we may still have a while before Superman faces his cybernetic alien enemy on the big screen, or any screen really, having already appeared on Smallville and SyFy's prequel series Krypton, but never with Clark Kent in his red and blues in a live action setting. So, until Henry Cavill hopefully receives that honor in the DCEU, Superman and Lois appears to be the last chance we have to see Brainiac (not to be confused with the good-natured Brainiac 5 on Supergirl) and the Man of Steel to duke it out.
Lobo
Another character who got the live action treatment on Krypton is Lobo, who is part-alien, part-bounty hunter, part mercenary, and 100 percent badass. This anti-hero was actually supposed to get his own spin-off show after appearing on the SyFy series and I think a Superman and Lois cameo to introduce him into the Arrowverse could serve as a worthy consolation prize.
Granny Goodness
Speaking of second chances, HBO Max's release of Zack Snyder's Justice League is fulfilling the director's vision to see the heroes take on Darkseid, along with his trusted minions DeSaad and Granny Goodness, who is most definitely not as friendly as she sounds (or can appear to be). The sadistic, torturous New God is yet another villain who has only been given the chance to shine on her own (in live action, at least) one other time, on Smallville, and I believe making her the focus of a Superman and Lois episode has some real potential to be one of the series' darkest.
Doomsday
There is one villain, however, who has already seen his DCEU debut in Batman v Superman: Dawn of Justice, but in a way that many fans would argue to be one of the more underwhelming adaptations of an otherwise iconic comic book storyline. While the prehistoric Kryptonian beast Doomsday has already been mentioned in the Arrowverse as one of Clark Kent's former foes, that does not mean he cannot exist on the Earth where Superman and Lois now takes place. Plus, just imagine how amazing a crossover episode based on The Death of Superman could be.
Speaking of villains spanning the multiverse, Superman and Lois may, technically, have its own "new version" of Lex Luthor now with Captain Luthor. Yet, that does not necessarily mean an appearance by Jon Cryer's iteration of the the Man of Steel's archenemy is out of the question, especially since we know he is still alive and is slated to show up in Season 6 of Supergirl. Until that becomes a reality (or alternate reality, perhaps), which of these DC evildoers would you be most excited to see on the new CW hit?
This poll is no longer available.
Jason has been writing since he was able to pick up a washable marker, with which he wrote his debut illustrated children's story, later transitioning to a short-lived comic book series and (very) amateur filmmaking before finally settling on pursuing a career in writing about movies in lieu of making them. Look for his name in just about any article related to Batman.