AMC+: 6 Reasons Besides The Walking Dead To Get The Streaming Service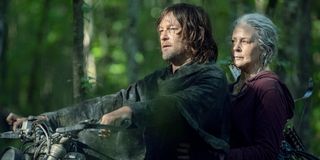 It seems like whenever you see an ad for AMC+ they always focus on The Walking Dead. It makes sense, considering the zombie drama series is the biggest thing going for AMC right now and there's an argument that could be made for it being in the top three shows in the network's history. One thing this marketing strategy often leaves out (or hides in the fine print) is the fact that the streaming platform offers its subscribers a rather robust collection of content from AMC and the other channels and streaming services under the corporate umbrella.
I recently gave AMC+ a spin after learning that it was home to Gangs of London, the 2020 crime drama from The Raid director Gareth Evans, and I was caught off guard by all the great shows, movies, and channels that were seemingly hidden on the app. I mean, there's true crime (both serial killer and cult shows), livestreams, classic AMC originals, and access to a few of those specialized platforms like Shudder and IFC Films Unlimited.
Numerous AMC Original Series, Including Mad Men, Are Streaming On AMC+
There are few former AMC shows that are as popular now as they were when they first aired, with the '60s drama Mad Men being high up on that list. For the longest time, we all could turn to Netflix to binge watch Don Draper (Jon Hamm) and everyone else at Sterling Cooper as they chainsmoke, drink on the job, and be as complicated as can be, but that all changed in June 2020 when the acclaimed series departed the streaming giant and found its new home elsewhere: AMC+.
And, Mad Men isn't the only great original series that can be watched on AMC+ as shows like NOS4A2, Hell on Wheels, and several others are all streaming on the platform. It should be noted, however, that there are some major shows missing from the library, Breaking Bad and its spinoff Better Call Saul being the most notable. Maybe both of those shows will be on the service at some point, but not at this moment.
AMC+ Is Full Of Movies And Content From Shudder, IFC Films Unlimited And Sundance Now
Tucked away near the bottom of the AMC+ app are three widgets that serve as portals to thousands of hours of content from Shudder, Sundance Now, and IFC Films Unlimited. Although AMC+ gives its users access to those respective streaming services, you will have access to all the movies, original shows, and other content found in each brand's respective library.
This isn't just a small portion of the content found on each service, as their full libraries are accessible by AMC+ subscribers. Whether you want to watch the Sundance Now original series A Discovery of Witches, Shudder's The Last Drive-In with Joe Bob Briggs, or hundreds of movies like Boyhood, The Babadook, and Blue is the Warmest Color on IFC Films Unlimited, you don't have to go through too much trouble to do so pretty much in the same place.
AMC+ Has A Staggering Amount Of Movies
In addition to all the show offerings from the likes of Shudder, Sundance Now, AMC, and other channels, AMC+ also features a staggering amount of movies that are available to stream through the service. If you want to watch a movie with your kids, The Lego Movie is there. How about one of the greatest action movies of all time? Look no further, because Terminator 2: Judgment Day is there in all its glory. Comedies? Groundhog Day. Seriously, the list just goes on and on, and that's not even getting into all the horror offerings.
Some movies have ad breaks (I first noticed this with The Lego Movie), but the commercials are short and there because of streaming rights. If a movie you choose does have ads built in, you will be given a warning before the feature begins. Again, this isn't for every movie, and the ads aren't all that obstructive.
True Crime Buffs Have A Friend In AMC+
If you were to subscribe to AMC+ solely for its true crime offerings, you would not be let down. We are living in the golden age of true crime documentaries and docuseries, and there are few places that are stuffed with more shows about serial killers and cult leaders than AMC+, thanks in part to the inclusion of Sundance Now.
Seriously, there is an entire true crime section on the AMC+ home screen, which guides you to dozens of titles like The Night Caller, The Preppy Murder, and No One Saw a Thing, which documents the murder of "town bully" Ken Rex McElroy, whose death remains unsolved despite dozens of witnesses to the crime. Then there is Jonestown: Terror in the Jungle, the 2018 four-part series documenting the final years of Jim Jones and the Peoples Temple cult.
AMC+ Has Livestreams Of AMC, IFC And More
It seems like more and more streaming services are starting to offer livestreams in addition to their on-demand libraries, and AMC+ is one of them. In addition to all the movies and shows that can be watched at any time, subscribers can also watch live feeds of AMC, BBC America, IFC, Sundance TV, and a specialized AMC+ stream. This is perfect for the cordcutters out there who miss watching standard channels or those who just want to have something on in the background while they go about their daily household business.
The AMC livestream is also perfect or those who wish to watch shows like The Walking Dead when they air live, though those same people could always watch new episodes early through AMC+. Speaking of which…
Oh, And AMC+ Gives Subscribers Early Access To The Walking Dead
I know I said we were going to focus on things not pertaining to The Walking Dead, but the fact that AMC+ gives fans of the show early access to the extended Season 10 is just too good to not mention. With AMC+ you are able to watch the latest episode on Thursdays, three days before it premieres on standard AMC. It should be noted that you can only watch the latest season of The Walking Dead on AMC+, but being granted early access to Season 10's extra episodes more than makes up for the lack of previous seasons.
Overall, AMC+ is a nice streaming option with loads of movies, shows, and exclusive content. While there are some issues with navigating the service (this could be caused by having to use platforms like Prime Video and the Roku Channel to use the app), its' pluses more than make up for any complaints.
Philip grew up in Louisiana (not New Orleans) before moving to St. Louis after graduating from Louisiana State University-Shreveport. When he's not writing about movies or television, Philip can be found being chased by his three kids, telling his dogs to stop yelling at the mailman, or yelling about professional wrestling to his wife. If the stars properly align, he will talk about For Love Of The Game being the best baseball movie of all time.
Your Daily Blend of Entertainment News
Thank you for signing up to CinemaBlend. You will receive a verification email shortly.
There was a problem. Please refresh the page and try again.